Classroom to Courtroom
Helping teens in New Hanover County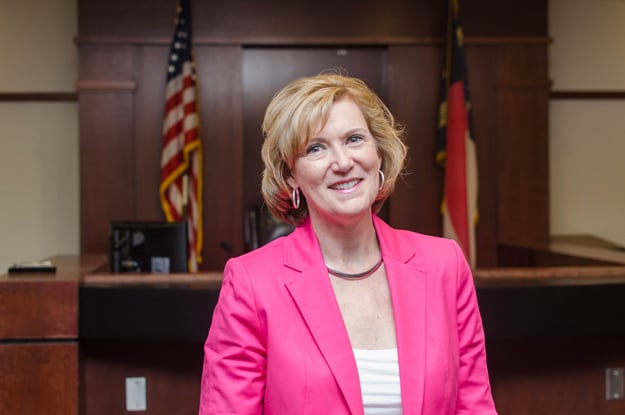 Sheila Evans has helped keep troubled teens from landing in district court for almost a decade, and she absolutely loves doing it.
"I have the best job in New Hanover County," Evans says.
Evans helps local teens through her dual positions as a teen court coordinator and district court coordinator at the Alternative Dispute Resolution Services and Training Center (ADR). She has helped expand teen court to include a youth court since taking the position in 2005, doubling the program under her direction. When she isn't working with teens in the courtroom, she's volunteering to help them in the classroom.
Her volunteerism paid off at this year's YWCA Lower Cape Fear Centennial Gala, where among the group's picks of accomplished women in the community and one of the ten 2014 YWCA Lower Cape Fear Legends.
"I was shocked to win. I don't even remember half of my speech. I just know that I said it is amazing to get recognized for stuff that you love to do," Evans says.
It all started with volunteering in her children's schools for Cub Scouts, Girl Scouts, and as band mom. Her presence in local schools led to her working in child advocacy for seven years, and then as a regular substitute teacher in New Hanover County. She was soon offered a position hosting a television show, The Forum with Sheila Evans, on The Learning Network of the Cape Fear (TLN) station. The half-hour program, which she continues to host, features school board members, principals, and organizations relevant to students and their graduation projects.
Evans hosted an episode about the local teen court and the next day received an email with a job offer. She has been working as coordinator ever since.
Evans works with the Teen & Youth Court for the 5th District, which covers New Hanover and Pender counties. The program addresses first-time juvenile offenders in New Hanover and Pender, attempting to intervene early and keep them out of the court system. Student offenders who plead guilty for misdemeanors and certain school violations are sentenced by peers with punishments including community service or restitution, according to the program's guidelines.
The alternate court also exposes students to the other side of the legal system. Volunteering students serve as clerks, bailiffs, and jurors.
Evans says she owes a lot of Teen Court's success to her relationships with local attorneys and judges such as Chief District Court Judge J.H. Corpening II.
"One time he said to me that it is not what it means to your kids when you volunteer on a regular basis, it's what it means to other kids," Evans said. "That is absolutely fundamental in what I do. I hope that it is something that I pass down to my kids."
While rewarding, dealing with teens at war with one another can be tricky. Evans pairs teens who got into a fight as co-defendants, which is a different system from most teen courts. She does this not only to save time, but also because the teens will have to go back to school together.
"Nobody said you had to be friends, but you have to go back to school the next day and get along," Evans says.
Although nothing seems to stop Evans, being diagnosed with breast cancer in 2010 slowed her down.
"I am thankful I didn't really have that difficult of a time. I purposely did chemo days on Tuesdays because I love my district court job so much I wanted to be there on Mondays," Evans says.
Evans had a double mastectomy and has been in the clear since 2012.
While she currently runs both teen court programs in New Hanover and Pender counties, she hopes to gives up the Pender County program soon so that it can be loved a little better, and she can better focus on the New Hanover County program.
While she reminds them of the courtroom dress code, most teens continue to show up in jeans, sneakers, and T-shirts. She's always pleasantly surprised with the teens who go out of their way to meet her expectations.
"One kid had no dress pants, only shorts. He sent me a picture the day before court of khakis he bought at a thrift shop and a collared shirt. I love that I projected onto him, this is what I expect," Evans says.
The tough love approach seems to pay off.
"If you lay what you expect out there," Evans says, "they will meet your expectations."
To view more of photographer Katherine Clark's work, go to www.katherineclarkphotography.com.