Chill Factor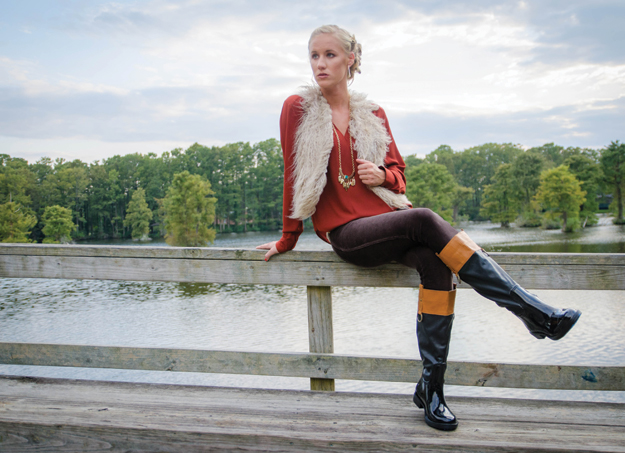 The nippiness of November urges us to snuggle with our significant others and layer up for colder temperatures.
It also inspires an indulgence in seasonal dishes that are sure to warm the senses. Try welcoming the chillier month with a romantic autumn picnic, complete with your sweetie, cozy knitwear, and delicious fall-inspired treats.
You'll be sure to keep toasty in the weeks to come!
(Above) V-neck wrap BLOUSE in rich sequoia neck by Vince Camuto ($89), chocolate stretch corduroy LEGGINGS by Michael Kors ($64.50), and bird NECKLACE by Jessica Simpson ($38), all available at Belk. Yeti VEST ($69), available at Aqua Fedora. EARRINGS by The Girls Style Boutique ($8) and rain BOOTS by Kate's Boutique ($79), both available at Tickled Pink
Lace bodycon DRESS ($48) and cross NECKLACE ($22), both available at Aqua Fedora. Space Dye Fur VEST by Kensie ($99), white NECKLACE by Kenneth Cole ($52), and thigh-high SOCKS by Free People ($24), all available at Belk. EARRINGS by The Girls Style Boutique ($8), available at Tickled Pink
Cedar CARDIGAN ($74) and magenta cowl-neck DRESS ($44), both available at Aqua Fedora. EARRINGS by The Girls Style Boutique ($8) and CAMISOLE by Unique Chic ($15), both available at Tickled Pink. NECKLACE (stylist's own)
Models: Haley Taylor and Alexander Willis
Photography Assistant: Augusta Ramsey
Makeup: Danielle Forte
Hair: Kate Bailey
Location: Greenfield Lake Park Picnic food by Uprising, 1701 Wrightsville Avenue
To view more of photographer Katherine Clark's work, go to www.katherineclarkphotography.com
To view more of stylist Jessica De Vault's work, go to www.jessicadevault.com