Building Blocks
Interview with architect intern Joshua Thomasson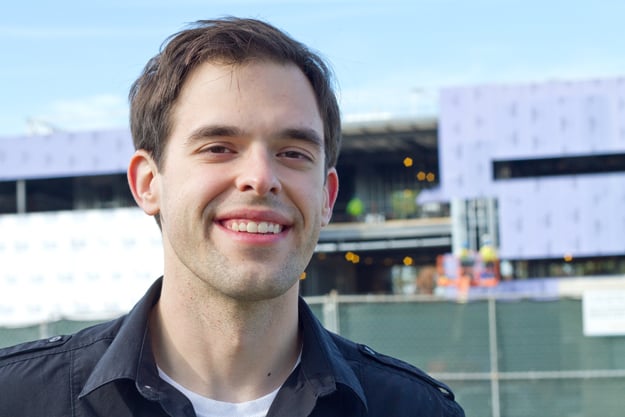 Seeing the big picture is important for Joshua Thomasson, but it's the often-overlooked details that allow him to understand it all. And in the world of architecture and design, all of those tiny, careful moments can translate into how well, or not, the inhabitants interact with their surroundings.
Even as a kid, Thomasson would be given Lego sets but never followed the instructions on the package so that he could make his own world.
These days, whether it's a concrete stairwell or a garden atrium, he's designing for his job at the local architecture firm LS3P, Thomasson still believes in using creativity and a keen eye to bring the best out of a space.
W: You have a degree but your title is intern. What does it take to become a full-fledged architect?
JT: The intern label is what they put on people who have graduated but haven't passed the standardized testing. It's typically a three to five year process after graduation with a series of tests and hour requirements to get certification. It's over 5,000 hours, and I'm closing in at 2,000. They make it really hard to become an architect, but when it comes down to it, people's lives are affected.
W: What do you specifically in your position?
JT: I work a lot on the computer. I'm the model manager, so basically I build things in 3D on the computer. It's computer-rendering or photo-realistic visions of what the building will look like. Our drawings are based off these 3D models, and that's what they build off of.
W: What kinds of projects have you worked on so far?
JT: I've worked on a really broad spectrum of different market sectors – a cardiology outpatient facility, a speculative office building, and an assisted living facility.
W: Design seems to play a big part in your work and your hobbies … what else have you created?
JT: I've always been interested in design in general and how it played a role in people's lives, and that led me to architecture. I've done two chair designs, and I like to screen print posters. I also like graphic design layouts and imagery.
"Architecture is really a field that you interact with everyday whether you notice it or not," he says. "If you can make that space nice for someone, you positively have impacted their lives, and that's not a small thing. I think it's the responsibility of the architect to make it the best space you can. That's what I try to do and the way of thinking that I approach."
W: You enjoy taking photos of architecture as well …
JT: I like capturing architectural details and moments when you're experiencing a place. It's those small, little details where you can get the feel of those sometimes massive buildings. As an architect, you appreciate the ideas these architects were going for, and when you see something like that, you try your best to capture it … to feel what that person was thinking when they designed it.
W: Let's imagine you were hired to create a dream project – what would you build?
JT: I really like the thought of community architecture and bringing people together in a space so a theater, stadium, or even just a really nice atrium, something along those lines. Those are the kinds of projects that I like to work on and kind of gravitate more towards.
To view more of photographer Amy Conry Davis' work, go to www.gypsypye.com.