Broadway to Wilmington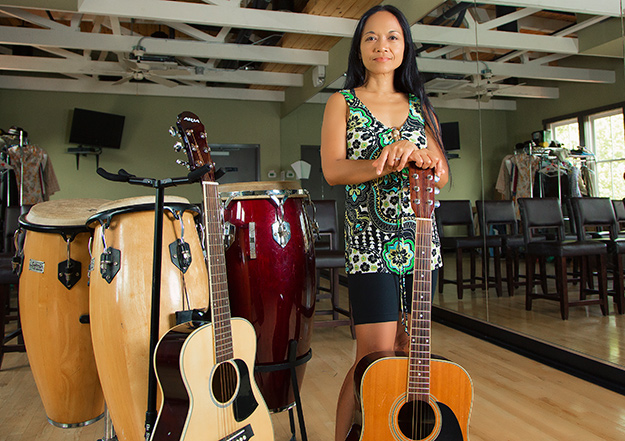 From the lights of Broadway to the glitter of Hollywood to Wilmington's cherished stages, Mirla Criste's forceful talent has enthralled audiences and actors alike.
Criste is the multi-talented, multi-dimensional performer, director, and choreographer who has put her unique mark on some of Port City's most acclaimed theatrical works in the past two years. She directed the popular Singin' in the Rain for Thalian Association, created the innovative Capture for Dance-a-lorous, and dynamically portrayed Cassandra in Vanya and Sonia and Masha and Spike for Thalian's production at Red Barn Studio Theatre.
She also has won the StarNews' Wilmington Theater Award for Best Supporting Actress in 2014. And she is a member of the board of directors of the Theater Network of Wilmington and teaches theater at University of North Carolina Wilmington.
Criste's professional credits are long and impressive. She was a member of Miss Saigon's original Broadway cast, and she performed in modern dance troupes as well as acted in classical dramas, musicals, films, and commercials in New York City. After a decade on the stage, Criste's career took a different path. She attended graduate school, determined to dig deeper into dramatic theater and make films; taught theater at the University of Georgia; and, when her husband was assigned to Wilmington, followed him. And she found she was most pleased with the Port City theater scene.
"I was elated at the amount of performing going on and impressed by the commitment the community has to theater," Criste says.
This Renaissance woman of the theater brings a fresh, innovative, and multi-disciplinary perspective to Wilmington theater. Her avant-garde ideas are as thought provoking as they are exciting – exactly what Criste wants to achieve.
"I want to do productions that are out of the norm, that are unusual in the way they look at an existing script," Criste says. "I like to incorporate unusual performance modes, like including unexpected movement or a discipline such as puppetry or music in a play."
Criste has done just that in Wilmington. Audiences have been particularly struck by Criste's vision and use of media when it is least expected. She included media in the musical Singin' in the Rain as well as the plays Love Happens and Check, Please. In Capture, her piece for Dance-a-lorous, part of the annual Cucalorus film festival, she integrated live film, using an iPhone, Apple TV, and AirPort Express, into dance. The result was an edgy and unnerving commentary on life in the age of technology. Also, in keeping with Criste's proclivity for the new and unique, even the dance in Capture, contact improvisation, was different.
"Contact improvisation is a form of dance movement that involves weight sharing," Criste explains. "It has been described as wrestling, jitterbug, and making love combined. The goal is a physical conversation between the dancers. Instinct drives the movement."
Whether directing, choreographing, dancing, or acting, Criste pushes. She pushes to arouse emotions, to integrate diverse artistic disciplines, and to find new ways to express the human condition. And she pushes to insert unexpected elements in her work.
"Mirla is always trying something new to provoke thought," says Cabot Basden, who collaborated with her on Capture. "Playing with new techniques creates new possibilities, new thought processes and creates things people haven't seen before."
Criste has also electrified her fellow performers. Her energy, combined with her work ethic, knowledge of professional theater, and high standards, inspired and improved everyone's performance, actors who work with her say.
She is a catalyst for new directions in Wilmington theater, says fellow actor and director Hannah Elizabeth Smith. Even the fact that Criste is a woman is important. In addition to bringing the female perspective to local theater, it shows other local women they can be directors, too, adds Tracy Byrd, artistic director of True 2 You Productions.
Criste is working on a number of new projects. One is JT and Joni in Jail, a musical play she is writing and will direct for TheatreNOW. The folk musical, which melds 1960s folk songs with written narrative, will explore the angst of that era. She is also planning a new composition for Danc-a-lorous and hopes to do more acting and directing.
In her upcoming endeavors, Criste wants to outdo herself, to explore more unique performance modalities, and to produce more thought-provoking, innovative performances.
Wilmington has similar expectations of her. Basden sums it up nicely:
"In the future, I hope to see more of the same from Mirla," he says. "And for her, more of the same means more of the different."
To view more of photographer Chris Brehmer's work, go to www.chrisbrehmerphotography.com