Brewing Buzz
A women's network group forms for the craft beer industry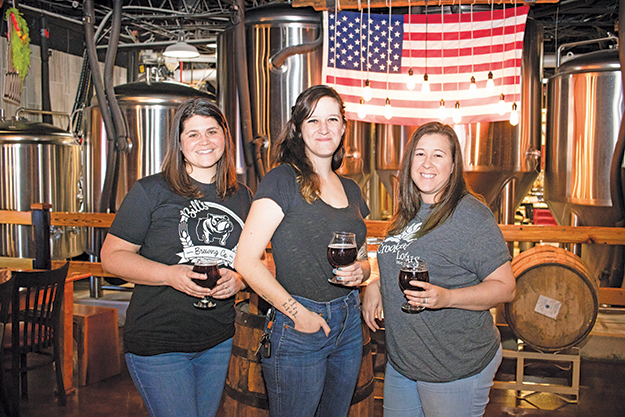 From the brewing floor, to the bar, to bottling centers, more women are becoming involved in the beer industry, which has recently grown in many regions of the state.
And as more breweries, taprooms, and bottle shops open in the Wilmington region, three women in the beer industry identified a need to bring women together.
BROOKES MUSSER, NICOLE SCHMIDT, and JOAN HOFFMAN partnered in July to form the Wilmington chapter of PINK BOOTS SOCIETY, a nonprofit that seeks to provide resources and support for women in brewing.
"I would like to think that there are just as many women working in the industry in the Wilmington area as there are men," says Hoffman, co-chapter leader and founder of the Cape Fear Craft Beer Alliance. "Several years ago, it was a little less common to see women in prominent positions and frequently there would be a little bit of timidness about them. Now, you're seeing women enter the industry with confidence and gusto."
The idea to form the Wilmington chapter started with an introductory meeting held by Anita Riley, assistant brewer at Lonerider Brewing in Raleigh, and Jasmine Bamlet, events and engagement coordinator with North Carolina Craft Brewers Guild.
Musser, secretary and treasurer of the chapter and co-owner of Bill's Front Porch and Bill's Brewing Company in Wilmington, wanted to help start the local chapter because she saw how members from other chapters in the state were socializing.
"I follow the Raleigh, Charlotte, and Asheville chapters, and they look like they have so much fun with their events and their meetings," Musser says. "It's nice to see all the girls get together, drink beer, share stories, and ask questions about the industry. "
For Schmidt, chapter co-leader and owner of The Crooked lotus bottle shop in Sneads Ferry, what made the nonprof- it attractive is how it can create a bond between women.
"It creates kind of a united community for networking and valuable resources and just people you can talk to about what's going on in your world and share stories of victory or defeat," Schmidt says.
The new chapter, which currently has about twelve members, has meetings that are both social and educational.
In the first introductory meeting, the women did a food pairing tasting and a quality control tasting, Musser says.
There will be a meeting on event coordinating, presented by Maria Speaks, taproom manager and events coordinator at Waterline Brewing Company, and traveling, presented by Hoffman.
Musser, Schmidt, and Hoffman made their own beer called Light Urple, a Belgian pale ale with honey, butterfly pea flower and a proprietary hop blend made for the Pink Boots Society.
The national Pink Boots Society offers scholarship opportunities for its members.
One goal Schmidt has for the local chapter is for it to band women together not just from Wilmington but also from the surrounding area.
"We're considered the Wilmington chapter, but that includes people all the way down from Ocean Isle Beach all the way up to Newport. And, that's about a three-hour span if you were to drive it from beginning to end," Schmidt says. "My goal in all of this is to kind of unite all these women and get them all working on the same level together because nothing happens when women are divided. Only things wonderful happen when we stand together."
While the origin of the Pink Boots Society name is not exactly known, the story is that as more women were getting involved in brewing, they would show up on brew day wearing pink rain boots, Schmidt says.
Because the chapter is new, its members hope to get the word out about the opportunity and get more members to join.
"If there are women in town who have doubts or questions or thoughts about Pink Boots, we would love to talk to them," Hoffman says. "If there are any women in town who have doubts about joining the industry, we would also love to talk to them because it's a really supportive community, both the men and the women in this city."
To view more of photographer Terah Wilson's work, go to terahwilson.com.
Want more WILMA? Click here to sign up for our WILMA newsletters and announcements.