Breath of Fresh Air
Behind Smart Start's "Hablando y Caminando" (or "Talking and Walking") group for Spanish-speaking mothers.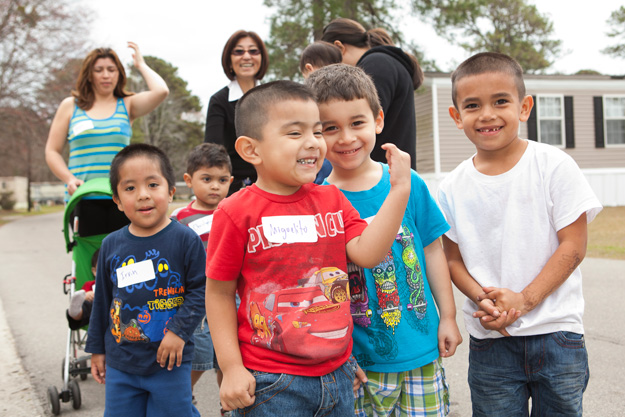 Amidst our busy schedules, it's easy to forget to step outside and get some fresh air. It's so simple and so effective at refreshing the mind and body. But, rarely do we take the time to do it.
One group, however, is making it even easier for busy moms to do just that. For the past three years, Smart Start of New Hanover County, an organization that provides services for children 0 to 5 years old, has organized an "Hablando y Caminando" or "Talking and Walking" group for Spanish-speaking mothers.
"I like to meet people," said Beatriz Sanchez, 23, who was walking with her one-year-old son Kevin and 3-year-old daughter Michelle at one organized Talking and Walking day.
It's a chance for immigrant stay-at-home moms, who can experience further isolation because of language barriers, to build community and share parenting advice.
"I started babysitting because of the economy. My husband was doing well, but it wasn't enough," said Maria Hernandez, who brought five little boys under 5-years-old she was babysitting that day to the walking group while her two sons were at school.
"I only come out walking with one or two kids [when alone,] because I can't keep them safe," she said as cars passed on the street where the group was walking.
Twice a month, Latino Services Coordinator Alan Swart, organizes a walking group for mothers, children and service providers for the Latino community. It gives the community workers a chance to hear the community's needs and answer questions ranging from health to legal topics.
Smart Start is always looking at ways to combat multiple issues such as, obesity and fear, Swart said. This gets the moms out of the house and strengthens the community, he said.
A Spanish version of this story appears in the May issue of VIDA Familiar Latina magazine.