Both Sides of the Story
interview with UNCW film student, Caleb Ward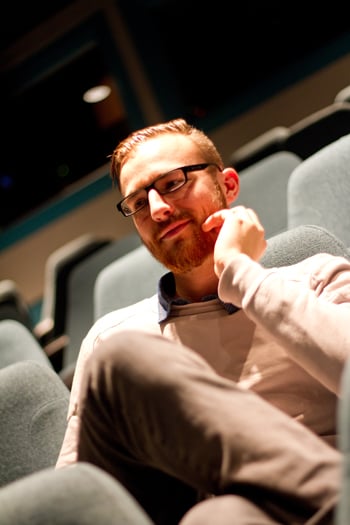 When you love stories and story telling as much as Caleb Ward, inspiration lurks everywhere.
He's full of ideas along with the drive to turn them into something real. So much so, that not only is he midway through writing his first novel, Bevel, but he's also turning a thesis project into a feature film.
Ward will graduate from University of North Carolina Wilmington in May with a double major in film and creative writing, but if you'd press him to choose between his two favorite genres it'd be the worse kind of dilemma for him.
That is why, for now, he's tackling both full steam ahead.
W: Talk to us about your film Children of Salt.
CW: There are three of us working on it: myself, Ethan Sigmon, and James Martin … I wanted to make a film that was almost interactive, that every time you watched it you got something brand new out of it. So, that's kind of where the idea of shooting on three screens at once, coordinating around this couple, came from. She's primarily on the left; he's primarily on the right. If you think about relationships, when you're telling your story of it, your point of view is going to be completely different from their point of view and from the way everybody else sees the two of you, so it's like you're getting threedifferent sides of the story.
W: Where did the title come from?
CW: My father's a pastor, so I grew up in and around the church and am well versed in the Bible. It loosely comes from the story of Sodom and Gomorrah. They were told not to look back when they left, but Lot's wife turns around and instantly turns into a pillar of salt and dies. There are always these situations in your life where if you refuse to move forward from them it's gonna kill you … We all have that person in our lives that we love to hate and hate to love, but you ask could I have been a better person if they weren't a part of my life or am I better person because they were? And that's kind of what I want people to think about when they walk away from this movie.
W: What's the secret to being so motivated to accomplish all of these projects?
CW: My dad told me when I graduated high school 'I want you to focus. I want school to be your number one job,' which is amazing. So if I'm here, I'm gonna work hard. I guess my secret is just being so ridiculously driven and always, always, always working towards the next thing.
W: What are your plans after you graduate?
CW: I'd like to teach and continue to write. I'm looking at potentially moving to Colorado – CU-Bolder – to get my master's. What I'd like to do is spend the next year traveling with Children of Salt, taking it to different art galleries and setting it up as an installation as well as film festivals. That would be amazing. I just have to work hard on that, which is why when I'm not working on the movie or writing the novel, I'm working on the movie or writing the novel.
One substitutes the other.