Book Smarts
A conversation with Linda Lytvinenko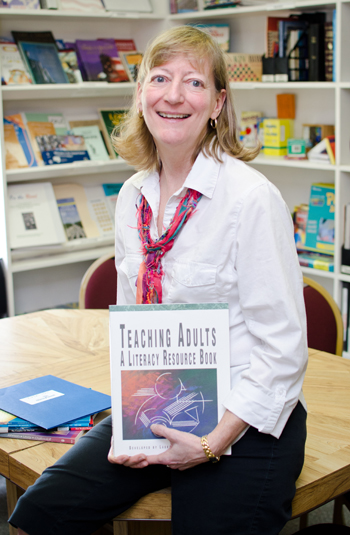 Since 2005, LINDA LYTVINENKO has been the executive director of the Cape Fear Literacy Council. Earlier this spring, she announced that she is leaving the nonprofit this month to move with her husband, John, to Cary to be nearer to their family. Here's what is on her mind as she prepares for the transition:
You've been at Cape Fear Literacy Council for more than nine years.What stands out to you about your experience there?
"To me, in the end, it's all about the students; that's why we're here. Over the last of these years we've been able to help students more than we did. Now, they realize they could go to Cape Fear (Community College), they could get a job, they could get their GED. They see what they can do with the three Rs, and they dream bigger and go farther.
We have raised our visibility in the community. So many people didn't know about us, or they thought we helped kids. Now people have heard of us. That has translated into a broader segment of the population wanting to get involved with us. We've gotten our website, messaging, Facebook all up and going.
I'm proud that, as a team, we've managed to make this small space (at 1012 South 17th Street) work when it shouldn't work. Now we've bought adjacent land with a building, and we're going to renovate it to provide instructional, hang-out, and office space, so we can turn the whole blue building into instructional space.
What I've seen us do from the beginning is take what we've got and make it do what we want it to do.
I'm very proud that the staff and board together have been able to diversify our funding. We have a certain percentage that comes from events, and our board have really been leaders in pushing those events forward. We make sure we're going for grants that are valuable to the work we do.
We have about 500 students a year who come here. About half of those get their lives in order enough to continue working with us. Some have a very specific short-term goal such as getting their GED or passing a test. Some want to be able to read with the kids in their lives.
I would like to thank this whole community – those intimately involved and those on the edges who get it, who understand that without the work we do, our community loses so much."
How did you happen to land in Wilmington?
"I lived at Holden Beach before, with my first husband. When he died, I moved back to Pennsylvania.
But I realized it wasn't me; I wasn't a Northerner anymore. So after a year and a half of running a nonprofit there, I applied for this job, came down, got the job, and moved back to Holden Beach.
I met and married my husband, John. We celebrated our fifth anniversary in April."
What is taking you to Cary?
"The only thing missing in John's and my life was family, and that's what has taken us to Cary. He has three amazing grown-up kids, and his daughter and her husband have two kids. I love those little kids and the grown-up kids. They are the best wedding present he could have given me. And all of them are within twenty minutes from where we will be living.
And because both John and I have lived in the Triangle area before, we're going to be among friends we've made in the past. John works from home for IBM; I will be looking for a job."
What will you miss the most, personally, when you leave Wilmington for the Raleigh area this month?
"Mostly the people. I have friends from my world at Holden Beach and friends who have come to me as a blessing from being affiliated with the council. So many people who are fun, smart, intelligent, committed. I'll also miss walking on the beach."
To view more of photographer Katherine Clark's work, go to www.katherineclarkphotography.com.