Behind the Line
New takes on hiring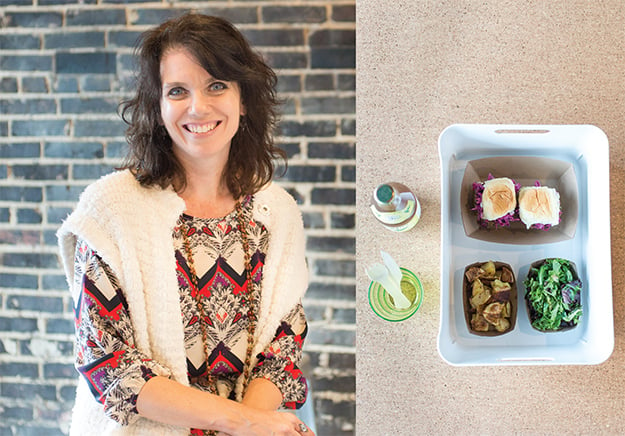 Owners of two new Wilmington restaurants are using food to bring people together and highlight the value of often marginalized workers.
At THE FOXES BOXES, a farm-to-table restaurant set to open this fall at 622 North Fourth Street, the Fox family plans to hire people who face employment obstacles, focusing on job seekers from low-income neighborhoods who do not have college degrees.
During a three-month paid externship at the restaurant, participants will learn general hospitality skills such as customer service and basic food safety, which should help the program's graduates tap into a growing downtown restaurant, hotel, and retail scene.
"The ultimate goal in this for me is to create this pool of great folks that can go out and work in restaurant industry and can work their way through the industry, kind of like I did to leadership positions," says Randy Fox, who has more than twenty-five years in the corporate restaurant industry.
Fox and his wife, Rachel Bodkin-Fox (above), also plan to focus on soft skills, including personal development, goal setting, and the importance of interpersonal relationships.
"The results, the financials, all of that is important, and we have to hit those marks. But the reality is leading and moving forward in any business is about how you interact, how you communicate, how you treat other people, how you deal with other people, and how you handle those interpersonal relationships that you have with co-workers, people who are above you and below you," Fox says. "That's what I try to teach everyone I can. Care about the people; everything else will kind of fall into place for you."
The menu offering a range of price points is also designed to make the restaurant a place where everyone can enjoy.
While the "Gourmet Box" might feature chicken with brie and pear chutney, there will also be more affordable options such as peanut butter and jelly rolls or grilled cheese sandwiches, Fox says.
"Everything kind of works itself back to that same central point of building community and trying to create a place that is an oasis for everyone," says Randy Fox, co-owner of The Foxes Boxes.
Local nonprofit leaders are looking forward to seeing a for-profit business take such a specific interest in the residents in the Brooklyn Arts District and the community's employment needs.
"I think the more we can have, the better," says Jana Jones Halls, executive director at the Blue Ribbon Commission on the Prevention of Youth Violence. "And, hopefully, they'll be building a model that can be replicated with not just restaurants."
Grounding a business in the fair treatment of its employees is also the cornerstone of BITTY & BEAU'S COFFEE, a nonprofit coffee shop where employees with intellectual and developmental disabilities run the show.
Since the c
destination, says founder and CEO Amy Wright (right, with employees Jessie and Mike).
This summer, the nonprofit moved to its new location at 4949 New Centre Drive, which boasts a private meeting room and space to host groups of up to twenty-five people.
The move to a larger location also allowed the nonprofit to hire twenty-one more employees, bringing the team up to forty.
"Once again, our expectations have been exceeded thanks to the hundreds of customers that come to our shop every day," Wright says.
Through the popular business, Wright and her family hope to change the statistic that about 85 percent of people living with intellectual and developmental disabilities are unemployed in the United States.
Already PPD, New Hanover Regional Medical Center, and other local companies have asked about how to bring people with intellectual and developmental disabilities onto their teams, Wright says.
She directs them to Able to Work USA, the nonprofit that owns Bitty & Beau's Coffee, and helps corrects some misconceptions about workers' abilities and resources.
For example, employers might expect hiring someone with intellectual or developmental disabilities to require too much time and money to train, but these employees often have job coaches who help them master tasks needed for the job. "
You basically don't have to make a lot of accommodations to integrate them into the workforce," Wright says. "And there is a level of customer service that our employees bring that would benefit any company."
But more often, people with disabilities are just not on businesses' radars at all, Wright says.
"It's really just kind of about thinking outside the box and going 'OK, I'm going to give this person a chance,'" she says.
For owners of Bitty & Beau's Coffee and The Foxes Boxes, talking about community needs and barriers to employment just seems natural over a cup of coffee or a hot meal.
"We all come together when we eat, and it's just such an instinctual thing that we all have in us to sit around the table with family and friends," Fox says. "That's what we can do with the community to just start conversations and see where they go."
To view more of photographer Katherine Clark's work, go to www.katherineclarkphotography.com.