Beer Boss
Kelsie Cole becomes state's first female head brewer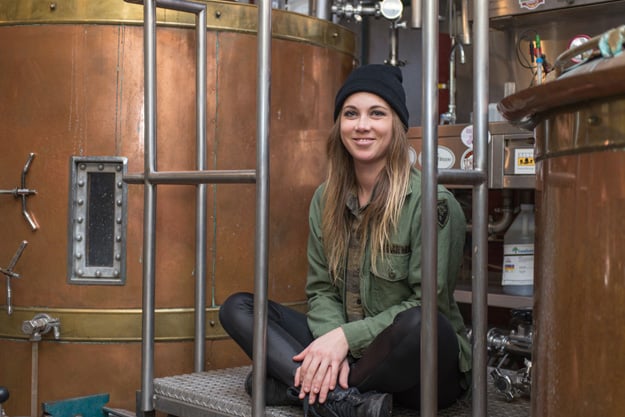 A strong argument could be made that Kelsie Cole, recently named the new head brewmaster at Front Street Brewery, is Wilmington's spirit animal. Let's look at the evidence. First of all, she's not actually from here; she grew up in South Jersey. Second, she moved to Wilmington to study marine biology at University of North Carolina Wilmington. Third, she drinks a lot of beer. And now, like a good spirit animal, she's leading Wilmington into the future of the burgeoning downtown craft beer boom.
According to Margo Metzger, executive director of the North Carolina Craft Brewers Guild, Cole is the first female head brewmaster in North Carolina. That's more impressive when you learn Cole just turned twenty-five.
It's lucky for anyone drinking downtown that the marine biology thing didn't stick. Kelsie had a bit of a time deciding what the right major was. She graduated with a business administration major, and a concentration in marketing, but realized pretty quickly sales wasn't the best fit for her naturally introverted personality.
She had worked at Front Street Brewery as a server through college and then later at Cape Fear Wine & Beer as a bartender and marketing director. But there came a point where she realized that working in a bar environment and being around people all the time was draining, and in the course of reevaluating her work-life, she fell in love with home-brewing beer.
She definitely remembers her very first batch. Under a friend's guidance, Chris McGarvey who at the time was the assistant brewer at Front Street, she bought all the equipment from Wilmington Homebrew Supply, and that night she spent hours cleaning, sanitizing, and scrubbing every inch and millimeter tooth and nail until it sparkled. Then she and her boyfriend at the time actually started making it.
"I'm very OCD about things sometimes," Cole says. "So he was cooking chicken right next to the pot where I was making my first batch of beer, and there were all these seasonings on the chicken. I was like, 'Oh my gosh, it's all gonna get into the beer, don't do that!' Needless to say, it was one little thing after the other, and it wound up we had this huge, gigantic fight. It almost broke us up, so we appropriately called it the Homewrecker Pale Ale. It wasn't bad either, it was a decent pale ale."
Ten batches later, she knew she had found her path.
"I thought, why waste my time selling it? Why not use my resources to try and get my foot further in the door, and start making it on a professional level?" says Cole, who last year was named a finalist for WILMA's Women to Watch Awards in the Rising Star category for those 30 and under.
When a position came up at Front Street for a kegwasher/growler filler, she went for it. Three months later, when McGarvey moved to Oregon, she took over his role as assistant brewer.
Now, as former head brewer Kevin Kozak takes over as brewery operations manager, she finds herself right at the top of the chain. It's a classic start-at-the-bottom story.
"The universe has been extremely generous to me," Cole says, "I oftentimes find myself taking it for granted. I have to shake myself and say, 'Kelsie, look where you are and look what you're doing for a career. You're one of the luckiest people.'"
As to her own pioneering position, Cole is bashful. But she's optimistic about the future of women making craft beer.
"For the longest time, beer was considered a man's drink," she says. "If you look at a Budweiser commercial, it's like this bearded, burly man catching a fish in this perfect, serene setting, or it's the whole Clydesdales thing. It portrays a more manly, rough and tumble tone. And wine is more prestigious or classy. But I read somewhere recently that women are now drinking beer more than any other alcohol."
Cole is also a member of the Pink Boots Society, a nonprofit organization for women who work professionally in the craft beer industry that provides networking and scholarship opportunities. Currently, they have only 912 members, which is small when compared to the estimated 2,800 craft breweries in the US. But their numbers are climbing every day.
So what kind of beer can we expect coming from her kitchens?
"I want to incorporate more local ingredients into our beers," Cole says. "Right now, I've been in charge of our workshop series, which is a small, experimental batch series we do once a month. This gives me a chance to work with more non-traditional ingredients, like cucumber, jalapeno, or ginger. I did a rosemary and thyme saison for Thanksgiving. It smelled like stuffing."
For December, she worked on a gingerbread porter and had a notebook full of ideas for January such as sweet potato brown ales and carrot lagers.
And to anyone looking to get set up brewing their own beers, she recommends the same path she took.
"I would say go to John and Michelle's (Savard) first, Wilmington Brewing Company. They still have their homebrew shop, and I tell anyone to start there. You can walk in, just like I did, and say, 'Hey, I have no idea what I need, but I know I want to start making beer.' They'll tell you everything and set you up with everything you need, from buckets to siphons, to hoses, bottles, and caps."
If it's daunting, don't despair. It's important to remember that anything worth doing takes practice. While the Homewrecker turned out well for a first batch, Cole admits her second attempt, a coffee stout, tasted like nail-polish remover. But perseverance will lead to good things.
"I've always been creative," Cole says. "I've always enjoyed making things. Obviously, with marketing, I didn't get to do that. I already had experience in the craft beer industry, so I took my creativity and my experience, put the two together, and made a beer out of it."
To view more of photographer Katherine Clark's work, go to www.katherineclarkphotography.com