Backyard Botanists
Naturalist program tills new generation of gardeners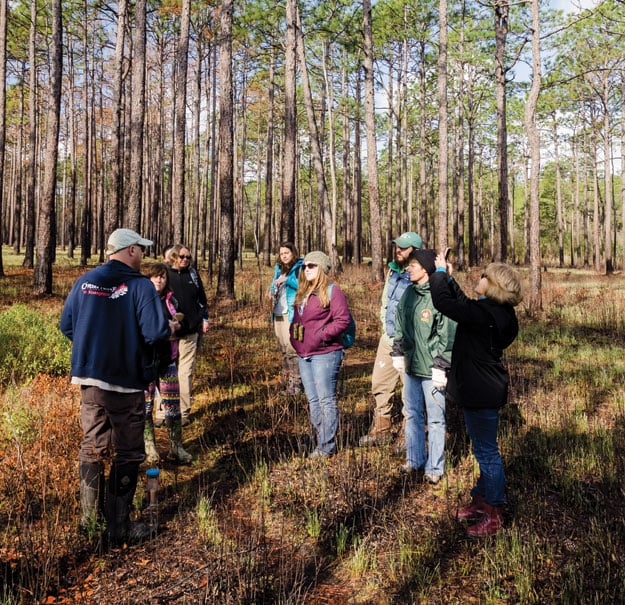 THE CAPE FEAR BACKYARD NATURALIST PROGRAM aims to promote environmental stewardship and educate residents of New Hanover, Brunswick, and Pender counties about the plant and animal species in the Cape Fear region.
The twelve-week program combines guest speakers, field trips, and hands-on learning to teach about how to best promote diverse plant and animal species in urban areas.
"When people live in an urban environment they don't realize that their actions affect the ecosystem around them," says SABRINA WOOFTER, Brunswick and New Hanover County natural resources and environmental education agent. "They may not even realize that they live in an ecosystem at all."
The program's classes take place on Thursday evenings at Wilmington Brewing Company where local and regional wildlife and plant experts present information about urban ecology, highlight the importance of biodiversity in backyard ecosystems, and demonstrate how what we do in our own yard affects the larger ecosystem.
The Backyard Naturalist Program was organized by agents of the New Hanover and Brunswick County Cooperative Extension, a group whose role is to take research generated at the state's land grant universities, North Carolina State University and North Carolina A&T University, and use it to educate the public.
Woofter and her colleagues created the Backyard Naturalist Program to reach a new demographic. The program's location at Wilmington Brewing Company, combined with the class times of Thursday evenings and Saturday mornings, are intended to be convenient for working adults and families.
The program is not only new to area Cooperative Extension offices, but it is unique in all the offices in the state, organizers say. And Woofter's goal is to not just educate the public, but also to encourage other county Cooperative Extension offices to create similar programs.
"We are already planning on having it again next year," she says. "All of the program's plans have been written down so they can be replicated. Hopefully, we will make it really easy for ourselves and others to do it again."
There are a lot of simple things urban dwellers can do to help their ecosystem, Woofter says. Planting a rain garden is a one way to deal with stormwater runoff. Rainwater collection is another option for urban dwellers as the collected water can be used for plant irrigation during dry spells.
"Hopefully, this program will not only help people identify all of the life around them," Woofter says, "but also understand the interconnectedness between it all and how that affects human well-being as well as environmental well-being."
Classes are held Thursday evenings 6-8 p.m., through June 6 at Wilmington Brewing Company, 824 South Kerr Avenue, with family-friendly field trips every other Saturday from 8 a.m. to noon. Field trips are open to the public, but participants must register by emailing CFBackyardNaturlist@gmail.com.
To view more of photographer Erik Maasch's work, go to websta.me/n/emaasch