August's Take 5
Interview with Megan Demolina, counselor at Noble Middle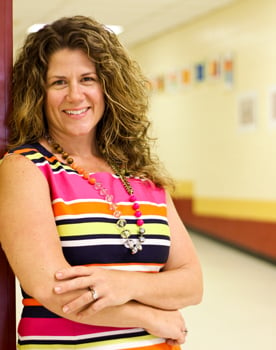 Even in the summertime, Megan Demolina, a school counselor at Noble Middle School, is thinking about her students. As a mother herself, she understands the direct connection between family life and academic accomplishments and how important they are to one another. Year after year she sees the effects of good habits practiced at home that allow her students to excel in the classroom and shares them here.
Ways to Help Your Kids Start the School Year Off Right
"Be Present. Attend school functions like open houses, PTA events, parent/teacher conferences, field trips, etc.
Be Involved. Frequently check Home Base Parent Portal in PowerSchool to review attendance and grades, visit school and teacher websites, like (the) school's Facebook page, and follow (the) school on Twitter.
Be Supportive. Set up consistent routines – daily and weekly schedules – and stay organized.
Be Realistic. Create goals and expectations together, set boundaries, define clear rewards and consequences for both academics and behavior.
Be Creative. Find ways to interact with your child daily and help extend the learning day at home by engaging in meaningful conversations."
To view more of photographer Amy Conry Davis's work, go to www.gypsypye.com.