August Spotlight
Area women making news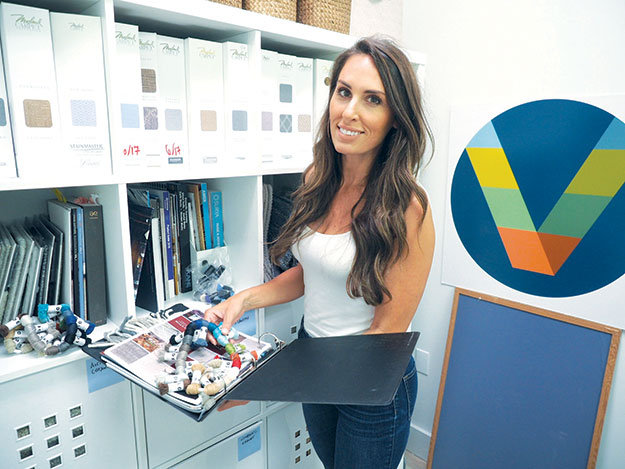 CHECKING IN WITH SOAR GROUP
Several area startups are a part of this year's NC IDEA SOAR program, which helps female entrepreneurs. Locally based ANAHATA SWIMWEAR, MYBEEHYVE, SKILLY-DO, and VAVAROOM are among the eight companies chosen to participate from the pool of applicants from across the state.
As part of the program, which started in May and runs through the rest of the year, company founders meet with mentors and have access to other resources.
"The mentors have helped us both strategize marketing concepts and zoom in on analytic data that is essential for understanding our business and how these numbers relate to our ultimate goals," says CATHY MAREADY, founder of Vavaroom, a website that lets homeowners pull together their rooms with the help of interior design professionals.
"We have gained excellent insight into our business foundation, product focus, and next steps for growth," says AHNA HENDRIX, who launched Anahata Swimwear last year. "One of the best outcomes thus far has been to return to our core offering of Made2Fit Swimwear."
NC IDEA is a private foundation based in Durham. Its annual SOAR program is intended to help close the funding gap for female entrepreneurs.
GIRARDOT NAMED AIRPORT BOARD CHAIR
DONNA GIRARDOT recently landed the NEW HANOVER COUNTY AIRPORT AUTHORITY's head spot, making her the first women to serve as the group's chair.
Girardot, who in 2014 became the first woman appointed to a seat on the authority in twenty-five years, was elected its chair last month. She will serve in the role through June of next year.
She also held a secretary officer position on the authority, which oversees Wilmington International Airport, before being reappointed to her second term on the board.
"I feel privileged to have the opportunity to play a part in such a vibrant and growing airport that continues to endeavor to meet the expectations of our regional community," says Girardot, who also is a member of the New Hanover County Planning Board, a body she previously chaired between 2015 and 2017.
Girardot, former head of Wilmington- Cape Fear Home Builders Association and Business Alliance for a Sound Economy, is the planning board's representative to the UDO (Unified Development Ordinance) Technical Review Committee and chair of the county's TRC (Technical Review Committee).
MUSEUM ASSOCIATES BOARD ADDS MEMBERS
CAPE FEAR MUSEUM ASSOCIATES INC. elected new officers and board members at its annual meeting this summer.
The officers named were: Ashley Garner, president; Dan Goodwin, vice president; CHRYSTAL FRAY, secretary; and Mike Hudson, treasurer.
EMILY BOGAN, TERRY ESPY, KATIE GLOE, Dan Owen, Karl Ricanek, and RONNA ZIMMER were new board members elected to serve three-year terms on the associates board.
Bogan, who has over a decade of experience in the financial services and technology industries, is director of product management at nCino.
Espy is president of MoMentum Companies, a commercial real estate brokerage firm. She also serves as president of the Downtown Business Alliance's board.
Gloe (above), a graduate of WILMA's Women to Watch Leadership Institute, is a process manufacturing engineer for Corning's Wilmington facility. She has served as board president of Corning Professional Women's Forum and continues to sit on that board.
Zimmer is a community leader and has served on numerous boards including for Thalian Hall, New Hanover County Public Library Foundation, and UNCW Board of Visitors.
LAWLER GARNERS VOLUNTEER AWARD
The International Festivals and Events Association recently named JEAN LAWLER its 2018 Volunteer of the Year.
Lawler has volunteered with the NORTH CAROLINA AZALEA FESTIVAL for over fifty years and served as its president in 2017, officials say.
She picks up the award in October at international association's annual convention in San Diego.
Lawler, who is vice president of the WWII Wilmington Home Front Heritage Coalition, was the volunteer coordinator for four Honor Flights to the WWII Memorial in Washington, D.C. She also previously served as president of the Seahawk Club for the University of North Carolina Wilmington and was a founding organizer and chair of the inaugural Enchanted Airlie event.
With the Azalea Festival, which marked its seventy-first year in April, Lawler continues to stay involved as a past president and supporter of festival volunteers.
"During her presidential year the Azalea Festival established an Emeritus Chair Program, in large part due to Jean's calling to thank the hardest workers of the Festival," festival officials say. "Immediately after Jean gave up her presidency the Emeritus Program was renamed the Jean A. Lawler Emeritus Program in her honor not only as a volunteer herself, but for her inspiration in creating this program."
Want more WILMA? Sign up for our WILMA Weekly email and announcements at WILMAOnTheWeb.com.