August Checking Out
Alex Bryant, Model/Actor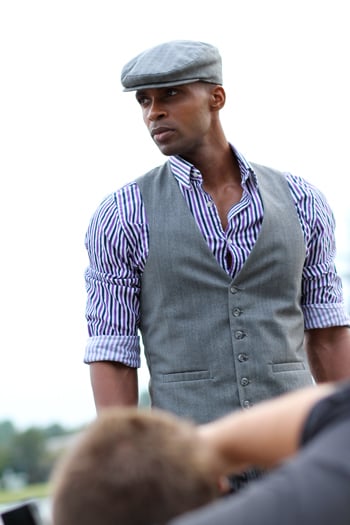 You only have to spend a few minutes with ALEX BRYANT to realize he's not just another pretty face. His positive attitude and sense of humor is refreshing and a certain authenticity shines through this model's photos. At a recent photo shoot, he talked to WILMA about the ups and downs of the industry and the importance of his family in his life.
"I started modeling at 14. I did that for eight years and acting was the next step with everyone pushing and believing in me because I didn't truly believe in myself at that time. They were dreaming bigger than me," he said.
W:  Do you prefer modeling or acting?
AB:  I like both. Acting is something that allows you to become that character – something other than yourself. It allows you to dig deep and explore yourself. It's my true passion. Modeling was the gateway.
W: Who is your favorite actor?
AB:  Christian Bale. This man goes there 100 percent. He becomes the authentic character. He's a genius to me.
W: What are some recent projects you've been involved in?
AB: Hornet's Nest and Disappeared. To have two shows on TV is amazing. I'm also going to be the new face of the print division at my agency, STW.
W: What would be a role you'd like to play?
AB:  Since I'm such a laid-back person, I think it would be really good to play a hero in a thriller – an action-packed, non-stop epic role.
W:  So, you want to save the world?
AB:  I want to be the hero – fighting, jumping and shooting.
W:  Where do you spend your free time?
AB:  I love Deluxe and The Calico Room. And if I'm not at the gym, I'm with my family. I've got two sisters and a beautiful mother. They keep me focused and keep me going. They say that life is like a dance and no matter what song is playing or when it stops, keep dancing.
W:  Paparazzi – good thing or bad thing?
AB:  GREAT thing. If someone is that interested in your life, then you're doing something right. Of course, they take it too far sometimes.
W:  What will you wear the first time you walk the red carpet?
AB:  Tom Ford. Head to toe.