August Check Out
Art with heart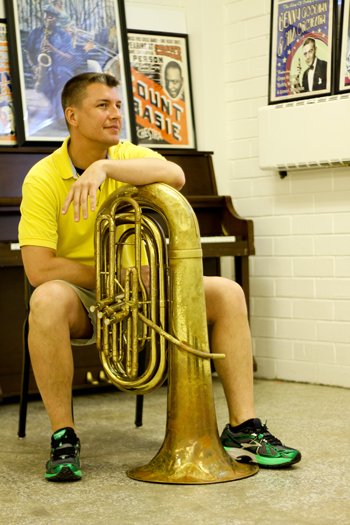 Raised by a dad who was a military presidential pilot and a dedicated homemaker mom, CAMERON BOLISH grew up understanding the ever-important balance of hard work, compassion, and gratitude.
Arts facilitator and enrichment coordinator at D.C. Virgo Preparatory Academy, Bolish is passionate about passing those values onto his students as well, and you only need to spend a few minutes with him to realize his enthusiasm is contagious. His goal is to someday be a principal (he's working towards a master's in school administration) but for the time being, he's using his background in music and teaching to inspire young minds.
"In my career, I've been called on to help fix programs. I've never been part of a 'squeaky-clean' school, but I've been fortunate enough to be part of the rebuilding and sustaining of these programs to put a more positive light on it," he says. "Arts are always the first things that get cut … we need to allow the child to paint, draw, to have the dexterity of hands on an instrument.
"I guess that's kind of been my pathway … to help instill that."
W: You wear a lot of hats at D.C. Virgo. Tell us what you do as an enrichment coordinator.
CB: My job is to go out and network and find community sponsors and partnerships (PPD, DREAMS, National Pawn, PALS, UNCW, etc.). All these agencies, they show up out of the kindness of their hearts, donate their time, just to provide that enrichment for our child. The child has the ability to choose three different enrichments every nine weeks. Every Friday, we break from Reading, 'Riting, and 'Rithmetic … and that is helping to truly promote the 21st-century student in the well-rounded aspect.
W: What are some examples of activities?
CB: Dance, gardening, drama, ceramics, theater, martial arts, soccer, lacrosse.
W: You're also the band teacher …
CB: Yes, but when I got here, the room was empty – no lockers, no instruments, nothing. It had zero. But the principal, Eric Irizarry, who's a visionary, wanted a kick-butt band program, so I went out and found sponsors. One donated over 100 instruments; another gave funds for method books. It wasn't easy, but that's my job. And if anyone else wants to donate instruments we have a new grade level coming in.
W: Your mom was a big influence in your life. What did she teach you?
CB: My mom's greatest quote was "Kill 'em with kindness." There are days that I get so frustrated. And in this business, it's not the kids, it's the adults.
W: What do you do in your downtime?
CB: You will always find me at the beach, even on a cloudy day. I have a beautiful condo with a very beautiful drum set and a very beautiful piano. For me, that's an escape.
W: You are a very busy man, and this is a tough job. Where does this energy come from? Coffee? Eating your Wheaties?
CB: I'm just blessed, and I'm grateful. I think I'm good at what I do because of the mistakes I've made. I can be honest with those mistakes, continually learn from them, and appreciate where I am today. A lot of what makes me me is remembering that and giving it away. And chocolate – that's the truth.