At the Helm
Tricia Bennett rides the waves running Bennett Brothers Yachts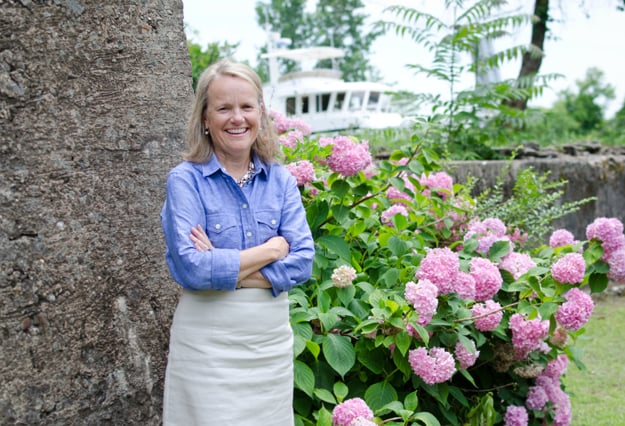 Hurricanes have come and gone. The economic downturn posed a challenge. And a family death hit painfully close to home. Through life's hardships, TRICIA BENNETT carries on the tradition of getting boats out on the water and giving their owners the chance to set sail.
"It's wonderful to be able to match, to find a boat for someone, that they can go off and circumnavigate, if that's what they want," Bennett says.
After building boats overseas, Bennett and her husband wanted to launch a boat business in the States. They eyed Wilmington's rich maritime history and prime location near a river and Intracoastal Waterway. They were eager to bring their custom boat-building craftsmanship to the region. The couple moved from Stamford, Connecticut to the Port City nearly three decades ago and opened BENNETT BROTHERS YACHTS in 1986 on the Northeast Cape Fear River.
Bennett describes boating as a family-oriented activity, not just a family business.
"You know, there are lots of families involved and that's great chemistry," she says.
Bennett credits her team of twenty workers with helping the small business thrive over the past twenty-eight years. Many of the employees have been with the company for years.
"I'm extremely blessed that I have a lot of very loyal employees – twenty years, eighteen years, seventeen-year veterans. That loyalty is outstanding and really is very much, you know, a part of who we are," she says.
Bennett believes the key to her employees' longevity with the company comes from running the operation as a family business. Bennett says there are no restraints from corporate structure, and she always encourages her workers to make suggestions for improvement. She also recognizes her workers have a life outside of the boat yard.
"I tell the guys on the floor that I give 110 percent every day when I walk in, and I expect the same from them," Bennett says of her philosophy. "And we try to train our employees, empower them to do the best possible job by giving them the tools that they can to do the job, while still being cognizant that people have family commitments, soccer games that they want to go to."
When the economy took a dive several years ago, some small businesses across the country shut their doors or reduced their workforce. The custom boat building industry also slowed down. Bennett Brothers Yachts, however, found a way to survive and thrive by turning its focus to repairing and restoring boats. Bennett's crew performs a variety of repairs including recently repainting the Wilmington Fire Department's fire boat and painting a 72-foot Marlow Yacht. Bennett finds it rewarding to bring a boat back to life.
Bennett's business philosophy received national recognition this year. She received an award nomination for building a leading business that has made a significant impact on the community. She was nominated for the 2014 Ernst & Young Entrepreneur of the Year award. While she did not win the award, Bennett is grateful for the recognition.
"We're so proud to share our success with other people. And it's my guys, that's the reason for our success," she says.
Perhaps the toughest moment for Bennett occurred in 2007 when her husband and business partner, Paul, died after battling cancer. Bennett stepped up to run the business on her own and to continue their shared vision of providing excellent service to yachtsmen.
Bennett's four children were all raised on the water and enjoy sailing. She expects two of them will join the family business. It means a lot to Bennett to see her children take an interest in carrying on the family tradition.
To view more of photographer Katherine Clark's work, go to www.katherineclarkphotography.com.