April's Take 5
Audrey Speicher, director of tekMountain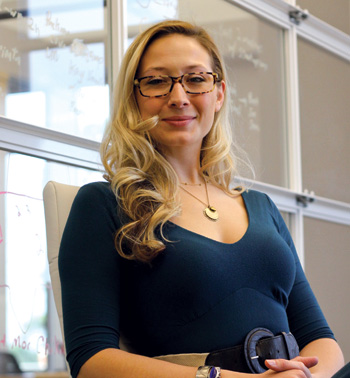 AUDREY SPEICHER is director of CastleBranch Corp.'s business incubator and accelerator tekMountain. Her current role has her working closely with tech startups, but she began at the company in business development.
Navigating the digital world proficiently meant utilizing the resources around her and drawing from her academic background in social sciences to start thinking more technically minded.
If you're looking for ways to get a little "techie," here are five practical resources she discovered along the way.
"TECHNICAL DICTIONARIES – I constantly use www.techterms.com to look up words, phrases, and acronyms and have a tech word of the day. I'm not a programmer, but I work with people who are, and conversations can feel like foreign language classes. Write down what you don't know and research it when you can.
LAPTOP, TABLET, SMARTPHONE TRIO – This is the most obvious, but I find I spend an incredible amount of time with these items.
ONLINE PRESENCE – Connect with others through LinkedIn, blogging, etc. on topics that interest you. If technology is a pain for you, this is a good way to add sugar to the medicine and get in the habit of using it consistently.
STANDING DESK/EXERCISE BALL – Much of my time is spent in front of a computer. I find I'm more productive, alert, and generally feel better physically when I cycle through using my original desk, a standing desk, and an exercise ball as a chair throughout the day.
CONTINUING EDUCATION – I love massive online open courses … like Udacity and Udemy! There is a treasure trove of information via these types of resources and many of them are free to boot."