April Spotlight
Spotlight on area women making news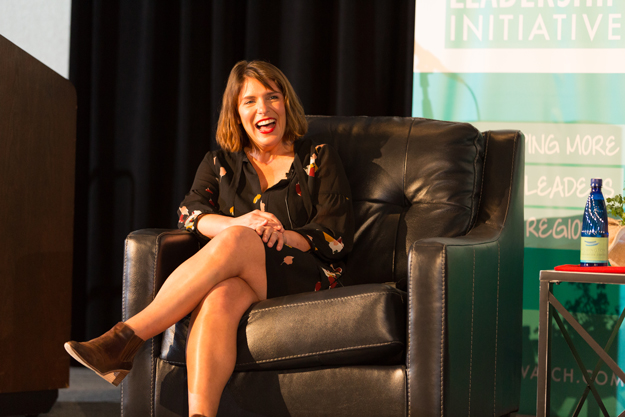 VIVIAN HOWARD wears many hats: chef, restaurateur, television series host, and cookbook author. Last month, she shared insights into working in all those roles as well as managing a growing brand when she stopped in Wilmington for the WILMA's Women to Watch Leadership Initiative lunch event.
Howard, who owns two restaurants in Kinston with her husband, was wrapping up filming for the latest season of her PBS show A Chef's Life as well as a book tour for her award-winning cookbook Deep Run Roots. Her next project is opening a restaurant in Wilmington, Benny's Big Time, which is set to launch later this year.
"I think you build self-confidence by doing things," she said to an audience of about 680 at the Wilmington Convention Center. "I enter into everything that I do just full blast."
For more photos from the event, go to WILMA's Facebook page.
Cape Fear Food Council Forms
A new group aiming to bring together players in the local food system has formed.
The Cape Fear Food Council remains an informal group right now, though it does have a committee structure and leadership team, says organizer SARAH DANIELS, associate director of Feast Down East.
Those committees reflect the food stream's different parts: production, processing, distribution, access, and waste management.
Daniels says about thirty different organizations are involved, so far.
"We're looking to bring everybody's voice together for the local food system," she says, "while enhancing policy change with local leaders."
A website and Facebook page are pending, but, for now, Daniels says those interested in more info can contact her at danielss@uncw.edu.
New Convention Center GM Takes The Reins
FREDIA BRADY has taken over as general manager of the Wilmington Convention Center.
Before moving to Wilmington for the job, Brady was senior director of sales and marketing for the Savannah International Trade & Convention Center. She had worked there since the center opened in 2000, including as director of sales and marketing, according to SMG, which manages the Wilmington Convention Center.
The center is owned by the city of Wilmington.
Brady has more than twenty-five years of experience in convention sales and marketing, business development, facility operations, and event management, officials say.
"Fredia's experience will be invaluable as the (Wilmington) Convention Center positions itself to support the rebranding of the River District and the opening of an adjacent Embassy Suites Hotel this year," says Bob McClintock, SMG senior vice president.
Dawson Joins Board Representing Festivals
OLIVIA DAWSON, festival coordinator for the annual North Carolina Blueberry Festival, was named to a state trade association board.
Dawson joined the North Carolina Association of Festivals and Events' board of directors. The association is an organization representing festival and event coordinators, key volunteers, and vendors to the industry.
"I am honored to serve with an organization that shares information that makes all of the state events and festivals stronger and better," says Dawson, who has organized the annual North Carolina Blueberry Festival – held in downtown Burgaw – for the past five years.
She also has been involved in the Eastern North Carolina Events and Festivals Consortium.
This year's Blueberry Festival is June 16-17.
Comments
comments