'Anyone in Need'
A decade at Good Shepherd Center, Katrina Knight keeps looking to help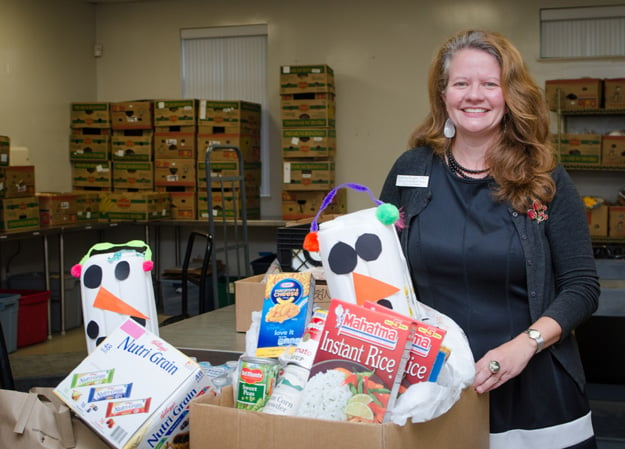 "Service is the rent we pay for being. It is the very purpose of life, and not something you do in your spare time."
This Marian Wright Edelman quote inspires Katrina Knight to go to work every day as the executive director of the Good Shepherd Center in Wilmington.
During college, Knight says she volunteered in "everything," but it was not until she was awarded a fellowship with the Rape Crisis Center in Washington, D.C., that her eyes opened to the career possibilities in the nonprofit sector. She completed her undergraduate degree in Russian but set off on a different path toward nonprofit management.
Her first job in the field was managing service learning programs at Guilford College where she connected students with meaningful community service experiences. She then received a master's degree in social work from Washington University, focusing on social and economic development.
Knight, who has worked for Good Shepherd for ten years, came to the agency by way of St. Louis, where she was the executive director of the Housing Resource Center there. During a visit to Wilmington, she heard about the opening for an executive director at Good Shepherd and was impressed by the organization's innovative programs such as Second Helpings and its day shelter, which did not exist in St. Louis at that time.
At Good Shepherd, Knight has her hands in everything, including overseeing a staff of thirty employees, fundraising, grant writing, building relationships in the community, and advocating for affordable housing.
Good Shepherd's history in the community dates back to 1983, when a small group of community members recognized a growing homeless issue in Wilmington and started a soup kitchen on Queen Street. Thirty-one years later, the Good Shepherd Center has evolved into a full nonprofit agency, but the mission remains the same: to serve the hungry and homeless populations of Wilmington.
The agency provides 85,000 to 100,000 hot breakfasts and lunches each year through its soup kitchen. Knight emphasizes that the soup kitchen is not just for the homeless but for "anyone in need," including seniors, the disabled, and the working poor. For example, a mother might not have enough food left over to feed herself after her children have eaten, which is where the soup kitchen comes in, filling a need in the community.
Additionally, Good Shepherd collects donated food from the community to repurpose for feeding the hungry.
Every day volunteers with the center's Second Helpings program visit partnering grocery stores, restaurants, and other businesses to pick up fresh and canned food that sponsors have set aside for them.
About 500 tons of food per year that would otherwise be thrown out is salvaged for the soup kitchen or passed along to other community organizations.
A large circle of about 500 volunteers, some of whom have been devoting time to the organization weekly for ten to twenty years, form the heart of Good Shepherd.
On the food side of the organization, volunteers cook meals, clean the kitchen, pick up donations, and sort and shelve food.
"It is a little like running a restaurant, you couldn't do that with only one person," Knight says.
The 118-bed night shelter, which was built in 2005, offers dorms for single men and single women and four private rooms for homeless families to stay together as a unit. Families can also enjoy a private family lounge where kids can do homework, watch cartoons, and play.
Case managers work closely with night shelter guests to develop a plan for rehousing with a goal of placing them in permanent housing within three months of their arrival at Good Shepherd. To date, they have secured permanent housing for 1,100 people in the Wilmington area.
"For many decades, all around the country, shelters became places that could manage the problem," Knight says. "Quite often, we did not get very far beyond keeping folks safe and alive overnight. For the last several years, we have fundraised more and managed our people resources to rehouse our guests each year."
One philosophy of Good Shepherd that sets it apart from many other homeless shelters is that they rarely turn anyone away, including the mentally ill, wheelchair-bound people, single dads with children, families with boys over the age of nine or ten, and people with active addictions.
"We try to keep the barriers low because we feel like if there is no opportunity for them to get through the door, then there is no way to help them," Knight explains.
Good Shepherd also operates a day shelter for the more fragile or chronically homeless populations. The day shelter is a safe haven where people have access to basic amenities, such as a restroom, shower, clean clothes, and toiletries. Case managers offer transportation for job interviews, courses at the community college, and medical appointments.
Knight's passion comes across when she discusses changing public perceptions of homelessness.
"A lot of times people look at homelessness as some type of character defect, when really it's a housing status," she says. "Being homeless doesn't say anything about who you are as a person."
She stresses that the dominant cause of homelessness is not mental illness or substance abuse; it is purely economic. Affordable housing remains a critical problem in Wilmington, where the "housing wage" is estimated at $16 per hour to afford a modest, two-bedroom apartment, officials say.
When asked how the community can become involved, Knight says she welcomes the opportunity to speak to groups about what the center does. She also invites people to take an individual tour of the center and get a sense of what they offer firsthand.
Outside of work, Knight enjoys spending time with her young son, friends, and family. She also reduces stress by playing tennis, which she calls her "one sport," and working out at the YMCA.
Knight admits that she might not be that good at managing her stress, though, as she is often thinking about what is left to be accomplished.
"I always feel," she says, "like no matter what I do, I'm not paying the debt down, because I've been blessed in so many area."
WANT TO HELP?
Good Shepherd relies on in-kind donations. A few items that are always in need are soap, shampoo, towels, and sheets.
A longer wish list is available at goodshepherdwilmington.org.
To view more photography by Katherine Clark, go to www.katherineclarkphotography.com.