Announcing the Women to Watch Award Winners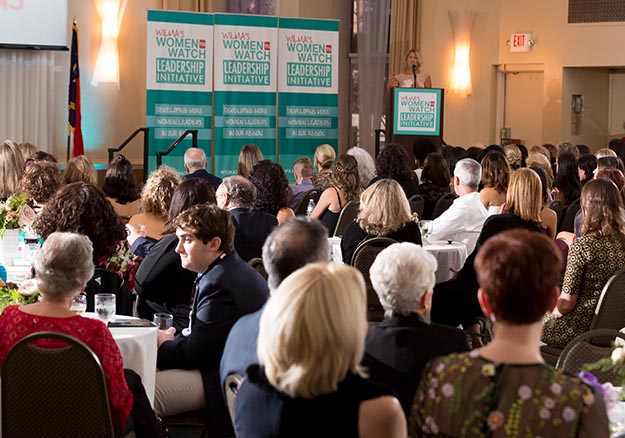 WILMA held its sixth annual Women to Watch Awards event Oct. 13 at the Hilton Wilmington Riverside.
Winners of seven award categories were announced and recognized at the event. The winners were among thirty-five finalists picked by this year's judges for their contributions to their industries and local community.
Here are the 2017 WILMA's Women to Watch Awards winners.
ARTS
REBEKAH TODD, musician and visual artist
A singer-songwriter with a busy performing schedule, Rebekah Todd has three album releases, music festival experience and more projects in the works. When not on stage, she also is a visual artist with a studio at ACME Art Studios.
Her band, Rebekah Todd & The Odyssey, played at key slots at FloydFest in Virginia this summer after winning the music festival's On the Rise fan-vote contest the year before.
BUSINESS
JENNIFER MCCALL, CEO of SeaTox Research Inc.
As head of the startup company SeaTox Research, which develops diagnostic kits to detect toxins in seafood, biologist Jennifer McCall combines science and business.
After launching SeaTox in 2013, the Wilmington-based company snagged a federal Small Business Technology Transfer (STTR) startup phase grant and matching Innovation Grant from the state. Earlier this year, SeaTox, in collaboration with UNCW, got another STTR grant of nearly $1.5 million to continue the company's research and development efforts.
EDUCATION
DONNA DEGENNARO, founder and director of Unlocking Silent Histories
Donna DeGennaro began the nonprofit Unlocking Silent Histories in 2012 to give indigenous youth a vehicle to express themselves by making cultural documentaries.
DeGennaro, who teaches educational leadership at UNCW, worked with Maya youth in Guatemala, collaborating with them to develop a model addressing the digital divide, culturally responsive learning and social justice education.
It formed the basis for Unlocking Silent Histories, and the nonprofit expanded to the United States in 2016 with a Lumbee Tribe Chapter in Pembroke.
HEALTH CARE
BECCA TAGG, psychologist and behavior analyst at Del Mar Center for Behavioral Health
Becca Tagg returned to southeastern North Carolina one year ago, moving to Pender County from Southern California.
She has opened a multidisciplinary behavioral health clinic. Tagg also formed a nonprofit private school for children with autism in Pender County called Del Mar Day Academy. Tagg is an approved continuing education provider and hosts continuing education events for behavior analysts in the area, as well as a podcast to help new and budding business owners in the field of behavioral health.
NONPROFIT
DIANE DURANCE, director of UNCW CIE
University of North Carolina hired Diane Durance last year to take over as head of the school's Center for Innovation and Entrepreneurship (CIE).
The CIE, a standalone 501(c)3 nonprofit, is owned by the UNCW Research Foundation. It provides services and programs for small business training, mentoring programs and public events. Durance also serves on the InnovateSENC board, UNCW Entrepreneurship and Business Development Advisory Board and Cucalorus Connect advisory board.
PUBLIC SERVICE
AMBER SMITH, senior resource center director for New Hanover County
Amber Smith worked in several roles at the New Hanover County Senior Resource Center, including volunteer coordinator, social worker and social work supervisor. She was promoted in 2015 to the center's director, heading up a team of 23 employees and over 700 volunteers.
Under her leadership, the N.C. Division of Aging and Adult Services recertified the Senior Resource Center as a Senior Center of Excellence.
RISING STAR (category for women under 30)
CASSY TAVERNA, therapist at Chrysalis Center for Counseling & Eating Disorder Treatment
Cassy Taverna is a licensed clinical social worker associate and is a therapist at the Chrysalis Center, which provides treatment for a range of clinical issues. Taverna, 29, therapeutically collaborates with clients to address eating disorders, anxiety, depression, PTSD and other mental health concerns.
She co-developed and co-facilitated a curriculum for the adolescent-based Teen Group and currently leads two psychotherapy groups at the Chrysalis Center.
For more on all of this year's finalists, click here.
And for more photos from the awards event, check out WILMA's Facebook page.
To view more of photographer Mark Steelman's work, go to www.marksteelmanphoto.com.