Adaptation Approach
Builder helps others adjust to aging at home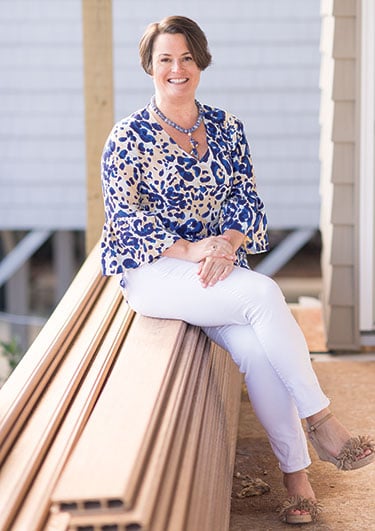 BETSY BRADDOCK is on a mission to "make grab bars sexy." As a builder, Braddock knows that none of us are getting any younger, so all of the remodels she does with her company, Shallotte-based BRADDOCK BUILT RENOVATIONS, reflect that with wider doorways, elevators – and sexy or not – grab bars in showers.
"Every project I do, I consider aging. And, it is not just an aging issue – you never know if one of your children is going to break a leg and need a wheelchair. It just doesn't make sense to not allow for generous space to be built in," Braddock says.
Braddock suggests that her clients consider their lifestyles not just now, but fifteen to twenty years from now, to make good decisions about their home's features.
"When I work with clients, I always ask them how they use their space. Where do you put your phones, your keys, your pocketbooks – all your junk – how much do you like to cook, how you function in your space?" Braddock says. "But, then I take it a step further and look at possible needs in the future."
By working her way through the homes of her clients, Braddock highlights the possible challenges that could be met if a client became handicapped in any way.
"We start at the entry. You've got to be able to get in the door at least in a small wheelchair," she says. "We check the rest of the doorways, at least the bedrooms and bathrooms and living spaces, and try to find a space for an elevator, perhaps just providing space where an elevator can be added later."
This hit home for Braddock personally when her father who was the "picture of health" had open-heart surgery in June 2009.
"If he didn't have an elevator, he would not have been able to go home after his surgery. He would have been sent to a rehab hospital until he was strong enough to get up multiple flights of stairs," Braddock says.
An award-winning design- build contractor, Braddock won national recognition for a remodel she did for a man who was suffering from Lou Gehrig's disease.
Her master suite design allowed him to be lifted into a sling that hooked to a harness and traveled along a track to the toilet, the shower, and a specially designed hydrotherapy pool.
"That was a special project for a couple because the wife wanted to have him at home for as long as she could," Braddock says.
When she attended Georgia Tech for college, Braddock's plan was to become a doctor – a thoracic surgeon, to be specific. Her career path might have changed, but her desire to help people live full lives did not.
"I knew I wanted to help people as a doctor, and I am still helping people now, but now I am doing it as a house surgeon instead," Braddock jokes.
Part of how Braddock helps her clients is helping them to create a vision.
"I listen and am attuned to the details that are important to my clients. I will build it well, beautifully, with the vision to interpret what they want. I am building your house for you to love and enjoy right now, but we're aware of the aging process," Braddock says. "It doesn't have to be institutional. Grab bars can double as a towel rack or a soap dish, but it just makes all the sense in the world. I am not going to lie away at night wondering if they're OK!"
Braddock's designs and renovations have won her a Brunswick County Home Builders Association's Parade of Homes Diamond Award every year since she joined the organization in 2011.
"We didn't have any awards for remodeling until I came around," Braddock says.
The homebuilders group did not have a female president until Braddock came along, either. She served as its first female president in 2016.
Although she is proud of her accolades, Braddock is most proud of her ability to adapt to any situation.
Her adaptability is a strength that serves her and her clients well.
"Whether it is from a schedule perspective or a hiccup in construction I didn't expect to find, I do not get into a knot about anything," Braddock says. "I assess the facts and figure out how best to move forward."
It seems that in life and in house design, being adaptable is just what the doctor ordered.
To view more of photographer Katherine Clark's work, go to katherineclarkphotography.com.