A Year of Fitness
Classes to inspire your New Year's resolution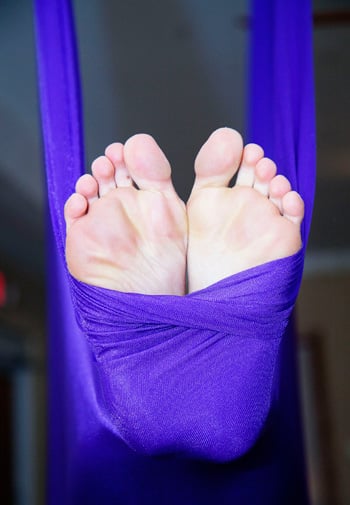 You've been down this well-trodden road before: The beginning of a new year filled with the promise of better, more. Better time management. More creativity. And better health, including increased exercise, the companion to a healthier diet.
You also know – perhaps because of past shortcomings – that boring is the death knell of exercise regimens. So try something new this year and think outside the box when it comes to working out.
Using a silk hammock, participants in Salty Dog Yoga & Surf's aerial yoga workshops in Carolina Beach use gravity to assist and deepen classic asanas. Nia, a sensory-based movement practice that draws on martial, dance and healing arts, is also offered, as are a variety of yoga programs, such as yoga and surf. (707-0539, saltydogyogasurf.com)
DefyGravity, an indoor trampoline gym chain, is a new entrant to the Wilmington fitness scene. Part entertainment and part sports gym, its offers open jump time, dodge ball, and fundraisers, as well as a fitness program. (876-6431, defygravity.us)
Wilmington Athletic Club classes include Tabata interval training and BOSU burnout, designed to improve your balance and core stability. Older adults can participate in the SilverSneakers Fitness program at no extra cost if they belong to participating Medicare health plans or Medicare Supplement carriers. (343-5950, wilmingtonathleticclub.com)
Go Girl Fitness Studio boasts "fierce female training", including a six-week bridal bootcamp designed to prepare you for your walk down the aisle. TRX circuit training combines strength, cardio and core training to help shape muscles and burn fat. (508-5080, gogirlfitnessstudio.com)
At Cycle City, the Power Hour mixes spinning and UGI ball, a new twist on the old medicine ball that allows you to work entire muscle groups at once. (524-4764, cyclecity-online.com)
At Flow Fitness, a women-only fitness and dance studio, try a routine-busting workout with a pole dance and lap dance/strip tease lesson. (686-6565, flowfitnessstudio.com)
Port City Adventure Boot Camp for women holds a mini-camp and spring to summer shapeup. (777-1912, portcitybootcamp.com)
O2 Fitness offers a wide variety of classes in their two Wilmington locations, including LesMills BodyCombat, inspired by martial arts. (Hanover Center, 769-1038, Mayfaire Town Center, 239-1202, o2fitnessclubs.com)
Moms and moms-to-be don't need to be left out of the fitness loop. Fit4Mom, for moms and kids and pregnant women, includes classes like Fit4Baby, designed to strengthen your body for all the changes that will occur during pregnancy, Stroller Barre, and Body Back Boost. (352-1765, wilmington.fit4mom.com)
Port City Pilates offers group and private lessons. Whether it's you and your mat, focusing on your form, or using pilates equipment such as the Wunda chair, Reformer and Cadillac, all are designed to support classical pilates. (208-0899, portcitypilates.com)
Note: These are a sample of offerings. Call to verify programs and schedules.
To view more of photographer Hilary Walker's work, go to www.hilarywalkerphotography.com