A Wedding Doubletake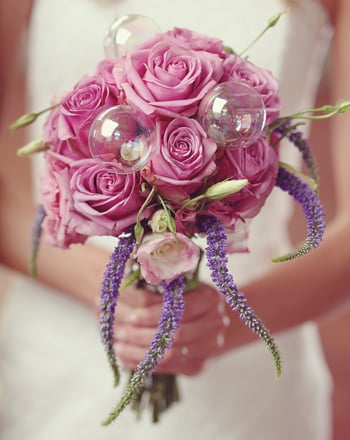 Whether it's a fairy-tale wedding with a price tag worthy of a reality show or an informal backyard affair, special touches can add to any ceremony.
These brides might be a contrast in style, but both are picture perfect for the big day.
LADY LUXE
On Kelsey: La Sposa wedding GOWN ($1,345), available at A Carolina Wedding and star flower BRACELET on bouquet by Deepa Gurnani ($135), available at Ziabird
MORE GLAMOROUS TOUCHES
All lit up: Think beyond twinkle lights with a coordinated lighting plan. These days, there are patterned tent roof lights, spotlights just for the cake table, colored lights to illuminate the walls, projected monograms, and even floating pool orbs to up the drama. (www.wilmingtonuplighting.com)
Handwriting: You can scrawl, stamp, or stick addresses to hundreds of envelopes as an early test of how you and your fiancé might manage under stress as a married couple. Or you can have your invitations hand addressed by local calligrapher Susan Fryt, whose lettering can range from modern and plain to fanciful and flourished. Brides have also hired her to write on everything from sand dollars to Irish teacups to chalkboard seating charts in order to personalize their wedding details. ($2 for single envelope, $3 for double envelope;thescriptedword@aol.com)
Living large: Take over an entire beach mansion for your seaside nuptials. On a stretch of sand near Corolla, Wild Horse is the largest coastal home in the Outer Banks. It features twenty-three bedrooms, a pool, indoor theater room, elevators, and a special event space looking out to the ocean that can fit more than a hundred people. The house, accessible only by 4×4 vehicles, books up months in advance, and a weekly rate in June will run you about $22,300. (www.twiddy.com) (photo c/o Dana Jo Photography)
ELEVATED EASE
On Kelly: White lace Signature DRESS ($40), available at Return Passage. Floral-and-feather HEADPIECE by Kelly Farrell at Silverceiling ($45), Zebra stripe rooster feather EARRINGS by TailFeathers ($252), moonstone and gold vermeil RING by Maggie Orli ($108), and gold and palladium NECKLACE by Marie Laure Chamorel ($418), all available at Ziabird
MORE WAYS TO SAVE
Just-for-show cake: For the designer cake without the price, you can rent a wedding cake. Baker Alison Meehan, who also makes the real versions though Alison's Cakery and has competed on Food Network Challenge, rents out cakes made with Styrofoam bases and covered in fondant and high-end designs. Customers display the showpieces but serve sheet cake to guests. Meehan says couples have even had the rental cakes shipped to them in other states. (Little Love Design, $150 cake rental; www.rentalcakes.com)
Bouquet DIY: Castle Hayne Farms (www.castlehaynefarms.com), a grower with thirty acres of blooms, primarily deals in shipping but can also sell directly if you talk to them about an order. Pick up bunches of statement flowers such as peonies to make a simple but elegant bouquet. But keep in mind, unlike other DIY projects like favors that can be done months in advance, fresh flowers are a last-minute project in the stress-filled days leading up to the wedding.
Green favors: Send guests home with a North Carolina longleaf pine (or loblolly pine or Atlantic white cedar). The North Carolina Forest Service sells tree seedlings in bulk and starts taking orders July 1 for shipments to local pick-up centers between December and March – Wilmington's forestry center is in Whiteville. Wrap tree seedlings in burlap and tie with ribbon and thank you tag for a favor with local flare. ($54 for 334 pine seedlings, nc-forestry.stores.yahoo.net) (photo c/o Karolyn Fujimoto)
Models: Kelly Tada and Kelsey Childers (Directions USA)
Makeup: Kelly Farrell, Silverceiling Makeup Artistry
Hair: Brandy Alexander, Groove Jet Salon + Spa
Hair Assistant: Laura Seegars, Groove Jet Salon + Spa
Bouquets: Bloomers Floral Design
Location: Bakery 105, 105 Orange Street
To view more of photographer Ben Minor's work, go to www.benminorphotography.com.