A Sweet Treat
Bakery expands downtown's decadent offerings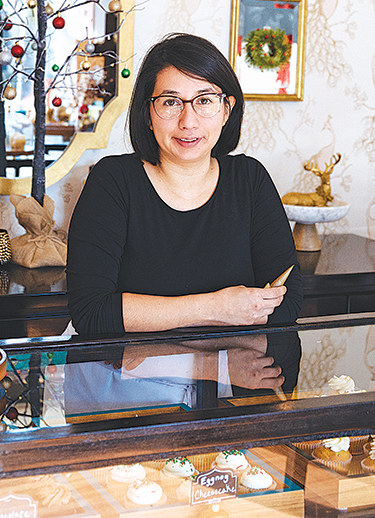 Last summer KRISTEN SPETRINO, the owner of Coastal Cupcakes, approached BILLY MELLON, owner of downtown restaurant manna to see if he was interested in buying her bakery. Spetrino planned to keep the icing portion of her business and was looking for someone to take over the bakery itself.
"The decision was made quickly," recalls REBECA ALVARADO- PAREDES (left). "The team at manna jumped on the opportunity."
Alvarado-Paredes, Melon, and JAMESON CHAVEZ all worked together at manna and seized the opportunity to expand operations and become partners together in the bakery, which opened in late fall.
The updated bakery, simply named SWEETS BAKERY, is at 129 Princess Street, just two storefronts down from manna. The business in between, Bourgie Nights, is also owned by Mellon.
Alvarado-Paredes is the pastry chef at manna and head baker at Sweets Bakery. She admits the new role and business is "a large addition to the work week," but quickly adds, "it's fun to have a playground over there."
Sweets Bakery operates as a retail shop, welcoming walk-in orders, in addition to wholesale and custom orders.
After taking over the bakery, one of the first orders of business for the team was expanding the pastries and other baked goods that were offered.
"There are three cupcake shops in downtown Wilmington, and we felt we had to offer something unique," Alvarado-Paredes says. "And, I think what makes us unique is that we have a wider selection of other baked goods."
When customers walk into Sweets Bakery, they can find cupcakes, macaroons, confections, small baked goods, birthday cakes, and more.
"We're really focusing on quality and flavor versus aesthetics," Alvarado- Paredes says.
The birthday cakes, for example, might be filled with mousse or custards, and Alvarado-Paredes pays close attention to flavor development when creating the gourmet cakes. The most popular item in the bakery, thus far, has been the macaroons.
"They seem to be the new trendy thing right now," Alvarado-Paredes says.
In addition to tried-and-true fa vorites, Sweets Bakery also features seasonal items, allowing Alvarado-Paredes to experiment creatively. Over the winter holidays, Sweets featured cupcake flavors such as eggnog cheesecake, gingerbread s'mores, and chocolate peppermint.
For Valentine's Day, Alvarado-Paredes envisions baking Valentine-themed macaroons, filled truffles, and cupcakes with champagne or strawberry filling. She is going to feature a box of chocolate cupcakes with strawberry frosting and chocolate-covered strawberries on top for this month's dessert-friendly holiday.
Heading into the spring and summer season, Alvarado-Paredes plans to incorporate spring fruit, such as fresh berries and peaches, into her baking.
"Sweets uses the same suppliers as manna. So, in the spring when we showcase berries, we will use local berries from our local suppliers," she says.
In addition to its retail offerings, Sweets also creates custom orders.
"Right now, we're going with what people call in for. We've made cookies with business logos, wedding cupcake tiers, and custom wedding cakes," Alvarado-Paredes says.
Due to the demand they are seeing for wedding orders, the team at Sweets would like to continue to grow that portion of the business. Sweets plans to participate in events that cater to those planning nuptials, such as the annual Courtyards & Cobblestones weekend, to showcase all that the bakery can offer.
"Our largest demand for weddings has been requests for our wedding cupcake tiers," Alvarado-Paredes says.
The bakery's close proximity to manna has worked well and allows Sweets Bakery to be used as an extension of manna as needed. If there is a large event at manna, the team uses the extra kitchen space at the bakery to spread out, bake, and then bring the desserts over to manna.
Also, manna's loyal patrons walk over to the bakery and request special orders of pies, cakes, and pastries for their own special occasions. Nearness to other downtown businesses has allowed for broader collaborations, as well.
Sweets Bakery is working with The Fortunate Glass wine bar to host pop-up events. "I love the idea of pairing wine and desserts together," Alvarado-Paredes says. "We're in talks of when the next one will be, likely later in the spring." With the expansion of baked goods to choose from, the pairings are bound to be a sweet treat.
To view more of photographer Erik Maasch's work, go to www.websta.me/n/emaasch.