Yoga Blossoms
Hot studios & meditation garden opens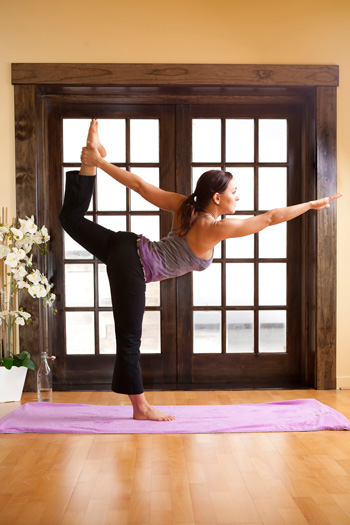 Yoga is flourishing along Oleander Drive this spring. Beginners and experts will have two new places to experience the meditative, physical practice that originated in India here.
Wilmington's first hot yoga studio, where the practice room is specially equipped to bring temperatures up to 103 degrees, opened in April.
"The heat makes you more flexible to get into postures," said Holly Schakelaar, founder and owner of Be Unlimited Yoga located at 5725 Oleander Drive, Suite B.
The growing demand for this type of yoga experience has led to the expansion of the venerable Wilmington Yoga Center this summer. The center, which has operated at 5329 Oleander Drive since 2003, will build an additional 2,000 square-foot yoga studio next to its existing space. While its largest studio can accommodate about 35 people, the new studio will be able to hold up to 50 people.
"Crowding is one of the biggest issues here," said Heather Lilly, Wilmington Yoga Center general manager. The center sees about 100 people a day in its various yoga classes, lifestyle workshops, yoga instructor trainings and retreats. They have been researching expansion possibilities since last summer, Lilly said. The new studio, which will be equipped for 103-degree hot yoga as well, is set to open in June.
To maintain a temperature of 100 to 103 degrees at 60 percent humidity, Be Unlimited Yoga, installed six industrial heating units in its main studio's ceiling, a humidifier and a dehumidifier. Every class will be the same sequence of Vinyasa-based movements with a few Bikram-based standing poses. But, each instructor will play different music, from rock and house to traditional Indian songs for each class.
"We rock out," Schakelaar said. At the studio, she sells Los Angeles-based sportswear by Hard Tail.
She began practicing this type of hot yoga in Phoenix, Arizona and wanted to introduce it to Wilmington when she moved here about a year ago. About halfway through every class, the instructor will open the studio's doors and let the fresh air in. "The feeling you get when you leave is like you're floating on air," she said.
This month, Wilmington Yoga Center will also open an outdoor yoga and meditation garden in the green space adjacent to its parking lot across from Tidal Creek Co-op. Lush landscaping will surround the meditation garden, which will be in the shape of a hexagonal mandala, a Buddhist and Hindu spiritual shape. Classes in yoga and meditation will now be offered outdoors.
"We're growing into a well-being and holistic health lifestyle center," said Kristin Cooper-Gulak, founder and director of Wilmington Yoga Center.
What to bring to hot yoga:
Yoga mat
Bottle of water
Beach towel
Light, breathable yoga wear
An empty stomach