Writing Roots
Anna Lena Phillips Bell explores place through poetry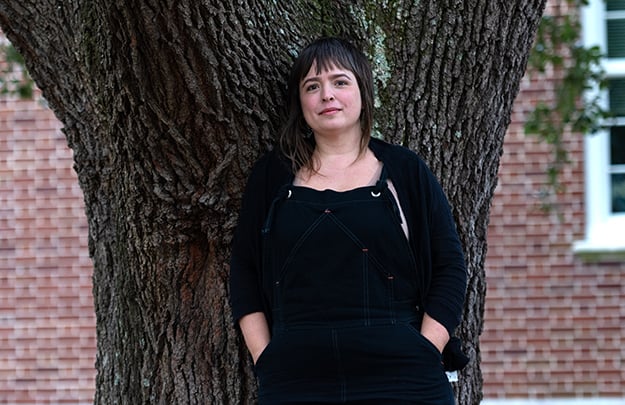 Each week, ANNA LENA PHILLIPS BELL and her students perform a ritual during the three-hour practicum she teaches at UNCW. Students in the course help with the publication of Ecotone, the award-winning national literary magazine published out of the creative writing department. Just before the break, rain or shine, she leads her students outside.
"We stand there for a minute or look at the stars if it's dark, or visit the camellias that are blooming on campus," she says. "I hope that helps us remember that we're working on a magazine about place."
Phillips Bell, in addition to serving as the editor of University of North Carolina Wilmington's award-winning literary magazine and teaching in the creative writing program, is a poet who is passionate about place. Her first book of poems, Ornament, won the 2016 Vassar Miller Prize and was published in 2017, and in 2015 she was awarded a North Carolina Arts Council Fellowship in literature.
"I was a really lucky kid in that I grew up in the woods with a lot of freedom to run around and explore, and with a family at the intersection of intellectual and artistic pursuits," she says. "My parents built their own house, and there was always an emphasis on making stuff."
Phillips Bell's interest in these things never waned, and many of the poems in her first book revisit the landscapes of her childhood.
"Ornament is about being out in the woods and having an understanding of a place that supported me as I was coming up," she says. "Kids, if they're lucky and in a safe space, can often have a closer relationship with the natural world than adults, and I was lucky to experience that."
While poetry has always been a passion, Phillips Bell didn't discover the art of editing until she took a class in graduate school. Editing, she quickly learned, was also a serious craft, a realization she found exciting. "I co-founded a literary magazine with some friends in my program, and the combination of the editing class and the magazine helped me find work after grad school."
Her first job as an editor was at American Scientist, in the Triangle.
"I loved the magazine and the subjects I covered there," she says. "Ecology and botany, art-science connections, the environment."
Despite how much she liked the work, she missed academia. When an editorship position heading Ecotone and editing the small-press imprint Lookout Books opened up at UNCW in 2012, Phillips Bell applied and was hired.
Ecotone's mission is to publish and promote the best place-based work being written today.
Since taking the reins, Phillips Bell has made it her personal mission to expand that definition with more diverse voices and experiences.
"One thing my work as an editor has led me to think about is how other people experience place, and the things that can limit their access to nature – institutional racism, poverty, etc. How to talk about that kind of experience in a way that isn't just classic nature writing, and with an awareness that there are other types of experiences, and that my version of things is subjective," she says.
Passing this lesson on to her students, who are often new to the wider literary community, is one of the things she likes best about teaching. "I love thinking about hard things with other people," she says, "and teaching is a really good way to get to do that every day."
Thinking with her students and helping them improve their writing, she says, supports her work just as much as it supports theirs. Together, they create the kind of environment where anything can grow.
To view more of photographer Sherry Crawford's work, go to loudgirlmedia.com.
Want more WILMA? Sign up for our WILMA Weekly email and announcements at WILMAOnTheWeb.com.