Women to Watch: The Arts
Susan Savia, musician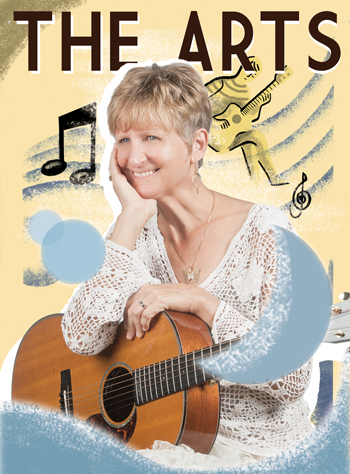 Since moving to Wilmington in January 2010, SUSAN SAVIA has become a one-woman music machine. As her husband settled into a happy retirement, Savia started pounding the pavement, looking for opportunities to perform as a singer/instrumentalist.
"I got a tips gig at The Cotton Exchange and started going around, networking like crazy," she recalled.
"I moved into any area I could – anything for gainful employment – and was able to work and get my name out there."
A professional musician since 2006 and accomplished on a variety of instruments – guitar, ukulele, harmonica, piano, percussion instruments – and with an impressive vocal range, Savia performs and advocates for many kinds of music, from folk, jazz, blues and standards to the almost-forgotten parlor songs of bygone days. In April, by N.C. Azalea Festival time, she was talking with the Bellamy Mansion about doing Victorian-era music there.
April saw Savia venturing down other musical paths as well. She launched a series she dubbed Stone Soup Concerts with three goals: to bring people downtown, to expose audiences to a variety of local and national performing artists and to create a kind of venue she found wanting in Wilmington – intimate listening rooms. In starting the series, she partnered with events space 128 South and has expanded to other locations since.
Stone Soup Concerts has since spun off Stone Soup Songwriter Showcase, a series that features the original work of local musicians. With both endeavors, Savia said, she works to support the Do It Downtown initiative to bring people downtown and to "pull all these different factions together to build a supportive community."
This year and last, Savia has organized three free concerts celebrating the birthdays of Bob Dylan, John Prine and Paul McCartney. Each event was held at a downtown venue and involved musicians performing the work of the birthday boy. Because of the success of the concerts, Savia is planning more such events.
Savia also trained with a company that offers early childhood music education and prepared to open a new franchise. At the last minute, though, she decided to design her own music and movement program for ages 6 months through 6 years that would be more affordable and less structured.
Happy Little Singers was born in 2011. Savia teaches classes at Wilmington's Community Arts Center and will add classes at the Leland's cultural arts center when it is finished.
Lately, as if she weren't busy enough, Savia joined the faculty of Thalian Association Children's Theater Academy, a program that helps youngsters, from tots through teens, develop stage presence, acting skills and confidence.
"I love Wilmington and have bloomed here," the former HR professional and events planner said.
"I was going to retire here with my husband and just play music, but there seemed to be a need for adult-oriented listening room events. I felt the opportunities were great here, and like a moth to a flame, I jumped in with both feet."
To view more of photographer Jeff Janowski's work, click here.
To view more of illustrator Mark Weber's work, click here.