Women to Watch Leadership Institute Recap
A look at the 2015-16 class itinerary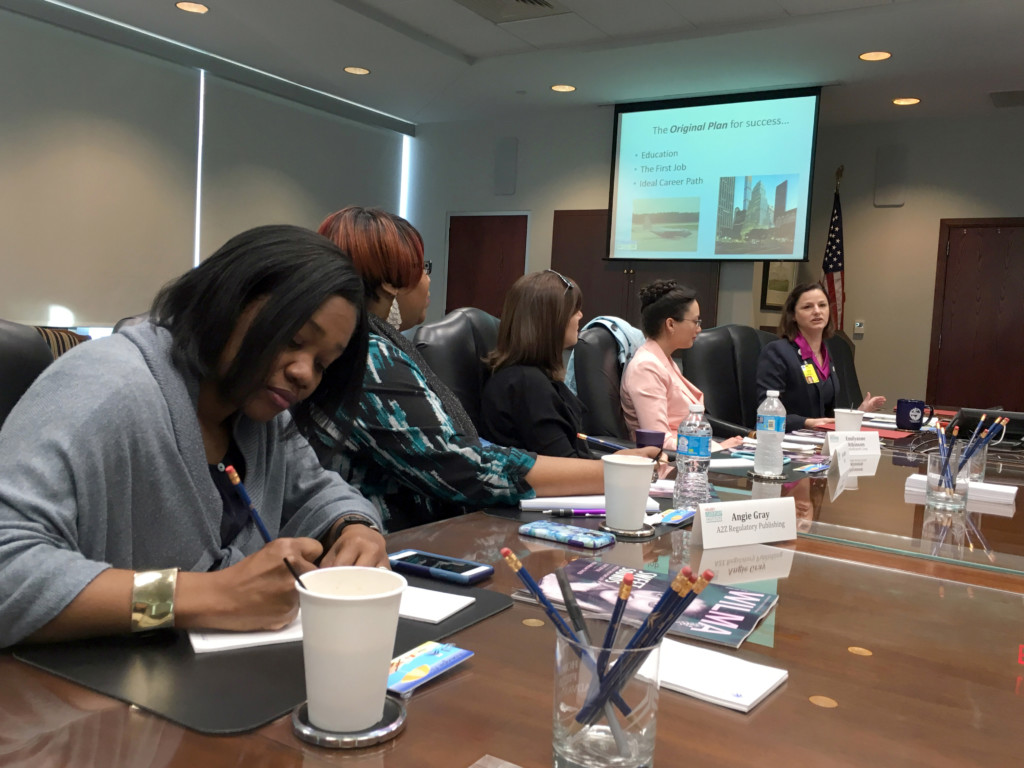 The Leadership Institute meets once a month for ten months for skills training, peer mentoring, and executive networking.
Here was the schedule for this year's class.
September (WILMA's office) The class took a DiSC assessment, and MELISSA PHILLIPPI, President of Performance Culture, went over their results, how to read behavioral traits and ways to best communicate with others on teams.
October (Live Oak Bank) Live Oak CEO CHIP MAHAN discussed Strategic Thinking and his career path. Live Oak's KAY ANDERSON, Senior Loan Officer, and DEBBIE WARWICK, Senior VP of Operations, shared leadership advice.
November (Wilmington Health) CFO CHASITY CHACE went over budgets 101. JEFF JAMES, KELLY SCHAUDT and MELISSA ODOM shared their advice.
December (GE Hitachi) GE Hitachi GM of Human Resources KIM BANKSTON and CHRISTOPHER WHITE, Communications and External Affairs Leader, spoke on Personal Branding and Communications. GE Hitachi executive team members MONA BADIE, NICOLE HOLMES, JHANSI KANDASAMY, EMILY MARTIN and TAMMY ORR met for a lunch discussion about career development.
January (tekMountain) DANA COOK, Owner of Julia's Florist, taught a session on Making Connections and Presenting Yourself in Business. CastleBranch Corp. executives LAUREN HENDERSON, SHARON DI BONA, MARIE MACDONALD and BREANN DENNIS joined for lunch.
February (Wilmington International Airport) Airport Director JULIE WILSEY and Alcami VP of Human Resources LISA LEATH discussed Career Mapping. NHC Commissioners Chair BETH DAWSON and NHC Planning Board Chair and Airport Authority Member DONNA GIRADOT shared their insights.
March (PPD) STEPHANIE LANIER, Co-Founder of The Lanier Property Group, and LINDA STINSON, Owner/Partner with RLS Focused Solutions Skills, talked what "Work Life Balance" really means now. PPD executives ELIZABETH KURONEN and JAY DIXON met with the group.
April (Corning) Corning Plant Manager MICHELE HOLBROOK presented on Strengths-Based Leadership assessment with input from Supply Chain Manager DONNA ESTEVES. Executive team members KADIANNE MCPHERSON, LINDSAY MILLER and JENNIFER PORTER-BRADSHER also talked to the group.
May (NextGlass) Speaking Coach MICHAEL SMITH taught the group about Public Speaking and Presentations. NextGlass Chairman GEORGE TAYLOR and SUMMER VAT led a tour of the app's HQ and gave an overview on the growing tech cluster in Wilmington.
June (City Club) Graduation Ceremony: June 15, 2016
Members of the 2015-16 Leadership Institute Class:
Jen Adler, Interim Director of the CARE Interpersonal Violence Prevention and Response program at the University of North Carolina Wilmington
Emilyanne Atkinson, CEO of Cape Fear Women in Tech and storage startup CYRUS
Chandler Davis, Artistic Director for the Thalian Association
Angie Gray, Owner of A2Z Regulatory Publishing
Marisa Young Henry, Fitness Supervisor for PPD
Karmen Smith, Victim's Advocate at Hope Harbor Home nonprofit in Brunswick County
Robbin Williams, Master Black Belt at GE Hitachi Nuclear
Bethany Windle, City Planner and Landscape Architect with the City of Wilmington
Members of the 2016-17 Leadership Institute class will be announced in August.