Women to Watch: Health Care
Carla Turner, NHC Health Department Personal Health Services Manager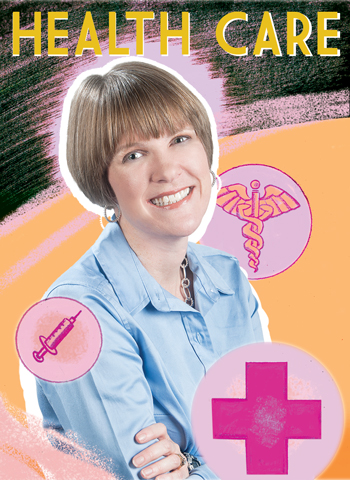 CARLA TURNER is in it for the long haul.
For 11 years, Turner has been with the New Hanover County Health Department, working her way up to the agency's management team as its personal health services manager.
"I plan to put my 30 years into public health," she said. "I love coming to work, and not everyone can say that."
Turner, a Wilmington native now living in Hampstead, has one of those high-energy personalities; she's the kind of person who likes tackling new challenges.
That's what her coworker Panza McNeill, who nominated Turner for the Women to Watch award in health care, said.
"Carla does not meet a stranger because she loves to talk," McNeill wrote. "She is like an Energizer Bunny … she keeps going, going and going."
Part of that constant movement has been toward leadership positions.
When working for a home health company early in her career, she started as weekend nurse, then became its admissions nurse, then its clinical team manager and eventually director of staff development.
Her work in the New Hanover County Health Department has been no different.
"Public health was a smooth transition from home health because we're taking care of the community," she said.
Turner started with the health department as a school nurse, assigned to Winter Park Elementary and Noble Middle schools. The county school system contracts with the health department.
After getting her master's degree in health care administration, in 2006 she decided to interview to be the health department's school health nursing supervisor. She got the job.
When asked why she made the switch from clinical work to managing, Turner said she wanted to go for it, even though it meant missing the children she worked with and camaraderie at the schools.
"I thought I'd be good at it. If nothing else, I'm enthusiastic," she said. "I don't walk around with rose-colored glasses on, but I look for the positive in things."
Turner became the health department's personal health services manager in December 2011. In the position, she serves as head of the nursing and social programs that the department offers. With a team of eight supervisors and 120 employees, Turner's division touches on everything from clinic and lab services to food and nutrition programs for women, infants and children.
"We run the gamut," she said.
Though more involved in managing now, Turner still walks around the health department with her lab coat on and the door to her UNC Tar Heels-obsessed office open.
"I used to nurse people, and now I manage," she said. "I do sometimes miss that hands-on practice."
Public health is her main passion, particularly getting preventive services out into the community.
She wants to expand things such as the health department's mobile dental services that makes stops at area schools, and holding well-child checkup clinics in the community outside the department's building.
"It is my mission, in my brain, to be available to the community," she said. "I think we all have a place to do our mission work. For some of us, it's in the Dominican Republic, it's in Haiti. For some of us, it's in New Hanover County."
To view more of photographer Jeff Janowski's work, click here.
To view more of illustrator Mark Weber's work, click here.