Women to Watch Finalists – Rising Star Category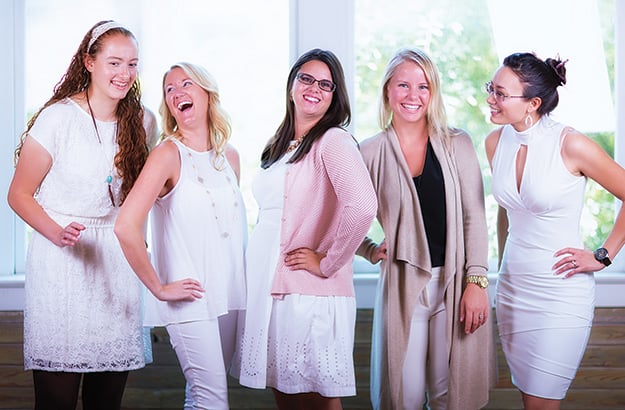 (left to right) Hannah Wilson, Amanda Baker, Alexandra Perillo, Elizabeth Boardman, Emilyanne Atkinson. This category is limited to women who are under the age of thirty during the nominations period.

Emilyanne Atkinson, Senior Database Administrator for CastleBranch Corp.
Emilyanne Atkinson deals all day in numbers. But she still sees the creativity in her work.
"Logic will get you from A to B, but imagination can take you everywhere. You have to be able to imagine the possibilities of the connections with the data before you can test them out. So, the greater your imagination, the better you can be at discovering patterns and relationships in disparate bits of information," says Atkinson, senior database administrator at employment screening company CastleBranch Corp.
She joined CastleBranch after studying computer engineering technology at Cape Fear Community College. Now in her seventh year at CastleBranch, she is quickly making a name for herself in the local tech and makers community.
Last year, she was part of the team that launched Elite Innovations, Wilmington's first makerspace that evolved out of the Cape Fear Hackerspace.
"I knew other people who love emerging technologies," Atkinson says about the group. "That's really what brought us together."
In her position at CastleBranch, Atkinson fills a demanding role that can mean being on call any time for maintenance while providing support for the company's IT team.
Outside of work, she also lends her hand to community projects, having provided tech support for the local Fibromyalgia and Chronic Fatigue Support Group and helping with web and logo design for Lump to Laughter, a group that supports those with breast cancer.
She also is launching getSTEAMedUp.com to inspire others to get into Science, Technology, Engineering, Art, and Mathematics and this year helped start the Cape Fear Women in Tech group in conjunction with the Women to Watch Leadership Initiative.
Amanda Baker, Owner of Event Shuttle Service
Ramping up just one business can be more than a full-time job for a small-business owner. In the past three years, Amanda Baker has started six.
Baker, owner of Event Shuttle Services, started that company in 2012 with one vehicle. Today, it has ten vehicles and a dozen employees. It focuses on group transportation for events, from weddings to shuttles to Carolina Panthers games in Charlotte or concerts in Raleigh.
"When there's eight people going to a concert, nobody wants to be the one who wants to drive," Baker points out.
She manages daily operations, corporate accounts, out-of-town trips, and wedding transportation coordination as well as handles day-of transportation for individuals and groups. Baker has hopes to franchise out the service to other cities such as Raleigh, Fayetteville, and Myrtle Beach.
Her other ventures are the Carolina Room, a meeting and event space off South College Road; an executive shuttle service; a boat rental operation; a home rental company; and a villa rental in the Virgin Islands.
Still, she finds time to help local nonprofits and pitch in services.
For example, Event Shuttle Services delivers the food boxes NourishNC sends to schools and homes in the area. Baker herself serves as board director of Wilmington Central Rotary, chaired the Wilmington's Got Talent fundraiser, and volunteers with Cape Fear Heart Walk and masonboro.org.
"I feel like the community is only what we make it," Baker says. "I want it to be a great place for our children."
Elizabeth Boardman, Co-Founder of The Milspo Project/Realtor at Lanier Property Group
Female business owners often connect to share advice. But the challenges for military spouses can present their own, unique challenges.
"It's hard to have a career as a military spouse. Military spouses earn a lot less than their civilian counterparts," says Elizabeth Boardman, pointing out they might have to start over at a new company after a relocation.
Boardman, whose husband is in the Navy, helped start The Milspo Project last year while the couple lived in Fayetteville. In the military town, she found other spouses who were interested in working on their own businesses.
The nonprofit provides resources and support to military support entrepreneurs, holding events and meetups. Last year, it held its first conference – called Embark. This year's event was held in September in Southern Pines.
Local chapters of The Milspo Project are opening up across the country. As of this summer, there were eighteen up and running – one in Germany – with seven more in the wings, including in Alaska. It recently also was asked to join a group of military spouse-support groups that meets monthly at the Pentagon to discuss issues facing military families.
Since moving to Wilmington, Boardman has continued work with the nonprofit, while also running her business Southern Slo Mo Party, a video photo booth company for weddings and events, and becoming a Realtor for Lanier Property Group.
"I see Elizabeth quickly becoming a voice of millennials in the real estate industry," says Stephanie Lanier, owner and CEO of the real estate firm.
"She has already demonstrated her talents for social media with incredible data to back it up. In addition to a potential national role, I also see Elizabeth encouraging local Realtors to passionately pursue their work with nonprofits."
Alexandra Perillo, Environmental Project Manager for ECS Carolinas LLP
Alexandra Perillo isn't afraid to dive knee deep into her work.
"I have to go out into the woods and go out in the swamps and figure out where the wetlands are for clients," says Perillo who started working part-time for ECS Carolinas, an engineering consulting services firm, when she was working on her master's degree in environmental studies.
After she finished classes at University of North Carolina Wilmington in 2013, Perillo started full time at ECS, working on phase-one environmental assessments and wetlands work to help with property mapping for clients.
When she was in graduate school, Perillo was picked to participate in the NASA DEVELOP National Program's internship. While based at NASA's Langley Research Center in Virginia, Perillo worked with a team to use satellite data to look at drought conditions at the county level – most similar drought tools focus on the state level. Her team was one of six, out of forty teams nationally, to present their project in Washington, D.C., to NASA scientists and administrators.
Besides being able to work on such a project, it also allowed her to polish skills like team building and communication, says Perillo, who locally is a member of Cape Fear CREW, US Green Building Council-Cape Fear Branch, and the Cape Fear Museum board.
"I want to continue to grow my career in the technical sense but also more of a leadership role as well," Perillo says. "I'm really passionate about keeping more young professionals in the area."
Hannah Wilson, Owner of Hanoona Media
Officially the youngest Rising Star finalist to date for the Women to Watch Awards, Hannah Wilson isn't your typical teen.
Wilson, who turns nineteen this month, already has business ownership under her belt, having started a graphic design service called Hanoona Media in Februrary. That was before she was even done with her high school studies in July as a home-schooled student.
As a student she served as co-captain of Wired Wizards, a robotics competition group for local high schoolers. Since she's graduated, she continues to mentor that team as well as a new Girl Scouts FTC team – the first all-girls robotics competition team and the first FTC division in the area.
Her introduction to the tech world was with working with her dad's web development company Quintify.
"Since I was thirteen, I've been working in software and computers and technology," Wilson says. "I just learned on the jobs, most of the testing for web applications."
Also interested in art, she eventually migrated from doing work on paper to on the computer.
"I grew up around programming even though I don't do it myself. I've done many different types of projects and jobs, but I would like to do something on the creative side of things – something artsy but still related to technology," she says.
As a board member for the new Cape Fear Women in Tech, Wilson has mentors in the local technology community, and her ability to work out of tekMountain also gives her exposure to other
experienced entrepreneurs.
"It's a little bit intimidating, but it's nice to have people who have done a lot helping me," she says.
To view more of photographer Chris Brehmer's work, go to www.chrisbrehmerphotography.com