Women to Watch Finalists – Rising Star Category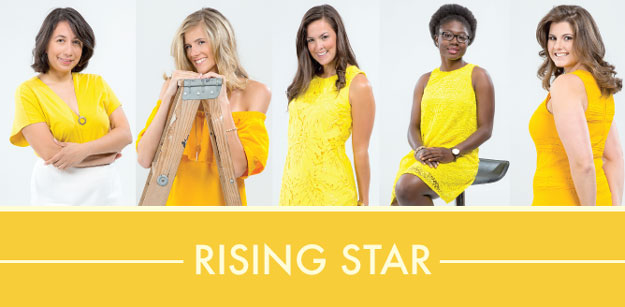 This category is limited to those under the age of 30.
Kaitlyn Hopfer, 26, is used to wearing multiple hats. She runs a nonprofit called Mission Made Jewelry while also holding a full-time job as a director of marketing for Rekon Intelligence – impacting both the Wilmington community and those located overseas.
Mission Made Jewelry, founded in 2015, works with artisan groups in parts of the world experiencing extreme poverty. It helps to support job creation through the sale of handmade jewelry and accessories.
As executive director for Mission Made Jewelry, Hopfer regularly travels to Haiti, where many of the artisans live.
"I have always wanted to do something that makes an impact, and I believe that Mission Made has given me the ability to do just that," she says. "Not only are we creating jobs for artisans in developing countries, but we are also creating incredible relationships with individuals in Haiti as well as here in Wilmington."
At Rekon, which hosts financial adviser education events, she travels around the U.S. to host events that teach advisers practical ways to grow their practices and better serve their clients.
Hopfer, who holds a marketing degree from University of North Carolina Wilmington, recently earned an MBA while juggling her other roles.
TRIP OF IMPACT
"My first trip to Haiti I was absolutely blown away, by the expected: The poverty we saw, the number of orphans, the unsanitary living conditions. But, so much more than that was I blown away by the way Haitians conduct relationships. Life operates so differently in Haiti; relationships are always a priority. There isn't a single thing that a community member wouldn't do for one another."
Rebeca Alvarado-Paredes knew early on what she wanted to do and attended Providence, Rhode Island-based Johnson & Wales University for its four-year program in pastry making.
She worked at internships and stints in Boston, Chicago, and New York City restaurants, including at the James Beard Award-winning Eleven Madison Park, L'espalier, and WD-50. She also staged at the James Beard-wining Frasca in Boulder, Colorado.
Alvarado-Paredes, who immigrated to the States from El Salvador when she was 3 years old, eventually made her way to Wilmington after her early culinary training. Here, the 29-year-old has built a reputation at manna over the past five years as its executive pastry chef and is embarking on a new venture.
With manna adding a bakery operation at 129 Princess Street called Sweets, Alvarado-Paredes will expand her offerings at the
retail shop as head baker. She is partners in it with manna owner Billy Mellon and manna executive chef Jameson Chavez.
Alvarado-Paredes also is a member of 40 Eats, a local food-based collaborative, and works with students in Cape Fear Community College's culinary department.
She has volunteered time to participate in culinary competitions that raise money for local, state, and national charities.
ON SPECIALIZING
"I was drawn to baking because it combines two of my favorite interests: science and art. I've been baking for almost thirteen years, and I've only barely scratched the surface of what I can learn."
Kate Redenbaugh, a 16-year-old junior at Hoggard High School, has been open with classmates and the community about her personal struggle with the eating disorder anorexia nervosa.
She was diagnosed with anorexia in 2015 and spent more than four months – her entire spring semester of freshman year – in hospitals for treatment. Out of her experiences, she founded Unlocked Boutique, crafting custom key necklaces stamped with inspirational words. From her sales, 25 percent of the profits go to the National Eating Disorder Association.
"When you go through something hard, you have two choices," she says. "You can either turn away and let it defeat you, or you can go and do something about it. … I think that going through an eating disorder was very difficult for me. I want to channel my experiences and use them to put good back into the world."
Being open with her struggles has inspired others sharing their progress overcoming similar challenges.
At school, where she ranks fourth academically in her class of about 430 students, she is active in the Beta Club, DECA, EC Buddies, and student council and was accepted into the International Baccalaureate program at Hoggard High. She also served as the founder and president of the Young Democrats Club at the school.
NEXT STEP
"I'd love to attend UNC-Chapel Hill and go to school for journalism and photojournalism."
Cassy Taverna is a licensed clinical social worker associate and is a therapist at the Chrysalis Center, which provides treatment for a range of clinical issues.
Taverna, 29, therapeutically collaborates with clients to address eating disorders, anxiety, depression, PTSD, and other mental health concerns.
She co-developed and co-facilitated a curriculum for the adolescent-based Teen Group and currently leads two psychotherapy groups at the Chrysalis Center: SOAR (Staying Open about Recovery) for college-aged women in eating disorder recovery and a Post-Operative Weight Loss Surgery support group.
While earning a master's degree in social work from University of North Carolina Wilmington, she presented her research on "Disordered Eating Among Newly Bereaved Spouses" at the International Conference on Community Mental Health in Bangalore, India. Taverna also holds a bachelor's degree in psychology from Bay Path College in Massachusetts.
She has helped plan and fundraise for the Chrysalis Center-hosted Walk from Obesity event, which raised over $12,000 last year. She has also volunteered with the Miracle League and the Open Gate Domestic Violence Shelter.
IN OTHERS' WORDS
"(Cassy) is constantly trying to glean knowledge from professionals in the area, her peers, and other development opportunities. She brings passion and humor to the profession of clinical social work. She helps her clients find ways to overcome their battles and soar into the people they dream to be. She's helped women go the treatment they need to battle eating disorders every day."
– Alexis Hunter, Chrysalis Center practice manager
Mina Yakubu graduated from high school this year, but the teen already has a voice in education issues on the national level.
During her senior year at New Hanover High School, Yakubu was one of seventeen students picked from across the country to serve on the Better Make Room Student Advisory Board.
During the Obama Administration, then-First Lady Michelle Obama in 2014 announced the Better Make Room public awareness campaign. Partnering with her Reach Higher initiative, Better Make Room targets youth ages 14-19 to encourage students to pursue higher education after high school – whether that is at a professional training program, community college, or four-year university.
As part of the inaugural student advisory board, Yakubu traveled to the White House at the beginning of the year.
Yakubu, who immigrated to the U.S. from Ghana when she was in the first grade, was a student in New Hanover High's Lyceum Academy, a Leadership Enterprise for a Diverse (LEDA) Scholar, and president and creator of the school's International Club, among other activities.
The 18-year-old, whose family still lives in Wilmington, is now studying political science and African, African-American, and Diaspora Studies at University of North Carolina at Chapel Hill, where she started this fall as a Morehead-Cain Scholar. Her plans are to go to law school and become a human rights attorney as well as teach African history.
GIVING CREDIT
"It is true that 'It takes a village to raise a child,' I cannot attribute my accomplishments or character to one person. I give thanks to my ancestors who paved the way, my parents who encouraged me to keep God first and school second, to the teachers and coaches that believed in me, and last but not least to God who continues to bless me."
To view more of photographer Chris Brehmer's work, visit chrisbrehmerphotography.com.