Women to Watch Finalists – Rising Star Category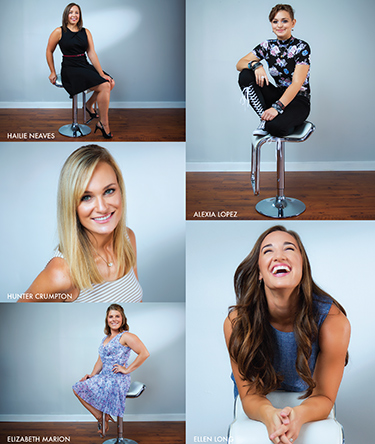 Hunter Crumpton
Physician Access Liaison, New Hanover Regional Medical Center
At the age of twenty-seven, Hunter Crumpton already has held several positions in health care administration.
Now serving as a physician access liaison at New Hanover Regional Medical Center, Crumpton also has also worked with the Coastal Carolinas Health Alliance as education and quality manager and in operations.
It was there that she spent several years playing a role in helping launch the state's first and largest health information exchange, which connected patient information for more than 700 providers in eleven counties in the region.
At New Hanover Regional, she serves as an advocate between health providers and health care leaders.
"The health care field is consistently changing. This forward notion toward quality and service improvement motivates and drives my passion for health care," she says. "I enjoy serving our community and understand our unique population and challenges. I hope our region can lead by example – utilizing technology and innovative ways of thinking to provide better care for our people."
Crumpton serves on committees for the North Carolina Healthcare Information and Communications Alliance as well as on CFCC's Healthcare Business Informatics advisory committee. She is currently pursuing her fellowship with the American College of Healthcare Executives.
Who is someone who has been a mentor to you? "Patty Lewis has played a vital role as my mentor, always pushing me to think strategically with simple, yet effective, questions like 'Why?' and 'When?'"
Ellen Long
COO, Long Business Advisors
Since Long Business Advisors works closely with family-owned businesses, it makes sense that Ellen Long can practice what she preaches.
She works at the business consulting firm her father started in Wilmington. In 2010, he opened Long Family Office – for which she serves as a wealth adviser – and they launched Long Business Advisors in August 2015.
"My family has always worked together as a team, and my father taught us young to enjoy business, so for me it was a natural fit," Long says. "Also, because I work in a family business, I get to play a much larger role in shaping the company."
Launching the firm's Exit Planning business has been an entrepreneurial endeavor since it started from the ground up.
"And I've always kept my eyes open for opportunities – or created them – even outside of my family's business – writing online training programs, helping to format books, etc.," Long says. "Having an entrepreneurial spirit is really just problem-solving – seeing needs and taking action to fill the gaps with your gifts."
Long, twenty-six, earned her bachelor's degree in business administration from North Greenville University and her MBA from Liberty University.
She has written about family succession planning and took the stage earlier this year as a speaker at TEDx Airlie, the first TEDx-affiliated that's happened in Wilmington.
Long also graduated from Leadership Wilmington in 2015 and is a board member for Cape Fear Women in Tech, leading the finance team.
Business book recommendation? "Smarter, Faster, Better: The Secrets of Being Productive in Life and Business by Charles Duhigg."
Alexia Lopez
Owner, Alexia Blue Photography
At fifteen, Alexia Lopez is officially now our youngest Women to Watch Awards finalist to date.
Lopez, an avid photographer, is not just a teen with a camera phone and an Instagram account. She's a teen with a Nikon, assignments from music venues, and, well yes, an Instagram account (@alexia_blue_photography) with more than 1,600 followers.
Constantly learning about photography, she also is learning the ropes about running a business.
When she shoots an assignment, she reinvests into her photography.
Lopez, who is homeschooled and in the tenth grade, started an e-zine called ManicMusicMag.com, to share her works.
"I want to display my photos and music-related art by other artists," she says. "My ultimate goal is to bring a medium-capacity venue to Wilmington."
Recording moments is what draws Lopez to photography.
"The ability to capture a moment that'll be forever gone afterwards. It also allows me to be close to music through my band and concert photography," she says.
What do you hope to be doing when you're eighteen? "I hope to be touring with a band by then as well as improving my photography skills."
Elizabeth Marion
COO, Elite Innovations
Elizabeth Marion works with Elite Innovations LLC, a product development company based in Wilmington.
As chief operating officer, the twenty-nine-year-old has helped the company grow in its early days. There, Marion's responsibilities include project management, customer communications, and personnel management.
She is a graduate of film studies at University of North Carolina Wilmington.
An independent study program in high school led her to an interest film, and she worked in the industry after graduating from college. She contributed to several productions in the film industry in Wilmington as a set costumer and continues to work with the Cucalorus Film Festival as its Connect Conference coordinator.
Marion, who also earned a degree in French from UNCW, moved to California when her husband was stationed there for the U.S. Marine Corps. She has worked with several military spouses on creative and business projects.
Favorite quote? "'A woman with a voice is, by definition, a strong woman.' -Melinda Gates"
Hailie Neaves
Supply Chain Development Leader, GE Hitachi
Hailie Neaves worked hard to get to her position at GE Hitachi Nuclear Energy.
After earning an engineering degree from Clemson University – working several jobs to pay for tuition and expenses and graduating with honors – she joined the Operations Management Leadership Program through GE, turning into a commodity leader position at GE Hitachi.
Since then, the twenty-nine-year-old has expanded her expertise and is now lead supply chain development leader for GE Hitachi's Nuclear Plant Projects group.
She also is on the steering committee for GE Hitachi's Women's Network and the Wilmington site representative for the company's Operations Management Leadership Program.
Looking ahead, Neaves continues to see her career moving up.
"Broadly speaking, I would like to be in leadership," she says. "I enjoy leading teams and working with different groups of people. I want to make a difference."
What does the label Women to Watch mean to you? "The label 'Women to Watch' makes me think that these women must have done something that matters; that they have a drive to succeed and contribute in a way that impacts others."
To view more of photographer Chris Brehmer's work, go to www.chrisbrehmerphotography.com
To view more of photographer Erik Maasch's work, visit ejmphotography.org