Women to Watch Finalists – Public Service Category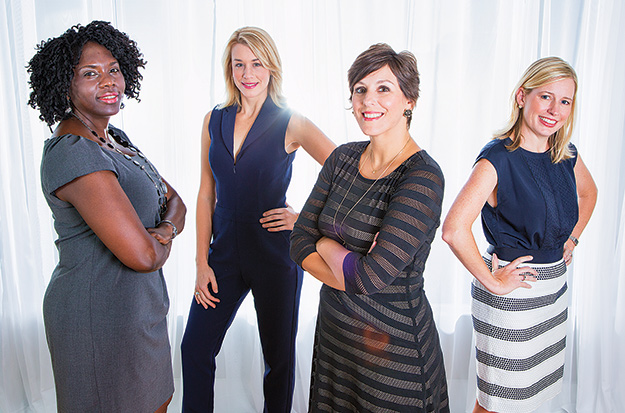 (left to right) Avril Pinder, Bethany Windle, Shannon Viera, Jennifer Rigby, Kathy Cochran (headshot left, top row below)
Kathy Cochran, Wilmington Police Department Lieutenant
Kathy Cochran started her law enforcement career decades ago knowing that she didn't want an office job that involved sitting at a desk all day. Today, even though she's been with the Wilmington Police Department for twenty-six years and moved into managerial roles, that still holds true.
"I make sure I'm out in the field more than the office," says Cochran, a lieutenant with the Wilmington Police Department (WPD).
Closing in on the thirty-year retirement mark – though she says she still would like to make captain before then – Cochran continues to focus on community patrolling.
She started with the police department in 1989. A few years later she joined its uniformed drug squad as its first female member. After working in other units, she was promoted to lieutenant in 2003.
Today, she manages two tasks forces made up of WPD and the New Hanover County Sheriff's Office. One is a mobile field force that targets hot spots of criminal activity. The other is the Wilmington Housing Task Force, focused on public housing areas.
Crime prevention is part of the job – officers have a presence from the morning school bus stops to the 2 a.m. calls – but so is being trusted in the community.
"It's quality of life for residents that live on the property because they deserve to have a safe life like everybody else," Cochran says.
The joint housing task force started in late 2013 under Cochran. The next year, major crimes dropped in the public housing areas more than 30 percent, officials say.
Cochran is president of the Wilmington Police Recreation Association nonprofit. As part of her work with the group, she helped with fundraising efforts and designing the local Law Enforcement Memorial, which honors local officers killed in the line of duty.She also helped start a police peer support group for officers suffering from traumatic events and was one of the founders of the Send a Cop to College scholarship at Cape Fear Community College.
Avril Pinder, Deputy County Manager for New Hanover County
Recently promoted to deputy county manager for New Hanover County, Avril Pinder would like to eventually be the top administrator in a city or county government, but where is still up in the air. And she makes it clear, she's not after current county manager Chris Coudriet's job.
It was Coudriet, after he was tapped as county manager in 2012, who asked Pinder to be on his management team and serve as assistant county manager.
"Truly, I love New Hanover County and any way they want me to serve I was willing to do that," she recalls about her acceptance.
Before then, Pinder had been the county's finance director, with a background in municipal budgets having worked previously as assistant finance director for the city of Jacksonville. But the new role expanded her scope, supervising other departments such as elections, information technology, and health and human services, while still having a role in tax and finance.
"On a daily basis I'm involved in so many different things, no two days are the same," she says.
Originally from Barbados, Pinder moved to Delaware for college and got her undergraduate degree and MBA there.
During her time with New Hanover County, she has helped the county secure its first triple-A bond rating – the highest credit rating a county can get – followed again in 2013 and this year.
In the community, she has served on the United Way of the Cape Fear Area's board, including as chairwoman, and is on Wilmington Hammerheads Youth's board.
She serves as a board member for the North Carolina Government Finance Officers Association and was an original member of the association's Black Caucus, mentoring young finance professional.
"As long as I'm still serving local government and still serving people," Pinder says, "that's what I want to do."
Jennifer Rigby, Long Range Planner for New Hanover County Planning and Inspections
Jennifer Rigby's current project has the potential to shape how the local community turns out years down the road.
As long range planner for New Hanover County, Rigby is heading up work on its comprehensive plan, an effort to look at the county's development trends and how to map out the next 25 years.
Officials say Rigby, now two years in working for the county, was hired to lead the project because they believed "she could hit the ground running."
Rigby previously worked for Greenville, South Carolina, serving as the project manager for the city's comprehensive plan there. She also has worked with the American Planning Association to create a model planning process for communities to follow.
"For me, it's not dry at all," she says about the work. "It's a lot of citizen engagement, listening to what they value about the community and what they hope to see in the future."
Rigby also pitches in on planning efforts for the city of Wilmington, which also is in the middle of developing a comprehensive plan, as a member of the city's citizens advisory board.
"I enjoy public service," Rigby says. "For me, it's very personal because in such a global society, where people can live anywhere they want, I'm very passionate about making New Hanover County the best place to live and raise their family."
Shannon Viera, President of Brunswick County Chamber of Commerce
For the past three years, Shannon Viera has worked for the Brunswick Chamber of Commerce, and in just that short time, she's seen the residential community grow and the local business community along with it.
"I work a lot with individual towns in their growth and development," she says about her role with the chamber, which generally covers an area from Calabash up to around N.C. 211.
A Carolina Shores resident, Viera moved to the area from Columbia, South Carolina, to take the local position.
"In the three years that she has led the chamber she has brought together the chamber membership through expanded programs and services to create a dynamic and diverse business community in what was traditionally considered a retirement and tourism environment, adding to the business and tax base of the community," her nominator Kelly Stuart says.
Viera recently received certification from the Institute for Organizational Management, the U.S. Chamber of Commerce Foundation's professional development program. The four-year program includes ninety-six hours of instruction in nonprofit management.
Viera also is club administration chairwoman for the Shallotte Rotary Club.
Bethany Windle, City Planner for Wilmington
It was seeing the effects of a city stripped away that helped influence Bethany Windle's move into urban planning.
"My experience working with the federal government and also volunteering with AmeriCrops, it revealed to me the importance of planning," says Windle, a city planner for Wilmington. "It really wasn't until I did the AmeriCorps experience that I really saw the need for policy intervention at the local level."
Through the service program AmeriCorps, Windle led a team in New Orleans shortly after Hurricane Katrina that worked with Hands On New Orleans. Of the many issues facing the city was rebuilding a sense of community. Among the projects Windle worked on was coordinating with the NFL to bring in players to visit the kids and help reestablish children's programs.
Prior to that, Windle's focus had been set more on the national level than the local one. She majored in government and political science at the University of Maryland and worked on Congressional campaigns.
Windle, who also spent a year as a deputy White House liaison in the Department of Housing and Urban Development, returned to school and received both a master's in city and regional planning, land use and environmental planning from UNC and a master's in landscape architecture, urban design from N.C. State.
In her work in Wilmington, she has had the opportunity to craft policies for Wilmington's comprehensive plan and work with the city's urban design team to help create a vision for the North Waterfront Park.
She also serves as the Junior League of Wilmington's vice president for community impact.
To view more of photographer Chris Brehmer's work, go to www.chrisbrehmerphotography.com