Women to Watch Finalists – Public Service Category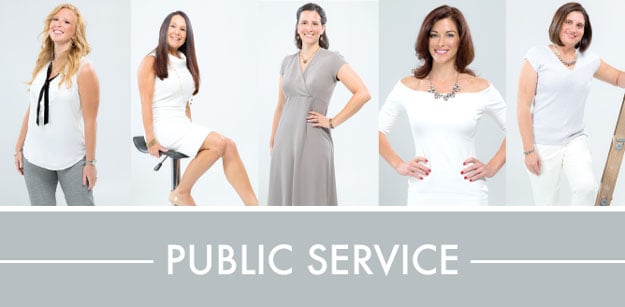 This category recognizes women who work in the area's public service sector – public safety agencies, local and state government, military, etc.
Phylisha DellaPia's office is responsible for the Wilmington Police Department's operations over evidence and property collected as part of cases.
DellaPia has a strong reputation in her area, according to department authorities, adding that she trains others in her specialty around the state and has taught at several conferences.
"During high school I worked for an attorney and became interested in law enforcement. After attending the two-year program at CFCC, I realized I was simply not suited for the 'uniform' and it was best if I explored my interest in law enforcement in a different way," says DellaPia, who holds a civilian position at the department.
She belongs to several organizations focused on ensuring police departments maintain the highest ethical standards on how they accept and retain evidence for court proceedings.
In a previous role with the police department, she oversaw it records system of police reports. By the time she left that position, she was credited with modernizing decades of outdated practices – experience that helped her also modernize the evidence control and property section.
Outside of her work duties, DellaPia also has launched or supported a number of activities and events that show support for officers.
She is treasurer of the police department's Wilmington Police Recreation Association and played a key role in the recently formed Family Support Network to assist families whose spouses are involved in traumatic or stressful incidents. DellaPia also is a leader on the department's Send a Cop to College scholarship fundraising committee, which has increased donations every year she has led it.
IN OTHERS' WORDS
"Whether she is working hard to overcome seemingly insolvable problems or contributing her personal time in an unprecedented way, she cares for our agency and those she works with in a way that is outstanding."
-Mitch Cunningham, Wilmington Police Department deputy chief
In Jessi Leonard's career so far with the North Carolina Department of Transportation, she has held several positions including assistant division traffic engineer, deputy division traffic engineer, and county maintenance engineer.
She was most recently named division traffic engineer for the area's region, based out of the state agency's Castle Hayne office.
In addition to supervising the Traffic Services unit with more than thirty employees, Leonard's responsibilities include reviewing traffic plans for transportation improvement projects and new developments, conducting traffic related studies, and providing assistance to residents throughout the six counties within the division.
"Transportation is something that affects a large portion of the community, and I truly enjoy being in a field that allows me to provide positive impacts in people's everyday lives," she says.
ON STAYING INSPIRED
"I stay inspired through learning. When I first started in my career, I was timid to approach the tasks that I was unfamiliar with. When I was able to get the answers I needed, I was excited to have gained more knowledge for the future and to be able to apply it in other aspects of my job. I have now made it a priority to tackle the most difficult tasks first."
ERIN MCNALLY
Marketing Specialist, Wilmington International Airport
When she started at Wilmington International Airport, Erin McNally brought experience in traditional marketing and sales to the public entity.
McNally, whose background includes marketing and community relations leadership roles at Whole Foods' Wilmington store, started at the airport in August of last year as ILM's marketing specialist.
At ILM, she heads up the airport's marketing, public relations, and community relations efforts. Part of the job includes communicating with the public when events impact flights, such as keeping ILM's social media and website up to date during hurricanes and winter storms.
She also spearheaded the refresh of ILM's branding through an update to its logo, website, and commercials.
"I'm proud of our team's involvement and leadership in the United Way (of the Cape Fear Area) campaign. As co-chair of ILM's workplace campaign, it was inspiring to see the team's commitment to give back and support our community," she says. "We achieved over 90 percent employee participation, were honored as having the best company campaign, and were in the top 10 organizations for leadership contributions."
As a member of the Cape Fear Communicators group, she meets with other communicators – representing local governments, major companies, and other institutions – to build their network and collaborate to enhance efforts.
INSPIRING FIGURE
"Many people inspire me. I draw inspiration and learn from those I interact with at work, in the community, and at home on a daily basis. One of my consistent sources of inspiration is my son, Everett. He motivates me to lead by example, try something new, and to not give up. He also reminds me of the importance of being silly, having fun, and enjoying life."
SIOBHAN NORRIS
Military Liaison & Program Manager, UNCW
Siobhan Norris was hired last summer for University of North Carolina Wilmington's newly created Office of Military Affairs.
Previously, she held graduate assistantship in the school's Office of the Dean of Students in PERCH to support off-campus, non-traditional, military-affiliated, and graduate students.
Norris, an Army veteran, earned a bachelor's degree in psychology after her time in the service and is currently working toward her master's in conflict management and resolution on top of her full-time job at UNCW's Office of Military Affairs.
Siobhan is credited with establishing a strategic partnership with the North Carolina Defense Business Association (NCDBA) and handing it off to the associate director for employer development at UNCW's Career Center. The NCDBA now brings defense contracting companies and other defense-related businesses to campus every other month, and the organization plans to hold its annual symposium at UNCW next year.
Siobhan – herself now a military spouse – also helped get UNCW represented on the Military Spouse Employment Advisory Council. She is establishing the first university-based In Gear Career chapter in the U.S. and overseas with academic, climate, and career support programming for military spouses on campus and in the community.
ON SEEING BOTH SIDES
"Working with our military population has been an honor, a blessing, and a challenge that I welcome. It's an honor to support my fellow brother and sisters-in-arms, as well as my fellow military spouses. It's a blessing that I get to wake up every morning and do something that I absolutely love doing. And, it's a challenge because I empathize so strongly with them since I've been in their shoes and understand their struggles and joys."
AMBER SMITH
Senior Resource Center Director, New Hanover County
Amber Smith began working with the New Hanover County Senior Resource Center in 2001 and steadily moved up.
For a couple of years, she also served as an adult protective service social worker for the New Hanover County Department of Social Services, helping protect disabled adults who had been abused, neglect, or exploited.
When she returned to the county's Senior Resource Center in 2014, it was for a role as a social work supervisor and was promoted to director the next year, heading up a team of twenty-three employees and over 700 volunteers.
Under her leadership, the North Carolina Division of Aging and Adult Services recertified the Senior Resource Center as a Senior Center of Excellence.
Among her achievements was creating the county's first special needs registry to identifies residents with special needs who might need assistance in disasters.
Smith, who was accepted into the UNC School of Government Leading for Results fellowship program, serves on the North Carolina Senior Center of Alliance Committee and WAVE Transit's short-range transportation planning committee.
This fall, she completes her three-year training and certification with the North Carolina Division of Aging and Adult Services Ann Johnson Institute for Senior Center Management.
She also facilitates the New Hanover County Home and Community Care Block Grant advisory committee.
ON CHOOSING HER FIELD
Growing up I always knew I wanted to work with people in a serving capacity that could make a difference in the lives of others … During my internship, I was drawn to serving the older adult population. This population is often forgotten, vulnerable, and is rapidly growing. My current position allows me to utilize my skills of problem-solving, leading, and planning while still allowing me to work directly with the public to advocate and support."
To view more of photographer Chris Brehmer's work, visit chrisbrehmerphotography.com.