Women to Watch Finalists – Nonprofit/Volunteer Category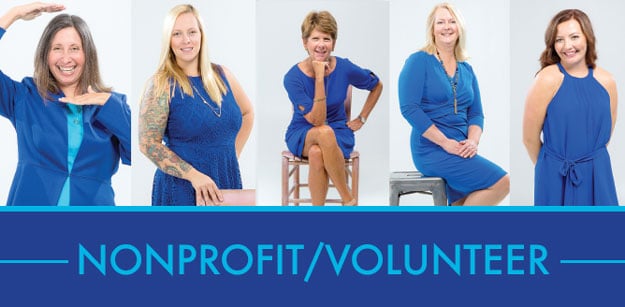 University of North Carolina Wilmington hired Diane Durance last year to take over as head of the school's Center for Innovation and Entrepreneurship (CIE).
The CIE, a standalone 501(c)3 nonprofit, is owned by the UNCW Research Foundation. It provides services and programs for small business training, mentoring programs, and public events.
Durance moved here from Michigan, where she worked as president of state-supported MiQuest, which supports early- and second-stage ventures. She also previously served as president of an incubator for startup technology ventures called the Ann Arbor IT Zone – a position she took after working twenty years as an entrepreneur.
"Since arriving in Wilmington a year ago, I've been working to develop a collaborative support ecosystem and to fill the gaps in the training, opportunities, and connections available to our business startups," says Durance, who teaches as an adjunct instructor in the Cameron School of Business.
She also has coordinated the Coalition, a group of entrepreneurial support organizations in the region, including the community colleges' small business centers, SCORE, SBTDC, SBA, tekMountain, N.E.W., and UNCW.
Durance, who brought the international shellfish industry competition Fish 2.0 to Wilmington, also serves on the InnovateSENC board, UNCW Entrepreneurship and Business Development Advisory Board, and Cucalorus Connect advisory board.
ON HER FOCUS
"I've focused the CIE's energy and activities in areas where regional strengths and university expertise converge – education, health and IT technologies, marine sciences, and media production. The CIE connects high-growth ventures and entrepreneurs with each other, and with opportunities and resources needed to accelerate their success."
Kasey Galvin, mom to a 3-year-old, energetic son named Deklin, founded a local family group two years ago that has quickly found a large and loyal following.
The intention of Misfits & Monsters is to be inclusive of all families through meetups, activities, and fundraising for area charities. The group's Facebook page (Facebook.com/groups/misfitsandmonsters) has about 2,800 members.
As a new mom when Deklin was born, Galvin found herself struggling with playdates and meeting other parents, and the idea for the came about.
"I found it a little intimidating going to these places on my own, I just had no clue! Misfits & Monsters allows parents to take advantage of what our community has to offer in a group setting without going through the anxieties of doing it all by themselves," Galvin says. "I wanted to make a group that welcomes everyone, parents of all spectrums – not just moms. I wanted a group that involved the entire family, and just like that Misfits & Monsters was born. We didn't really need to promote ourselves, the club basically took off on their own."
About six months after creating the group, Galvin partnered with Shayna Hines "and explained to her that we had a growing idea that could not only change the lives of local families but also impact our local community in a positive way, and that is where we got the idea to start raising money at our events for other local nonprofits and charities here in the Wilmington area."
PARENTING (NON) ADVICE
"The thing is when you're pregnant expecting your first child, you can read, research, and listen to all types of patented advice, but the truth is that being a parent does not come with one specific manual … We don't have to do it all the same; we don't have to believe in the same methods, but we should all respect one another because in the end we are all reaching towards one goal: raising our children to the best of our abilities to become awesome little members of society."
Alexandra Lysik's ties in the community continue to spread.
Outside of work, Lysik, who is in the insurance industry and this year launched her own agency, created a networking community she calls My Sunshine Adventures. It is intended to help bring together small businesses in the Wilmington area for networking, training, and activities. Through the group and its website (mysunshineadventures.com), she keeps the community aware of networking events and spotlights local businesses.
She also is an active board member for WARM (Wilmington Area Rebuilding Ministry), a nonprofit that mobilizes volunteers to make urgent repairs and accessibility upgrades for low-income homeowners in the region, many of whom are elderly or disabled.
Lysik, who previously has served on the Wilmington-Cape Fear Home Builders Association's membership committee, also is a board member for the Mortgage Bankers Association of the Lower Cape Fear.
Lysik co-chaired the annual Cape Fear Literacy Council Gala in September and helped pull together the event preparations for that nonprofit's major fundraiser event.
She also volunteers each week with a Sunset Park Elementary student.
ON VOLUNTEERING
"I really like giving back. As a child, I used to dress up and go Christmas caroling with my dad as an elf, and the joy it brought those people is something I'll never forget. You never know whose life you might change with just a simple act of kindness or asking how you might help out. We are all connected in Wilmington in some way, so the more I'm involved, the more people I can affect."
Janna Siegel Robertson, a professor in UNCW's Watson College of Education, uses her teaching, research, and grant-writing skills to impact the community at-large.
One of her more visible projects was organizing a 240-foot, community mural on the Northside dubbed the Forest of DREAMS, at the youth arts nonprofit DREAMS of Wilmington at Tenth and Fanning streets.
It brought together more than 600 volunteers to work on the mural. The project also included a documentary, coloring book project, and other materials to broaden its impact.
She also is co-coordinator of the Dropout Prevention Coalition at UNCW, which brings together area schools, colleges, PTAs, government agencies, community organizations, businesses, faith-based community, parents, and others to find ways to help students stay and succeed in school.
WHY THE ARTS?
"I have always tried to model arts integration into my courses whether I teach in K-12 schools or at the university. Learning and presenting material using multiple senses usually leads to better retention and understanding of the material. Plus, the arts are fun!"
Joy Wade recently joined forces with a new local nonprofit called Going Beyond the Pink to offer her breast health initiative to the community. She has worked in the local nonprofit community for almost ten years.
Going Beyond the Pink was formed to be a breast cancer education and resource center – before, during, and after cancer is diagnosed.
Wade, a certified MammaCare Breast Self-Examination coach, developed a program that teaches people – men and women, from teens to seniors – how to perform a thorough self-breast exam, what to look for, how to manipulate the breast tissue, and how to identify when it's time to seek help. The program, "Your Breasts; What's Normal, What's Not," – offered for free and in a classroom setting – is intended to help with early detection of breast cancer, which improves survival rates.
INSPIRATION SOURCE
"Being a source of information, comfort, encouragement, and building relationships with folks
in our community is what is most important when breast cancer becomes an issue. Being able to make a small impact in the world of breast health and breast cancer is what inspires me and drives me each and every day."
To view more of photographer Chris Brehmer's work, visit chrisbrehmerphotography.com.