Women to Watch Finalists – Nonprofit Category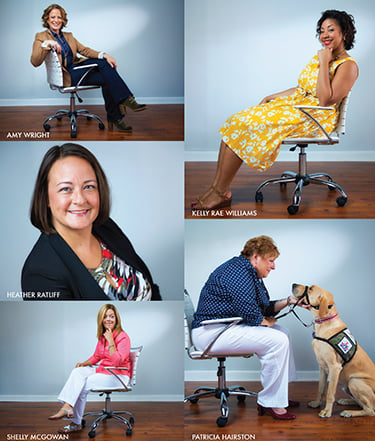 Patricia Hairston
Program Manager, Canines for Service
Patricia Hairston is program manager for Canines for Service Inc., a nonprofit that provides service dogs to veterans and civilians with disabilities.
The nonprofit has been around since 1996.
As part of her do-it-all role, Hairston teaches Canines for Therapy classes in Wilmington, educates the community about the program, writes grants, and spearheads fundraising efforts. Hairston also makes sure the service dogs in training are up to date on vet checks and medications and works with volunteers and perspective clients.
"Education is the key to advocacy. Most people are confused about what is a service dog, therapy dog, or emotional support animal," Hairston says. "Educating the public about the state and federal laws is essential."
As an instructor in animal assisted therapy, she has helped hundreds of people and their dogs become volunteer therapy teams, who fan out throughout the community visiting hospitals, nursing homes, and hospice facilities.
"Seeing a dog fresh from the shelter progress in training to be partnered with their person or watching the client blossom during training with their service dog when they realize a life they have desired for a long time," are some of the things Hairston finds fulfilling about her work.
She also found time to write the Canines for Service children's book A Job for Arabella.
Best dog name ever? "Conway. The name means 'water of life' in Welsh, and after Conway was named, I learned his donor was a boat builder."
Shelly McGowan
Owner, Michael's Seafood Restaurant
Michael's Seafood Restaurant and Catering has been a Carolina Beach staple since 1998. But when Shelly McGowan's husband, the restaurant's namesake, died from complications of cystic fibrosis in 2012, she had to decide about its future.
She stepped up while still caring for the couple's two young children at home and continued the successful business.
With catering operations as well, McGowan manages more than fifty employees when at full speed during the tourist season.
In the community, she supports numerous nonprofits and volunteer efforts.
"I'm driven by supporting charities and nonprofits by the personal feeling I get from giving to others," McGowan says. "I guess it's the combination of selfless empathetic joy, pride, and fulfillment. I lead by example, and my passion about the charities I represent becomes infectious to others. Supporting a cause that myself and my friends and family have been directly affected by has impacted the results from dollars raised to community involvement."
She oversees the Michael McGowan Memorial Endowment Scholarship at Cape Fear Community College for students in the school's culinary arts program. And she sponsors an annual Michael McGowan Softball Tournament to raise additional funds for the CFCC scholarship and other local charities.
Michael's annual Shrimp Open Golf Tournament, raises over $500,000 for research on cystic fibrosis and for Duke University's lung transplant program.
What's the hardest part about fundraising for causes? "The hardest part for me about fundraising is being rejected over and over while giving it 150 percent each and every time."
Heather Ratliff
Executive Director, Child Development Center
Though executive director is a relatively new position for Heather Ratliff at Child Development Center Inc. – she was named last November – her work with the nonprofit development day preschool goes back years.
She has served as a classroom teacher and as the center's individualized education program coordinator, a role she maintains still. Ratliff, who has worked with special needs children for nearly two decades, also spent time providing special education services to other area preschools through the center's outreach program.
In her new position, shoring up the center's finances has been a focus, Ratliff says, along with other functions of running a nonprofit such as working with its board, forming community partnerships, and seeking grants.
"When I transitioned into the role of executive director, I kept my previous duties and responsibilities from my former job as the educational director," she says. "This has resulted in a reduction in administrative overhead. I have also renegotiated contracts and converted specialist positions to in-house hires versus contracted services, which has resulted in an overall savings for the center. We have also greatly increased our grant submission and fundraising efforts."
The Junior League of Wilmington in 1959 founded the Child Development Center, which is located on Princess Place Drive. The five-star child care facility for children ages two to five has speech therapists, occupational therapists, physical therapists, and a licensed clinical social worker.
What's your favorite children's book to read to kids? "My favorite book to read to children is It's Okay to be Different by Todd Parr."
Kelly Rae Williams
Community Outreach Manager, YWCA
As YWCA Lower Cape Fear's community outreach manager at the YWCA, Kelly Rae Williams helps girls and women of all ages.
In her role, she manages multiple YWCA programs including New Choices Professional Development Program and What's Wrong With Different, a cultural heritage program for third-graders.
She also is the program manager for Girls Circle at GLOW, a newly opened all-girls charter school in Wilmington.
"Girls Circle is a girl empowerment curriculum and program we adopted many years ago, that hadn't been used in a few years," Williams says. "The YWCA just recently revitalized the program for the GLOW (Girls Leadership Academy of Wilmington) this August."
Other duties include managing the YWCA's teen and adolescent mentor program and working on events such as Potluck for Peace, a quarterly meetup to foster dialogue, and the annual Stand Against Racism days.
Who do you look up to? "That's a hard question, I usually say my mother, but locally Evelyn Bryant one of our board members at the YWCA. Out of town: my professors and instructors at Queens University, specifically Claudia Rankine and Ada Limon."
Amy Wright
Founder/CEO, Bitty & Beau's Coffee
Almost immediately after opening a small coffee shop in January on South Kerr Avenue, the response outpaced owner Amy Wright's initial expectations so hours were extended and more people hired.
It would soon prove not to be enough.
Customers flocked to Beau's Coffee, drawn by its lattes, community atmosphere, and approach to hiring. Before Beau's, Wright, the mother of four – two with Down's syndrome – had founded Able to Work USA, a nonprofit organization to help people with intellectual and developmental disabilities (IDD) find meaningful work. In the beginning, the nonprofit struggled to help employers think outside the box and hire people with IDD, so Wright and her husband decided to create some of the jobs themselves.
At Bitty & Beau's Coffee – the Wrights' twelve-year-old son Beau asked that his sister's name Bitty be added to the family business as his birthday present – has had a nonstop first year. (The Wrights also have two other children, sixteen-year-old Emma Grace and seventeen-year-old Lillie.)
The shop reached national audiences with a segment on The Rachel Ray Show, followed up by being named Coastal Entrepreneur of the Year in May.
This summer, the coffee shop moved into a substantially larger space after the Rippy family donated the former Hummer dealership on New Centre Drive. And Wright has been fielding franchising requests from around the country.
"This year has been a complete whirlwind," Wright says. "Every day brings new and exciting developments, and we could not be more grateful for the support we have received from everyone."
With things being so busy, how do you unwind when you need a pause? "Finding time to unwind and relax is a bit of a challenge these days. Free time is family time, and I wouldn't have it any other way."
To view more of photographer Chris Brehmer's work, go to www.chrisbrehmerphotography.com
To view more of photographer Erik Maasch's work, visit ejmphotography.org