Women to Watch Finalists-Health Category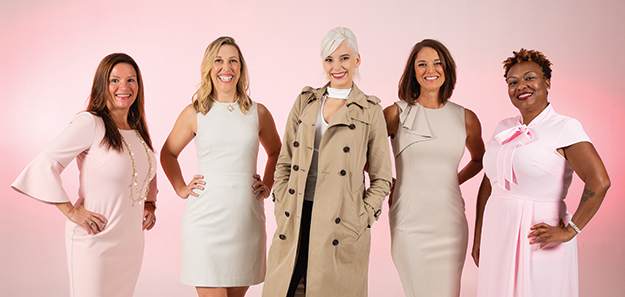 Elizabeth Harris
Director of Strategic Development
Coastal Children's Services
Elizabeth Harris is a member of the management team at Coastal Children's Services, a pediatric subspecialty practice. She previously was the graduate medical education director at South East Area Health Education Center (SEAHEC). Last year, she teamed up with an obstetrician/gynecologist to start Tides, which provides an intensive, residential treatment program for pregnant women with opioid use disorder. The nonprofit aims to reduce the number of children placed in the foster care system and the number of maternal overdose deaths. Harris also serves on the board of INFANTS, a nonprofit that supports the improvements in the health outcomes of high-risk children.
Megan Rose
Deputy Director/Network Pharmacist
Community Care of the Lower Cape Fear
In her role as deputy director and network pharmacist, Megan Rose has played a key role in expanding the Community Care of the Lower Cape Fear's reach in the community. Community Care of the Lower Cape Fear (CCLCF) is a comprehensive chronic care model, providing care management services to high-risk, high-cost patients. Rose helps the organization's six-county network and primary care providers in the management of pharmacy benefits for Medicaid patients and other designated patient populations. She also is the co-lead for the Provider Intervention Group that developed and published a workbook for Controlled Substance Prescribing.
Sara Rose Harcus
CEO
Dmanna
Sara Rose Harcus founded Dmanna, a company focused on urinary tract infection prevention. Its product uses d-mannose, a type of sugar related to glucose but not metabolized by the body that has been shown in some studies to help prevent UTIs. Dmanna is packaged in a powdered form meant to be taken daily in drinks. Harcus is working with area nursing homes facilities about it since older adults can particularly be vulnerable to UTIs. Harcus, who graduated from the University of North Carolina Wilmington with a chemistry degree, also co-founded Hüify, an inbound marketing and sales agency that she started with her husband, Josh, in 2012.
Lisa Edgerton
Pharmacist
New Hanover Regional Medical Center
Lisa Edgerton has served as a leader for the past fifteen years, in New Hanover Regional Medical Center's pharmacy department. She is the director of pharmacy education for NHRMC's family medicine residency program and joined the family medicine faculty in 2003. Edgerton also maintains a clinical practice in association with the program. She has helped educate the public and physicians about opioid misuse. Edgerton also spearheaded an effort to revamp a medication take-back event to cover 15 sites in six counties, bringing in 3,800 pounds. Edgerton is the program director for the PGY2 Ambulatory Care Pharmacy Residency through NHRMC's pharmacy department.
LeShonda Wallace
Executive Director
Seeds of Healing Inc.
LeShonda Wallace, a family nurse practitioner who works on New Hanover Regional Medical Center's HIV Care Team, serves on the New Hanover County Board of Health. She also is the founder of Seeds of Healing, a nonprofit focused on HIV/AIDS awareness and empowering affected women through workshops and training. It works on projects with community and faithbased organizations in the area. Wallace, who moved to Wilmington in 2013, previously founded the Sandhills North Carolina Black Nurses Association, a chapter of the National Black Nurses Association and has served on the scholarship committee for the North Carolina Nurses Association.
To view more of photographer Chris Brehmer's work, go to chrisbrehmerphotography.com
Want more WILMA? Sign up for our WILMA Weekly email and announcements at WILMAOnTheWeb.com.