Women to Watch Finalists – Health Care Category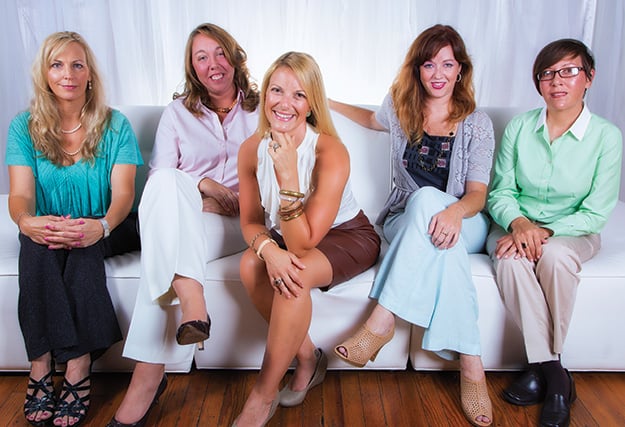 (left to right) Gretchen Rivas, Kyle Horton, Marisa Henry, Anna Kareiva, Melissa Odom

Marisa Henry, Fitness Supervisor for PPD
At some points in Marisa Henry's workweek, the tables turn, and it's her time to tell the bosses at PPD what to do.
"I've got 18 executives that I train, males and females. I learned quickly that it's their hour, and everybody needs something different," says Henry, fitness supervisor for PPD. "It's really cool to know that they come and they trust me for that hour to lead them safely for the most effective exercise. All their needs are different, but it predominately is stress management and time away from their desks."
Besides personal training, Henry also is responsible for the fitness program for the entire Wilmington-based company. She supervises the fitness staff and four in-house fitness centers at the headquarters office in downtown Wilmington, Raleigh, Austin, Texas, and Middleton, Wisconsin.
"There's a big culture of wellness, being a pharmaceutical company," Henry says about PPD, which is self-insured. "Our mission is to have employees the healthiest they can to perform the best they can."
Henry, a member of this year's Wilmington Chamber Foundation's Leadership Wilmington, became involved with New Hanover Regional Medical Center's Pink Ribbon Project after attending its fundraising lunch four years ago.
That event made an impact on Henry, whose mom and aunt are breast cancer survivors and whose other aunt died from the disease and didn't have insurance to get an early mammogram. The Pink Ribbon Project provides access to mammograms to uninsured and underinsured women in the area.
Henry, who served as chairwoman in 2014, continues to be involved as an active member.
Kyle Horton, Internal Medicine Physician/Co-Director of Invisible Wounds of War project
Kyle Horton views the physician concept of "do no harm" as one that applies not just to her individual patients, but also to health care systems as a whole.
So when she witnessed backlogs in the Veterans Affairs' care of soldiers returning from Iraq and Afghanistan, she decided to try and change the system.
"It would be sometimes six months when they requested an appointment and another three months if they had PTSD. In that nine to twelve months, I had patients who attempted suicide," Horton says about her time as a doctor at a VA medical center in Virginia several years ago. "It was something I knew I had to do – something about mental health."
That led to temporarily trading in her clinic hours and heading to an unfamiliar setting: Congress.
She talked to lawmakers and staffers to build support for the Clay Hunt Suicide Prevention for American Veterans Act, named after a Marine from Texas. Bogged down in the Senate last year, the bill passed Congress this year and was signed into law in February.
It requires annual evaluations of the VA's mental health care and suicide prevention programs; creates a website with resources about mental health services available from the VA; and calls for collaboration on suicide prevention efforts between the VA and nonprofit mental health organizations.
"This was a way, basically, I felt like I was filling my oath as a physician. This was a way to take that to a different level," Horton says about her time in D.C.
Horton, who earned her medical degree and MBA in a five-year dual degree program from Wright State University's Boonshoft Physician Leadership Development Program, has returned to direct patient care. She practices as an internal medicine physician in Wilmington but hasn't given up her advocacy role for veterans.
She now serves as co-director of the Invisible Wounds of War project.
Anna Kareiva, Music Therapist for Coastal Behavioral Sciences
Anna Kareiva, a licensed professional counselor for Coastal Behavioral Sciences, incorporates music therapy into different places from schools to inpatient settings.
"It's definitely a completely holistic approach to caring for a person," she says. "I've always been able to use music as a therapeutic tool, so it's natural for me to take the musical part of myself, the musician and the person who expresses and writes music, and think it would definitely be an interesting subject to study and very applicable to helping the field and mental health."
Kareiva, a board-certified music therapist, and earned a degree in music therapy in 2002.
She focuses on the treatment of trauma, ADHD, and Autism Spectrum Disorders. Patients with anxiety and depression issues also come to see Kareiva.
She also served as a clinical diagnostician with University of North Carolina Wilmington's Neurofeedback Clinic on research about the use of Brainpaint as an alternative intervention for the long-term treatment of ADHD.
Her goals include helping with the effort to push for full licensing of music therapists in the state, compared to the existing system of certification, which she says would expand the specialized practice in North Carolina.
"It would open the opportunities for mainly those who have Medicaid or third-party insurance to afford the services and be covered," she says.
Melissa Odom, Director of Strategic Innovation for Wilmington Health
Melissa Odom is a firsthand witness to the nation's rapidly changing health care landscape.
Odom, director of strategic innovation for Wilmington Health, helps facilitate new initiatives throughout the clinic. That includes leading a number of projects to incorporate the multi-specialty practice's recent status as an accountable care organization (ACO).
ACOs, a model pushed by the federal health care reform, focus on the coordination between different health providers for a patient's care.
Odom, who started her career as a financial analyst in a large, multi-specialty private practice, worked for disease management company Legato Medical Systems as director of business applications. She later worked for South East Area Health Education Center (SEAHEC) for 12 years, most recently as the director of practice operations.
"At SEAHEC, I worked with medical practices throughout the area in wading through changes in laws, electronic medical records, and federal initiatives," says Odom, who holds leadership roles with the Medical Group Management Association.
She also stayed on top of the changeover to electronic health records, and has served on the board of Coastal Connect Health Information Exchange since its inception.
"While the only thing that seems to remain the same in health care these days is change, I find it to be incredibly fulfilling and fun," Odom says.
"We finally have access to amazing technology like electronic medical records and our own Regional Health Information Exchange. These tools allow all of the changes in health care to be possible. If we commit to collaboration, collective impact, and transparency, we have the opportunity – providers, payers, technology – to truly influence positive health outcomes in our community and serve as an example for our state."
Gretchen Rivas, Owner of Infinity Acupuncture and Relax! Massage Therapy
Gretchen Rivas has grown her one-woman massage business into a health center that sees more than a hundred clients a week, employs a staff of eight, and has had to continue to find more commercial space for her operations.
After becoming a licensed massage therapist, she opened her home-based business in 2002. Injuries from a car accident made it hard for her to work on massages all day, so she decided to get her master's degree in acupuncture. That, however, was no easy feat.
It meant driving five hours away to Boone once a month for a week at a time – for four years.
"I still look back at that and wonder how I did it. I knew I couldn't do massage forever," says Rivas, who when she was done launched Infinity Acupuncture out of her existing Relax! Massage Therapy business.
Two years ago, she moved into a larger space on Oleander Drive and within a year expanded in rented space on the second floor.
"My long-term goal is to have our own building," Rivas says.
Meanwhile, Rivas is working on launching a Wilmington health and wellness app through a local vendor.
It would include listings of participating health providers in the area, from physicians to alternative medicine providers to yoga instructors.
"I realized it's the wave of the future," she says about the project, "and I want to be a part of that."
To view more of photographer Chris Brehmer's work, go to www.chrisbrehmerphotography.com