Women to Watch Finalists – Health Care Category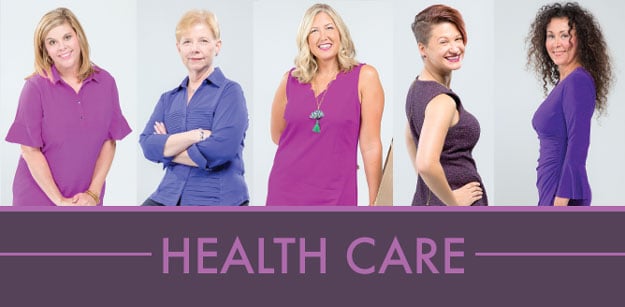 As sales coach for Well Care Home Health, Cindy Burton leads a team of account executives on how to market the firm's home health services to patients and health providers.
In 2013, she started working for the company, which is headquartered in Wilmington, as a social worker and account executive in the Triangle area. After two years, she joined the Wilmington office and was promoted to the sales coach position. In it, she leads the marketing team's efforts in gaining patient referrals for the company's home health services.
Burton serves as a mentor to colleagues across departments and often takes on responsibilities outside her own scope.
IN OTHERS' WORDS
"Cindy fosters the human element in the health care industry, when others can sometimes lose sight of it. One thing is clear – Cindy's character is unmatched, and she's a woman that many other ladies strive to emulate."
-Jennifer Cascio, communications manager for Well Care Home Health
Professionally licensed since 1999, Windy Ezzell works with clients at Wilmington-based Inner Solutions Counseling Center and through online distance counseling.
She has also spent over thirteen years helping children and their families who have experienced a trauma as a therapist and child interviewer for The Carousel Center, which works with children who have experienced sexual/physical abuse and/or neglect. Starting this month, she will continue to volunteer for the nonprofit in other capacities but is taking a break from that work to pursue her Ph.D. and grow her other venture Fertile Affirmations.
In that area, Ezzell focuses her efforts on helping those with reproductive health challenges such as infertility and recurrent pregnancy loss. She collaborates extensively with physician Karenne Fru at Coastal Reproductive Endocrinology & Infertility-NHRMC Physician Group.
Ezzell provides a fertility group, a pregnancy loss group, and a pregnant after a loss group. She also provides Third Party Reproduction Evaluations and Screenings for donors, recipients, and carriers.
She developed Fertile Affirmations, a mindfulness-based stress reduction tool for anyone facing the stressors of building a family whether through pregnancy, adoption, or assisted reproductive technology.
Ezzell is a member of The American Society for Reproductive Medicine and The Mental Health Professionals Group of ASRM, Paths2Parenthood formerly The American Fertility Association, and RESOLVE: The National Infertility Association
ON FINDING HER FIELD
"As a former school teacher, I found that children weren't learning due to their basic needs not being met … I felt I could serve children better in another capacity, hence my start in the nonprofit world in 1997. Then, after my own journey through infertility and recurrent losses, I realized I suddenly knew more about reproductive health than I ever wanted or imagined! So, after pursuing more formal training within The American Society for Reproductive Medicine, my reproductive health counseling specialty and Fertile Affirmations was born."
Since starting to work for Pharmaceutical Product Development in 2004, Kristin Hall has risen through the ranks of the Wilmington-based contract research organization.
She now leads a learning services team of instructional designers, developers, project managers, training delivery personnel, and training coordinators. Hall also manages international training projects, both internally and externally for PPD.
Her work has helped the company land on Training magazine's annual list of Top 125 firms nationwide excelling at employee training and development for six years in a row.
"I love being part of a team with a common goal to develop more and better life-changing treatment options," she says.
In the community, Hall is leading the United Way campaign with a goal to change 6,000 lives in the Cape Fear region and volunteers with several organizations, including Girls Scouts as a troop leader and New Hanover County Schools.
IN OTHERS' WORDS
"Kristin is a natural mentor and positive leader that possesses incredible energy. She impacts her profession as a leader and as an expert in her field. Kristin diligently pursues process improving opportunities with every project and endeavor, and is a superb role model for all whom she interacts with."

-Michael Gawkins, PPD's senior director of enterprise learning
For nearly forty years, Claudina McLiverty has been a registered nurse, logging time in emergency rooms, home care, and more.
Eight years ago, when moving to Wilmington from New York, she moved into the classroom setting at Cape Fear Community College. She leads the Nurse Aide Program, with responsibilities for the curriculum, educators, students, clinical sites and testing facilities for CFCC, and is credited with helping grow the program to where it is today.
She oversees the program for all of CFCC's campuses to make sure they are running at or above state standards.
In her time in the role, the number of clinical sites for CFCC has nearly tripled. Her work and time invested in creating a new curriculum, the program – in the school's continuing education program – also is now part of CFCC's degree programs.
"I have worked to grow the CFCC Nurse Aide Program to where it is today, enabling CFCC to offer a Curriculum Nurse Aide Diploma, a Curriculum Nurse Aide Certificate-Career and College Promise Pathway, and Continuing Education Nurse Aide courses including a Basic Skills Plus-Nurse Aide/GED/Adult High School Program, thus allowing students to have the ability to choose the program that best fits their education and employment goals," she says.
"I'm proud to say CFCC Nurse Aide I graduates have a 96-100 percent pass rate on the North Carolina State Registry Nurse Aide I Certification Exam each semester."
ON ACADEMIA
"Over the years as a health care educator, I have come to realize the thing I enjoy and cherish the most is seeing the look of pride that comes over a student's face when he or she realizes that they have become a competent, professional health care provider and what a truly profound difference one person is able to make in the life of a patient and that patient's family."
Becca Tagg returned to Southeastern North Carolina one year ago, moving to Pender County from Southern California.
She has opened a multidisciplinary behavioral health clinic. Tagg also formed a nonprofit private school for children with autism in Pender County called Del Mar Day Academy. She maintains regular pro bono work and other community outreach events to help bring awareness, acceptance, and decrease barriers for families needing services.
Tagg describes her career path as nontraditional, saying she went from "dropout to doctor." Because she learned differently, she ended up dropping out of high school. Tagg went on to earn a bachelor's degree in psychology and master's degree in educational psychology. She also obtained a doctoral degree in clinical psychology and post-doctoral master's in clinical psychopharmacology.
Tagg is an approved continuing education provider and hosts continuing education events for behavior analysts in the area, as well as a podcast to help new and budding business owners in the field of behavioral health.
ON HELPING OTHERS
"Helpers are often called to help and find ourselves helping in some way or another over our lifespan. Finding myself in this field of work is simply an extension of who I am as a person. I love helping people take steps towards their goals of independence, wellness, and happiness."
To view more of photographer Chris Brehmer's work, visit chrisbrehmerphotography.com.