Women to Watch Finalists – Health Care Category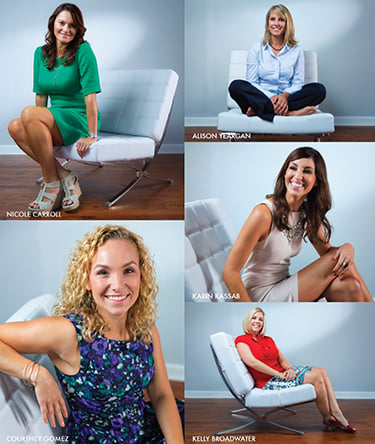 Kelly Broadwater
Co-Executive Director, Chrysalis Center
Through her work locally, Kelly Broadwater has made an impact in a number of patients' lives.
Broadwater, a psychologist and certified eating disorders specialist, co-founded Chrysalis Center for Counseling and Eating Disorder Treatment.
Since it opened in 2003, the center has grown from an outpatient practice with two service providers to fourteen providers, six administrative employees, and three interns.
Its services – eating disorder treatment, psychological evaluations, and counseling for weight loss surgery patients, and dual diagnosis treatment for eating disorders, mental health issues, addictions, and trauma – helps people throughout Southeastern North Carolina.
A women's studies minor in college, Broadwater learned about eating disorders and body images issues in her coursework.
"My academic interest expanded into my professional practice during my clinical internship at UNCW's counseling center, where eating disorders were very prevalent at the time," she says. "Eating disorders are the most complex and fatal of any mental health disorders with a 20 percent mortality rate.
"When I realized that the community at large was underserved in this area, I wanted to branch out and offer services beyond college students, being able to reach other women – and men – of various ages in Southeastern North Carolina."
Broadwater is in the process of expanding her specialty practice into an intensive, outpatient program for eating disorder treatment.
She has affiliations with New Hanover Regional Medical Center for specialty consultations and provides supervision for master's level psychology interns and other licensed psychological associates. She offers pre- and post-operative psychological care for patients of the bariatric surgeons in the area, having worked with more than 1,000 bariatric patients since 2003.
What professional honor or award are you most proud of? "I was awarded the Bernard Caffrey Award for Excellence in Psychology my senior year at Clemson University for demonstrating both academic excellence in the classroom and a commitment to professional and psychological activities in the community, state, and region."
Nicole Carroll
Physician, Wilmington Health
An obstetrics and gynecology doctor, Nicole Carroll has excelled in both her clinical work and leadership roles.
She has kept up on cutting-edge procedures for her patients with her work in surgical robotics and also served as her group's division chief for the past three years.
Her work as division chief has come as Wilmington Health OB/GYN has grown with additional physicians and enhanced its electronic medical records.
"I have learned that being a good leader means being a good listener first, so you can learn how best to serve the people you are trying to lead," Carroll says.
Carroll is board certified in obstetrics and gynecology, and the East Carolina University Brody School of Medicine graduate did her residency at Vanderbilt University Medical Center. Now, she is working with colleagues from Vanderbilt and Yale to attempt to bring in Expect with Me, a prenatal care program for groups of expectant mothers to meet with each other and providers.
You have two young daughters – what's the funniest thing they've said to you lately? "Both of my daughters swim on swim team, and when I asked the seven-year-old what she thinks about when she swims – assuming she'd think about something chasing her in the pool to the finish line – she said, 'Oh you know, the usual: winning ribbons, signing autographs, and being famous.' I love her confidence!"
Courtney Gomez
Owner, Seaside Doula
Seaside Doula owner Courtney Gomez helps parents during their baby's fourth trimester.
As a postpartum doula, she eases the adjustment period with a newborn through support and education.
"The glimmer of relief in a new mom's eyes when I arrive for a postpartum shift is so rewarding," Gomez says. "Knowing that, even if only for a few hours a week, the family can receive support, education, reassurance, and even a nap can make all the difference. Great newborn care begins when the mom is able to take some time for self-care."
A peer counselor at New Hanover Regional, Gomez also teaches classes at The Bump & Beyond. She is a member of the Tri-County Breastfeeding Coalition, Cape Fear Area Doulas, and Port City Breastfeeding Project.
She also is an ardent advocate for doula professionals. Gomez herself made it a full-time career last year, switching from a position as a computer teacher in the school system and opening up her own business.
"I wanted the opportunity to help mothers in the Wilmington community, while creating and running a business of my own," Gomez says. "The transition to parenthood can be terrifying, even when everything is going right. My role as a postpartum doula, is to help mothers begin creating a support system to ease the adjustment."
What's the best way you've found to keep up to date in your field? "In my first year of business, I have found that traveling, from Orlando to Atlanta, for conferences and trainings has been the best, and most fun, way to keep up to date."
Karin Kassab
Co-Owner, Clarity Counseling Center
Psychologist Karin Kassab opened Clarity Counseling Center last year with her business partner.
The center, a private group practice, combines outpatient therapy, dietary counseling, and fitness services.
Clarity has five psychotherapists, five dietitians, and a trainer who is also licensed as a therapist. The result is an atmosphere where meditation, nutrition, and fitness are emphasized alongside cognitive therapies.
"We opened Clarity Counseling Center to create a multidisciplinary practice, a one-stop shop of sorts, to serve our community. It was important to us that Clarity be fresh, modern, technology forward, and provide superior care," Kassab says.
"Our vision for Clarity Counseling Center is to continue to provide superior services to our patients, give back to our community, and break the counseling center/mental health practitioner status quo of silence or 'hiding behind the curtain.' Clarity will work tirelessly to have a voice in the community and use that voice to do our part to stamp out the stigma surrounding mental health."
Kassab, who is also a registered yoga teacher, has a specialty counseling practice primarily focusing on adolescents and young adults using cognitive behavioral therapy and dialectical behavioral therapy.
She also holds a contract with the New Hanover County Juvenile Detention Center, providing suicide risk assessments, testing, and counseling to adolescents in detention.
If you could pick anyone as a mentor who would it be? "Dr. Jennifer Gaudiani, her knowledge, dedication, and high standards for patient care truly inspire."
Alison Yeargan
Business Manager, Regenerative Medicine Clinic of Wilmington
Alison Yeargan, a former pediatric ICU nurse, is embarking on a new adventure in health care.
She manages Regenerative Medicine Clinic of Wilmington, which opened in February as a stem cell therapy clinic.
There, patients' own bone marrow stem cells and plasma are used through injection procedures with the intent of helping heal damaged tissues for conditions such as arthritis or injuries.
As business manager, Yeargan manages all of the financial aspects and decisions as well as handling the marketing decisions for the clinic, with her husband, Austin, a physician, working on the treatments.
"I also assist Austin during the procedure, which I love and gives me a unique perspective in ensuring the business stays focused on the best possible procedure experience for the patient," she says.
Before joining to help run the practice, Alison Yeargan had been raising the couple's three children while Austin practiced as an orthopedic surgeon.
"Unfortunately, about five years ago, he was involved in a motorcycle accident and was left with double vision and unable to operate having to close his practice," she says. The new venture has "definitely been growing, and it is so great to see my husband back to using his gift of helping people, and seeing patients so excited to have pain relief without having to go through a major surgery."
Alison Yeargan also established a scholarship in her mother's name at UNC's nursing school where Alison earned her degree.
Was there a learning curve with switching careers? "There has been a huge learning curve, essentially going from the sometimes idealistic world of being a mom, to the more realistic business world."
To view more of photographer Chris Brehmer's work, go to www.chrisbrehmerphotography.com
To view more of photographer Erik Maasch's work, go ejmphotography.org