Women to Watch Finalists-Business Category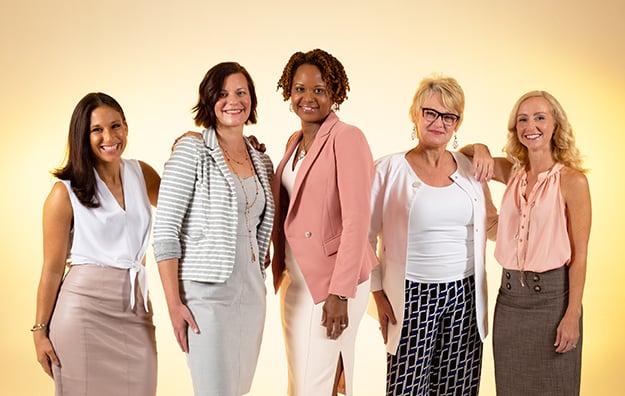 Danielle Boisse
Owner
Port City Design Group
Port City Design Group owner Danielle Boisse is the lead designer for the local interior design firm, which she started in 2014. The firm, which works on both residential and commercial interiors, has its main office and warehouse in Wilmington and a satellite location in Southport. Since 2016, Boisse has designed and launched eco-friendly products that include a candle line called hygge, a T-shirt line called special tee designs, and a nail polish line called empire with colors inspired by interior paint trends. Boisse is on the leadership team of her Toastmasters club, and supports the nonprofit The Carousel Center, for which she started an annual fundraising event.
Cassidy Lamb
Senior Manager of Engineering
nCino
Cassidy Lamb is a senior engineering manager in the Product Development and Engineering department at nCino. Lamb, previously an IT manager and software developer for the University of Texas at Austin, also worked as a high school science teacher and swim coach in Texas. At nCino, Lamb led the company's Kids Who Code program to provide an introductory education in coding for area children. She also is active with the company's volunteer service committee nVolve, and volunteers with the all-girls charter school GLOW Academy. Lamb is also a board member for Athenian Press & Workshops, a nonprofit organization that aims to create a creative, inclusive space for marginalized voices.
Tracey Jackson
Owner/Business Consultant
u-nex-o!
After twelve years in corporate America, including as director of talent acquisition and strategy for Verizon Wireless, Leland native Tracey Jackson moved back to the area in 2015 and started her own company. Through that company, called u-nex-o!, Jackson consults to help businesses through transition times and with their resiliency needs. This year, while working with officials at the Wilmington Chamber of Commerce, she also spearheaded the chamber's new African-American Business Council initiative. The committee is intended to ensure the chamber understand the needs of the local African-American community, those needs, and ensure the chamber's mission is inclusive of all businesses.
Terry Espy
President
MoMentum Companies
Real estate broker and developer Terry Espy has been a force in recent years on commercial projects in downtown Wilmington and the burgeoning South Front district. Espy, whose career in the industry started several decades ago, initially began MoMentum Companies with project management work. Since then, it has developed projects in the medical, multifamily, retail, hospitality, office, and mixed-use sectors, according to the company. Espy was tapped to help develop the commercial section of the South Front district, a revitalized area of former industrial buildings off Greenfield Street. Espy serves as president of the Downtown Business Alliance organization.
Christy Spivey
Administrator Regional Services
New Hanover Regional Medical Center
Christy Spivey has been with New Hanover Regional Medical Center since the mid-'90s and worked on a number of key projects. She oversaw a $30 million expansion of the hospital's 17th Street emergency department and opened the health system's first free-standing emergency department. Under her leadership, NHRMC also created a Sexual Assault Nurse Examiner program. In her role as administrator for regional services that Spivey assumed last year, her work expanded geographically. She often visits small, rural, and critical access hospitals throughout Southeastern North Carolina as a resource to the facilities and helping NHRMC bring new programs and services to those communities.
To view more of photographer Chris Brehmer's work, go to chrisbrehmerphotography.com
Want more WILMA? Sign up for our WILMA Weekly email and announcements at WILMAOnTheWeb.com.