Women to Watch Finalists – Business Category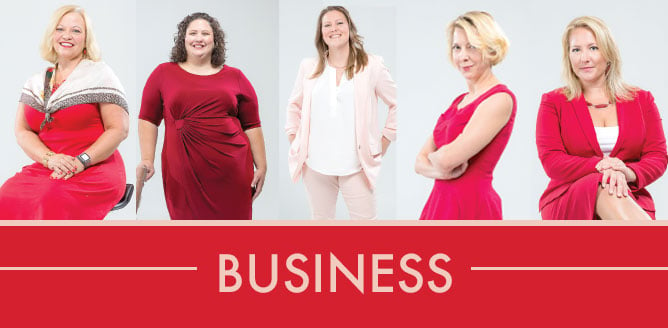 Ellie Craig is making sure people outside of Wilmington know what's brewing in the Port City's growing beer scene.
At Front Street Brewery, which has been brewing microbrews since the mid-90s before the current craft beer craze, Craig heads up marketing, sales, and public relations. She started at the brewery in 2008 as its sales and distribution manager.
"I had a sales and customer relations background fresh out of college when the distribution position became available with Front Street," she says about her start with the downtown spot. "My roommates at the time were really into craft beer, as one of them worked at Lighthouse Beer and Wine. I became incredibly interested in craft beer, learning everything I could about different beer styles and flavor profiles. I was very passionate about craft beer. It seemed like a dream job at the time."
In her current role, she often represents Front Street to the public, other local businesses, and nonprofits.
"My position isn't limited to marketing and advertising for Front Street Brewery. Tom Harris, our owner, has given me the opportunity to become an ambassador for Wilmington and to help bolster the image, economic development, and growth of Wilmington as a whole," Craig says.
She also represents the city's burgeoning beer industry as a board member for the Cape Fear Craft Beer Alliance, a group that formed in 2016.
FAVORITE WHISKEY (Besides beer, Front Street Brewery also is the largest whiskey bar in North Carolina)
"Well, that changes like the tides. It depends on what I'm in the mood for, but at the moment, I find myself relying on Henry McKenna 10 Year Bottled-In-Bond. It's everything that a bourbon should be."
As clinical screening manager at Wilmington-based CastleBranch, Breann Dennis responsible for the day-to-day management of two supervisors and sixty full-time employees.
Dennis, who has been with the company for more than ten years, has built on successful initiatives and best practices, while performing detailed analyses to emphasize the value of an idea.
Colleagues say they can continue to see her taking on leadership roles as she has continued to grow her area of responsibilities while with the company.
"What I enjoy most about my role is working with my wonderful set of peers in the management team," Dennis says. "We collaborate, support, and challenge each other to grow. At the end of the day, it is the stellar people at CastleBrach that make it all worthwhile."
WOMAN OF INSPIRATION
"The person that has inspired me most in my life was my grandmother, Berniece Morrill. She was the most charismatic and determined person I have ever met. She always wanted more for me and always supported my love of travel and animals. She taught me to be independent and that only I was responsible for my destiny. She had a tough upbringing, but through her hard work she was able to change her story. She encouraged me to write my own, and for that I am internally grateful."
Natalie English is no stranger to advocating for businesses, having spent twenty years working for the Charlotte Chamber of Commerce.
This year's award judges pointed out she's a woman to keep an eye on here, now that she's relocated to Wilmington.
English is coming up on her eighth month of leading the Wilmington Chamber of Commerce.
"In many ways, my job has been what I expected because I've been a chamber professional for a long time," she says. "In other ways, my move and transition have been filled with little surprises along the way which have reinforced my decision to be here."
The settling-in period was brief for English, who worked as chief public policy officer in Charlotte, as the Wilmington chamber in May faced the prospect of thousands of golf patrons descending on Wilmington for the Wells Fargo Championship and the chance to organize a new regional marketing initiative pegged to the tournament.
She has joined the boards for the New Hanover County Tourism Development Authority and Port, Waterway & Beach Commission, as well as this year's Leadership Wilmington class. She also has joined the Blue Ribbon Commission on the Prevention of Youth Violence, Health Leadership Council (Executive Steering Committee of the Community Partners Coalition), and Convention Center Advisory Committee.
WOMAN OF INSPIRATION
"If I had to narrow it down, it would be Ede Graves. Ede is now an entrepreneur in Charlotte who owns an amazing antiques consignment store, Classic Attic. She started her business following a very successful career as a communications professional in the construction industry. She spent many of those years raising her son alone. She taught me how to be effective in business, as a mother, and community volunteer while having a lot of fun along the way."
Kandra Litcher stays active representing the credit union, both internally and in the community.
At Alliance Credit Union, she serves operates in three areas: business development, indirect auto lending, and financial education in the Wilmington community.
Her financial education focus extends beyond the office's front door. Litcher volunteers as an instructor for the Phoenix Hometown Hires nonprofit, teaching financial literacy workshops to adults re-entering the workforce.
"I thoroughly enjoy the financial wellness workshops and financial literacy seminars I do for both my community business partners and local nonprofits in the community," she says. "I am extremely thankful to Alliance for allowing us the opportunity to earn our Money Coach Certification and believing in me to launch financial literacy in our community."
She also sits on the boards of The Carousel Center, Wilmington Harbor Enhancement Trust, and A Bike for Every Child and is a member of this year's Leadership Wilmington class.
BEST ADVICE RECEIVED
"To never say 'I don't know' and leave it at that. It's all about finding a solution and an answer. This small piece of advice has been paramount in my life. I push myself to learn and grow professionally and personally to be the very best person I can be for my family, friends, employer, and organizations I volunteer for."
Biologist Jennifer McCall is looking to make waves.
She came to University of North Carolina Wilmington as a postdoctoral researcher and earned her MBA in the business of biotechnology.
As head of the startup company SeaTox Research, which develops diagnostic kits to detect toxins in seafood, she continues to combine science and business – growing her company in Wilmington. Those kinds of toxins can contaminate the food supply and harm those who eat the shellfish.
After launching SeaTox in 2013, the company snagged a federal Small Business Technology Transfer (STTR) startup phase grant and matching Innovation Grant from the state. Earlier this year, SeaTox, in collaboration with UNCW, got another STTR grant of nearly $1.5 million to continue the company's research and development efforts.
"The company is focused on strategic growth, both from natural products and pharmaceutical development as well as technical marketing consulting," she says. "We foresee significant growth in the coming years."
She also continues to teach in UNCW's department of clinical research in the College of Health and Human Services.
LESSON LEARNED
"The most valuable lesson I've learned is to surround myself with knowledgeable people to provide expertise. There are many people willing to help entrepreneurs, so find the best ones that work best with your business and your management style."
To view more of photographer Chris Brehmer's work, visit chrisbrehmerphotography.com.