Women to Watch Finalists – Business Category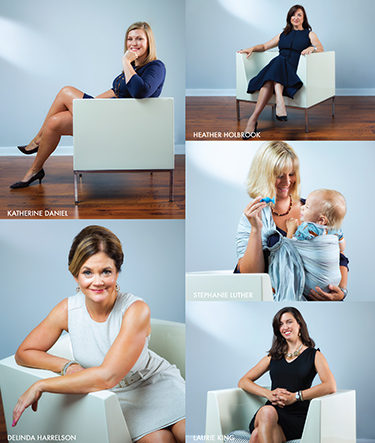 Katherine Daniel
Director of Human Resources and Marketing, N2 Publishing
When your company consistently ranks as one of the fastest-growing private companies in the country, there's not much time to rest on your laurels.
For Katherine Daniel, who has worked at N2 Publishing since 2013, that is especially true.
"We needed Katherine to help us continue growing without losing our culture. Finding Katherine several years ago and watching her work her way up to our head of HR has been exciting and needed," says Duane Hixon, CEO of a company that produces about 1,000 monthly publications.
"Even before joining the team at N2, I could tell that the culture here was special," Daniel says. "After three years of being fully immersed in it, I can say that it's something I still highly value and don't take for granted. Our culture is about more than ping pong tables and beer Friday; it's about how we treat each other and how we are encouraged to continue growing personally and professionally."
A board member of the Lower Cape Fear Human Resource Association, Daniel works with human resources issues for a company that has more than 200 employees.
She is involved in the company's volunteer group that works on various community projects.
Daniel also works on marketing for N2, an area she previously worked in for the West Virginia Division of Tourism and Chick-fil-A.
Who would you most want to meet in the business world? "I draw inspiration from so many business leaders, but, recently, I've been into Simon Sinek."
Delinda Harrelson
President, Home Solutions Group Inc.
For more than a decade, Delinda Harrelson has been renovating homes full time, and in turn sometimes neighborhoods.
Harrelson, owner of Home Solutions Group Inc., initially started the firm in Raleigh to rehab and sells homes there. Her work expanded to fifteen other cities throughout the state. But when visiting a friend in Wilmington, she moved to the Port City and got into restoring historic homes here.
She has purchased abandoned houses, condemned homes, and true fixer-uppers.
"Homes in severe disrepair can bring down property values, attract crime, and create problems in a community," Harrelson says.
Through the projects – more than 250 transactions in total – she also has sold renovated properties in historic neighborhoods like Carolina Place and Ardmore. All this through the burst of the housing bubble and the Great Recession that saw other rehabbers leave the market in droves.
Harrelson has won multiple times in the Historic Wilmington Foundation's Preservation Awards.
Her work and experience has led to starting a consulting practice for people serious about investing in real estate. She also has sat on numerous real estate investment boards such as RMG, REIA, and the Wilmington House Flippers Inc. to consult and teach.
Is there any other career you would have considered? "Absolutely not. This is the love of my life, and I only hope I can help give other people the vision, and training they need to be successful at restoring properties."
Heather Holbrook
Supervisor of Marketing Communications, BEMC
Heather Holbrook has been powering up her career lately, moving up the ranks at the state's second-largest electric cooperative.
Holbrook had worked as Brunswick Electric Membership Corporation's marketing communications specialist since 2012. Last month, the Supply-based company – also the thirty-fifth largest electric cooperative in the U.S. – promoted her to supervisor of marketing communications.
She recently earned credentials as a Certified Cooperative Communicator by the National Rural Electric Cooperative Association and will serve as a mentor to new co-op communicators in the industry at a NRECA conference next year.
Communicating with the co-op's more than 73,000 members, Holbrook produces BEMC's annual report and oversees the production of the business portion of the annual membership meeting.
"BEMC is an industry leader in almost every aspect of our operations, and my job is to develop a strategy that communicates the technical aspects of what we do on behalf of our members in a way that is enjoyable for them and easy to understand," Holbrook says. "Co-ops are different. Also, communicating the benefits of the cooperative difference, our business model, to our membership is key. I use a full range of marketing tools to do this – our monthly magazine, annual report, social media, website, special publications, speaking engagements, event sponsorships, news releases, and media campaigns."
She also administers the co-op's community outreach programs, including Bright Ideas grants to teachers, community grants to local organizations, college scholarship, and heating assistance programs.
Holbrook has served as a director for the North Brunswick Chamber of Commerce and currently serves on the board of the Brunswick County Community Foundation.
What's one of your five-year goals? "To effectively communicate the co-op's strong foundation of excellent service and core values as we face the increasingly complex changes in the power industry and the significant growth the co-op is experiencing."
Laurie King
Vice President of Corporate Relations, MCO Transport
Laurie King grew up around truck bays and grease spots.
King, daughter of MCO Transport owner Danny McComas, spent time washing trucks and cleaning grime at the Wilmington-based trucking and warehousing firm. After studying political science at Wake Forest University, getting a master's in international studies from North Carolina State University, and working in the Triangle, King returned to Wilmington and the family business.
She started off helping with payroll and human resources but worked her way up to a vice president role. She is charge of internal relations and working with MCO's employees, which includes dozens of office staff and about 120 drivers across the company's four terminals: in Wilmington, Charleston, Savannah, and Norfolk, Virginia.
That can include anything from handling internal communications, conducting employee engagement surveys, organizing appreciation events, and assisting with recruiting efforts.
"I'm not very comfortable with the idea of being a 'boss' of anything, though I won't shy away from leadership opportunities. I think it's more about that word than the role," King says. "I'm a strong believer in servant leadership: Take care of those you lead, and they'll take care of you, your customers, their colleagues in return."
King says she doesn't expect anyone at work to do something she's not willing to do myself.
"Many of my colleagues have known me since I was a toddler; they're like family, so I wouldn't mind having some of their children work alongside me one day," she says.
What book have you read that you've found helpful for your professional life? "I'm currently reading Generation to Generation: Life Cycles of the Family Business by (Kelin) Gersick (and others). It provides great lessons on the unique dynamics of family businesses and how to balance the many different factors at play."
Stephanie Luther
Owner, The Bump & Beyond
The Bump & Beyond, which opened in October 2015, sells baby, toddler, and maternity/nursing items. But from the beginning, owner Stephanie Luther envisioned something much larger for the retail spot, and growth has followed.
The store hosts classes like parenting and newborn education and postpartum care to Mama&Me Yoga, Baby Sign Language, and Baby Wearing 101. Any given day, moms might be gathering at the store for a meetup, babies and parents twirling to music in a babywearing dance class, or Cape Fear Area Doulas members kicking off their monthly meeting.
"I was tired of hearing mamas searching for support, complaining how there wasn't a location that was breastfeeding friendly, kid friendly, and sold unique items for the modern natural minded family that moms could have a stress free experience. Families had nowhere to turn for support as well as education," Luther says.
Luther, a licensed nurse, also is a trained birth and postpartum doula. This, however, is her first foray into being a small business owner.
"I have never owned a business; no one in my family has," she says. "I felt so passionate about wanting to make a difference I just couldn't make excuses anymore. It takes a village to raise a child; that is not something that should be taken lightly. So many relationships have blossomed because of this vision, and I wake up every day striving to help more."
Luther is working towards her IBCLC certification (international board certified lactation consultant) and eventually become a midwife after her two young sons are in school.
"I would love to be able to combine all of that into a larger more dynamic retail and health center with a whole bunch of providers involved – who knows maybe eventually a birthing center," she says. "But that is in the distant future for sure."
If you had a personal motto as a businessperson, what would it be? "You have to do what you love, and I love what I do! … Nothing worth it comes easy, this is the hardest I have ever worked in my life but as Steve Job said, 'Your work is going to fill up a large part of your life, and the only way to be truly satisfied is to do what you believe is great work.' And the only way to do great work is to love what you do. I truly love what I do!"
To view more of photographer Chris Brehmer's work, go to www.chrisbrehmerphotography.com
To view more of photographer Erik Maasch's work, visit ejmphotography.org