Women to Watch Finalists – Arts Category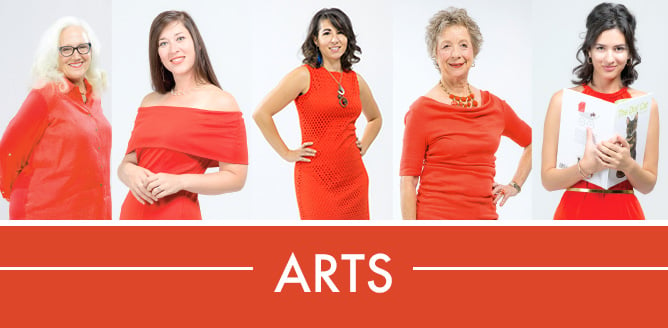 Janette Hopper has traveled the world, and now that she's in Wilmington, the Port City has benefited from her artistic contributions.
The painter, printmaker, and performance artist moved to Wilmington after she retired. She has a long history of teaching art – including as Art Department Chair at the University of North Carolina at Pembroke and at Boise State University, University of Oregon, and in Washington and Michigan. Internationally, the double Fulbright Scholarship recipient, also has taught in Denmark and Germany.
She has not slowed down in Wilmington. Projects have ranged from an interactive, multimedia art exhibit with a panel discussion at CFCC's Wilma W. Daniels Gallery to collaborations with local choreographers and filmmakers.
"My work has always been inspired by nature, and an earlier exhibit at Art in Bloom contributed part of the sales to the Cape Fear River Watch. I also contributed an original print for their Striperfest fundraiser," says Janette Hopper.
She has also painted a mural at Nikki's downtown sushi restaurant based on traditional Japanese prints. Her artwork and her husband's photography are exhibited frequently at Art in Bloom Gallery in Wilmington.
ON COLLABORATING
"When I learned that I would be able to exhibit in the beautiful space of the Wilma Daniels gallery, I wanted to take the exhibit further by collaborating with scientists and volunteers for environmental causes. I was able to collaborate with Dr. Alina Szmant and produce the sea turtle projection piece shown in the exhibit. The piece was so strong that we decided to make it into a short movie that I will be entering in film festivals to raise awareness of the need to protect sea turtles."
In 1998, Betsy Knowles and her husband, Jim, bought a sprawling warehouse on Willard Street that once churned out shirts for World War II soldiers.
"When we purchased the building on Willard, we started Sea Tech Inc., manufacturing plumbing for the marine, RV, and water-quality industries, until we sold it to a publicly held company," she says.
Today, the space functions as an "art village" and houses fifty working art studios and gallery space, with fifty-five artists in residence. Knowles' work on the local arts community, however, extends beyond the Willard Street walls.
Future plans for theArtWorks, she says, include opening a fine art gallery and event venue in the current 9,500-square-foot gallery space, establishing an international artist exchange program, and offering art classes and enrichment activities to youth in need.
A member of the Wilmington Art Association, she also volunteers with the group's SilverArts event, part of YMCA's statewide competition for artists ages 50 and up. She has helped out with the American Craft Walk in downtown Wilmington and is a member of the National Society Daughters of the American Revolution, serving as treasurer of the Stamp Defiance Chapter's board.
Earlier this year, Betsy and Jim Knowles received one of the inaugural Arts in Wilmington Awards.
She sits on the SBTDC Advisory Board as well as the Wilmington Downtown Business Alliance's board and serves at her church, St. Andrews-Covenant Presbyterian Church.
LIFE-CHANGING EXPERIENCE
"At the age of 31, as result of an auto accident, I sadly became a widow and single mom of two boys, while maintaining my professional career. That experience taught me I could be a committed mom and achieve success on my own through the help of the many that were in my life and those that came across my path. I learned to be grateful for each precious moment I am given and to pay it forward."
Texas native Kate Muhlstein – she earned a bachelor's degree in dance from Sam Houston State University – gravitated to North Carolina after attending the American Dance Festival. A decade ago, she moved to Wilmington and has been having an impact on the local dance scene ever since.
"My life has been so entwined with dance," Muhlstein says. "Dance has given me confidence, therapy, friends, self-expression, opportunity, fitness, an increase in my capacity to learn, and so many skills that apply to other elements of my life.
"I have learned anatomy and physiology and physics to understand how my body works and how other bodies work together. I have learned costuming skills that allow me to make clothes for my daughter. I have learned carpentry skills, which allow me to make furniture for my home. I have researched so many subjects that I have created works about. Dance is intrinsic to the human body and soul."
A choreographer and teacher for The Dance Cooperative studio, Muhlstein volunteers additional time for the grassroots group. The nonprofit's mission includes providing "affordable classes, rehearsal space, and performance opportunities for those under-served artistically, culturally, and economically in the greater Wilmington area."
As its board president, Muhlstein has spearheaded fundraising efforts and ways to promote The Dance Cooperative.
She has served as its coordinator for Dance-a-lorus, choreographed pieces for the Wilmington Dance Festival, and does outreach programs in area schools. She also mentors young choreographers.
BEST ADVICE RECEIVED
"Let go. Many people have said this to me in so many ways for different reasons. Letting go is the only way to move through and onward."
Shanthi Thiruppathi is the author and illustrator of five, self-published children's books sold on Amazon and at Carolina Beach's Island Book Shop as well as other local bookstores.
When not detailing the adventures of the four-footed felines Tiggy, Tobias, and Chloe, Thiruppathi also is an emerging artist based in Carolina Beach, whose colorful acrylic paintings evoke ocean waves and marine life. She sells both her books and paintings through her company Into the Blue.
"I plan to continue writing and illustrating more children's books because my books are an ongoing series," she says. "I was inspired to write in the children's book genre because the stories are based on my cats and their adventures, which appeal to little readers."
Thiruppathi got into painting as part of her high school senior project in 2007. The graduate of University of North Carolina Wilmington, where she earned a degree in accounting, continued to explore her creative side and has had pieces included in Cameron Art Museum's State of the Art exhibit and throughout the pages of her children's books.
When not painting or writing, Thiruppathi works as an account manager at Canvas Giclee Printing.
FAVORITE READ
"My favorite children's book is The Rainbow Fish by Marcus Pfister."
A singer-songwriter with a busy performing schedule, Rebekah Todd has three album releases, music festival experience, and more projects in the works.
When not on stage, she also is a visual artist with a studio at ACME Art Studios.
Todd, who grew up in Benson, has been playing guitar since she was 11. She earned a bachelor's degree in fine arts from East Carolina University.
In 2011, she released her debut EP Forget Me Not, followed by Roots Bury Deep in 2014 and her most recent full-length album Crooked Lines earlier this year.
Last year, she successfully ran a Kickstarter Campaign that raised over $32,000 with the help of more than 500 fans. She used the money to fund her album and new touring van.
Her band, Rebekah Todd & The Odyssey, played at key slots at FloydFest in Virginia this summer after winning the music festival's On the Rise fan-vote contest the year before. She is also playing at the Shakori Hills Music Festival and Big What Music Festival and will open for Citizen Cope at Red Hat Amphitheater in Raleigh.
"Floydfest has played a key role in my recent growth as a musician," Todd says. "We were able to play on five stages including the very large Main Stage of the festival. Each performance was met with over 500 people watching. No pressure! Floydfest helped my band get more organized and more professional. It taught us how to roll with the big dogs and encouraged us to start looking to the future and planning ahead. We are now talking with managers and booking agents as we prepare for the growth to come."
ON HER ART
"Art has always been painting for me. It's what I studied in school at ECU. Lately, I've found myself being drawn to more textile-based art. I've been experimenting with fabric and rope and soon hope to incorporate both of my loves where I will make a design out of rope and then paint on top of that using dye."
To view more of photographer Chris Brehmer's work, visit chrisbrehmerphotography.com.