Women to Watch: Education
Laura Hunter: South Brunswick High Teacher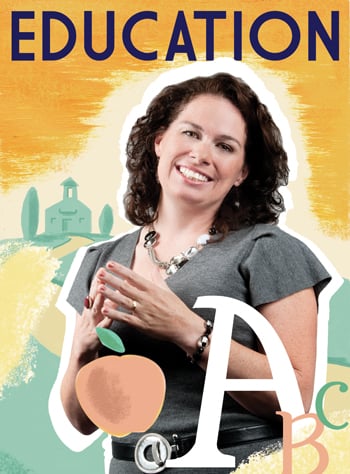 Step into LAURA HUNTER's South Brunswick High School classroom, and it's easy to see why students rave about her, parents love her and teachers admire her craft.
With a colorful U.S. history timeline wrapped around the wall, bulletin boards and posters outlining the Civil Rights movement and Cold War and dry-erase boards to be used for a copious assortment of American history discussion, it becomes clear Hunter is not your Ferris Bueller's Day Off instructor.
There is no teacher's desk in Hunter's classroom, only clusters of desks made to form a pod-like learning space for her students.
"This is not my classroom," Hunter said. "This is our classroom, and we're learning together. If I need to sit down and do work, I just grab a seat next to the student."
It's that learning style that's made her an example of out-of-the-box learning approaches.
"My goal as an educator is to ensure they become life learners," said Hunter, who's nowentering her 12th year as a teacher. "If they leave my classroom with that in mind, I've done my job."
Raised in Charlotte, Hunter – like many other college-bound students – was longing to find her purpose in society. After graduating from Marlboro College in Vermont, she went off to pursue her tri-major in political science, economic development and Southeastern Asian studies in Bali.
It was her experience working with poor Balinese children that helped mold her purpose and, after a few twists and turns in the medical profession, eventually led Hunter into the field of education.
After a stint at West Brunswick High School, Hunter was offered a job at South Brunswick High – the same school her mother worked at teaching English. "She was a great mentor and even better teacher, and she helped me through this experience," Hunter said of her mother, who recently retired from teaching.
Not only was she named Brunswick County Teacher of the Year in April, Hunter was nominated in 2011 as the social studies teacher of the year for North Carolina. She also was recently elected to serve on the N.C. Council for Social Studies' executive board.
This summer, when the General Assembly was considering legislation to abolish teacher tenure, Hunter accompanied Brunswick County Schools Superintendent Edward Pruden and county school board chairwoman Shirley Babson to Raleigh to advocate against such a measure. Hunter also continues to push for a Brunswick County Teachers Advisory Council.
Meanwhile, Hunter also dons the cape of Super Mom to her three boys: Eli, 5, and 2-year-old twins Max and Leo. When Leo was born with a cleft lip and palate, she and her husband, Mike, helped form a parent support group that eventually brought a specialized physician to the region to treat and repair such conditions.
Hunter is also pursuing her master's degree from the University of North Carolina Wilmington in curriculum design and instructional supervision.
"I love my classroom," she said. "This is where I want to be, and feel I can have the most impact here."
To view more of photographer Jeff Janowski's work, click here.
To view more of illustrator Mark Weber's work, click here.