Women to Watch: Business
Carmin Black: Half-United, co-owner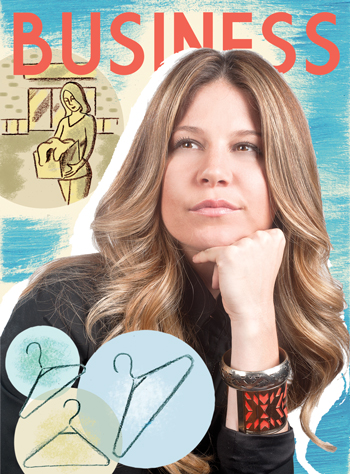 Inside Half United's workshop/headquarters on North 4th Street, an inconspicuous wooden board leans against the brick wall.
Amid the bins of jewelry supplies, stacks of mailing envelopes and racks of clothes, it's easily overlooked.
On the 6-foot-high board, colorful bracelets and necklaces hang from hooks. The shapes of Fiji, Liberia, Cambodia and the United States are painted. But that's it. No clues or explanation about the connection between neon accessories and Fiji.
Yet, it's the heart of Half United's business model and co-owner CARMIN BLACK's vision for the company she and her brother started in 2009.
Half United, an apparel company based in Wilmington, gives away half the profits of what it sells to organizations that address hunger, particularly those trying to help feed children.
This type of give-back business approach isn't new. In fact, Black was inspired after hearing TOMS Shoes founder and poster child for the buy-one-give-one model, Blake Mycoskie, speak. At TOMS, when someone buys a pair of its shoes, a pair of new shoes is given to a child in need.
Black actually spent six months traveling around the country with TOMS at the age of 24, doing speaking appearances and outreach.
"I knew pretty early on I wanted to start my own business," she said.
When Black and her brother, Christian, were ready to jump in, they did so with $200.
They purposefully paced themselves, avoiding any debt and focusing on manageable, steady growth.
Their goal is to make $120,000 in revenue next year. The business has four employees – including Carmin and Christian – and three interns.
Half United products are sold in boutiques in 32 states, from North Carolina to California, as well as in Japan and Korea. The company also depends on its website for e-commerce sales.
Recently, Black began talks with Nordstrom to carry Half United, and she is looking for potential investors in the company. Half United also this fall expanded its women's clothing offerings. For the daughter of a minister father and a mother who designed retail layouts for high-end stores, there was a natural overlap.
"Ultimately, my passions in life are give-back work and fashion," she said. "My focus is more on the cause a lot of the times."
Profits from Half United sales go to a school in Fiji, an orphanage in Cambodia and a foundation in Liberia, Black said. The company also remains local with food programs in the Wilmington area. It has given away more than $10,000 since adopting the current setup last year (in the beginning, the business tried to equate sales to donated pounds of rice, which proved too problematic logistically).
Half United also has been involved with community nutrition projects, including giving money to help fund vegetable gardens at Supply Elementary School and Snipes Academy of Arts and Design.
The company also steps into advocacy. A recent effort was to turn the product's hang tags into petitions customers could fill out urging Congress to pass the so-called SLICE, or School Lunch Improvements for Children's Education, Act.
As much as she's enjoying being a start-up business owner, Black said she never had a desire to do it without the charity component.
"I will not justify becoming successful and not thinking about anybody else," she said.successful and not thinking about anybody else," she said.
To view more of photographer Jeff Janowski's work, click here.
To view more of illustrator Mark Weber's work, click here.