Women to Watch: Business
Kara Duffy, Atlantic Animal Hospital Veterinarian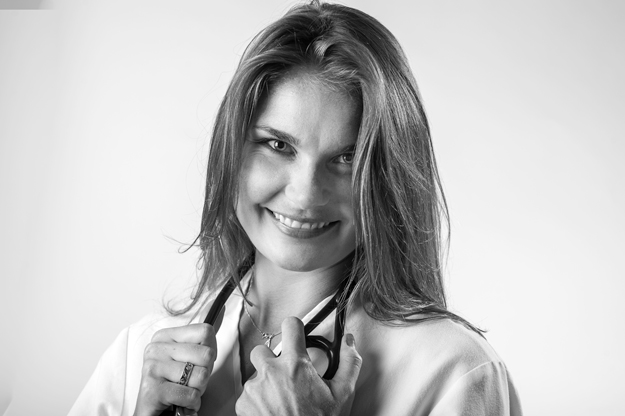 Kara Duffy's Toyota Camry may not look like a medical center, but it's Wilmington's latest and greatest veterinary care vehicle. Dr. Duffy treats patients one day a week at their homes, eliminating the stressful car ride in the carrier to the office.
A full time veterinarian at Atlantic Animal Hospital, Duffy says pet owners had expressed a desire for such a service for a variety of reasons: young children at home, no drivers' license, aging parents, illness, simple convenience. She brainstormed with staff members and decided the mobile service is something they should offer to their patients.
"A lot of animals, like indoor cats, do much better in their own home than being put into a carrier and driven in a car. It's very stressful for them," she says.
The practice, which specializes in dogs and cats, began offering the service in mid-August.
For now, Duffy does house calls on Wednesdays, but anticipates that demand will increase as more patients become aware of the option. Mobile veterinary services are common in other areas such as Raleigh, but not here, she says. While it's not meant for emergency care, Duffy says she would respond to emergency needs.
"For sicker animals, there's only so much we can do with the mobile unit. If someone did have an emergency, we would provide emergency care as we are able and transport the animal back to the hospital," she says.
She carries supplies and equipment in her car but notes that for routine exams and treatments, she doesn't need to carry "a ton of stuff." But as the service grows, she says, she may need to get a bigger car.
In addition to her regular schedule at the hospital, Duffy sometimes works at the Emergency Animal Clinic on Greenville Ave. and Oleander Drive on weekends. She and her colleagues also devote a lot of time to the 10 to 20 animals under care at Atlantic through the Coastal Animal Rescue Effort (CARE), a non-profit that cares for sick and injured animals until they can be adopted.
"When people come to our hospital or the emergency hospital with an animal that has a medical issue and the current owners can't afford to care for the animal, or they are a stray that needs some extra care, we will take them in and do whatever needs to be done. We've done surgeries, taken care of sick or neglected animals, and once they're healthy, we find homes for them," she says.
"Like most veterinarians, I grew up loving all kinds of animals. Luckily in high school and college, I enjoyed the science aspect of it. Medicine appealed to me as well. I grew up always wanting to be a vet, and luckily it worked out," she says.
Because there isn't a veterinarian school in her home state of New Jersey, she pursued her Doctor of Veterinary Medicine degree at Ross University School of Veterinary Medicine in St. Kitts. She also completed her clinical training at North Carolina State University School of Veterinary Medicine. She worked in southern California for more than a year before moving to Wilmington in 2011.
"I like the weather here and the lifestyle. It's less crowded and a lot less expensive than the West Coast," she says.
She also is an avid runner and has competed in the Battleship Half Marathon for the past two years. Most of all, however, she is an animal lover who feels very fortunate to spend her days caring for them.
To view more of photographer Jeff Janowski's work, go to www.jeffjanowski.com.
Click here to read about winner DR. TIFFANY JACKSON, Health Care
Click here to read about winner LESLIE KING, Education
Click here to read about winner TRACEY KELLOGG, Nonprofit
Click here to read about winner ELISSA EDWARDS, The Arts
Click here to read about winner JULIE WILSEY, Public Service
Click here to read about winner LINDSEY NEUMANN, Rising Star