Women of the World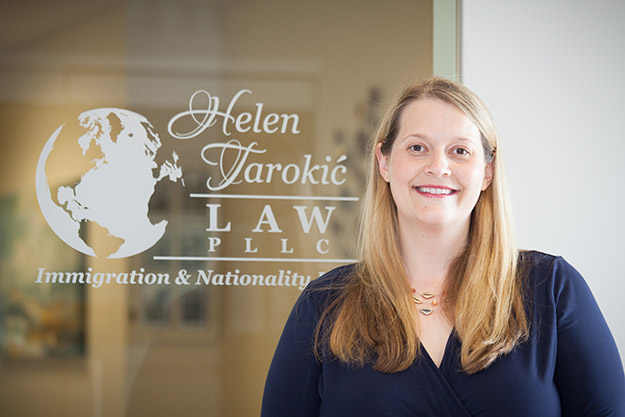 A high-energy multitasker who's built a globally diverse staff, HELEN TAROKIC has been juggling life-altering cases since she began practicing immigration law in 2006.
Now the owner and manager of HELEN TAROKIC LAW PLLC, which opened in Mayfaire Town Center in April 2014, Tarokic was born to a Croatian couple in Peoria, Illinois and earned her law degree at Wake Forest University. At Mayfaire, she's assembled a growing team of attorneys, paralegals, and administrative staff – twelve in all, and all but two of them women – representing a variety of nationalities and conversant in multiple languages.
There's Alice, who emigrated from Romania; Jentl, born in Costa Rica; and Luz, from Colombia. There's Ashley, a world traveler fluent in Arabic and Spanish; Natasha, who speaks the Gujarati dialect of India; and Josue, a Mexican – plus six others including Tarokic, who speaks English, Spanish, and Croatian.
As one of the state's few board-certified immigration law specialists, Tarokic has been adding to staff at a steady clip to handle naturalizations, green cards, deportation challenges, business visas, and visas for victims of crimes as well as for juveniles who've been abused, abandoned, or neglected.
More recently, she's addressed a flood of inquiries resulting from the Obama administration's executive action to expand the number of "dreamers" and immigrant parents potentially eligible to avoid deportation and receive work permits.
"I came in on Monday and we had nineteen callers … and they were people we had not seen before," Tarokic recalls. She immediately added Saturday consultations to the schedule and when things did not let up, hired independent contractor Rebekah Garcia as an associate attorney. Tarokic expects at least two-thirds of her practice's preexisting clients to be impacted by the executive action.
Due to the high volume of calls received by the firm, Tarokic is a stickler for making the most of consultations.
"I can't imagine how anyone can do a twenty-minute consultation and make a major life decision with so little awareness about a client's case," she wrote on Facebook. She expects clients to come prepared with plenty of questions.
Regular appointments, which last up to two hours, must be booked at least a month in advance and cost $100, which also covers a follow-up meeting within six months. "Rush" consultations cost $200.
Existing clients often do not pay a second consultation fee unless a new issue arises or more than a year has passed since they visited the firm.
Tarokic encourages her staff to become as knowledgeable as possible about their clients' home countries and languages, so much so that she's taken the unusual step of subsidizing some of the cost of "immersion" trips overseas.
Anna Lane Barfield, a paralegal, along with billing manager Alice Davis, just recently returned from Costa Rica where they spent two weeks at Intercultura Samara Language School and lived with a local family. The firm covered plane tickets, instruction fees, and home-stay expenses for the two.
Such visits are often tied to staff vacations. Tarokic urges her staff to take up to ten days at a time if they want to go abroad and asks for plenty of notice.
"When I was a paralegal at a different firm, it was very difficult to get enough time off to leave the country, so even though it's hard, we all make it work," she says.
Tarokic's own immersion trips were to Mexico, Chile, and Croatia, where she returns periodically to see her father, who left the U.S. after he retired from Peoria's Caterpillar plant.
On her 2011 trip to her father's village she met Ante Tarokic. The two fell in love, and Ante emigrated to the U.S., where he now works at his wife's law firm searching criminal records and performing other duties. The couple has a two-year-old daughter.
Three times including this year, Tarokic was named a Rising Star by Super Lawyers, a rating service of outstanding lawyers that bases its selections on independent research, peer nominations, and peer evaluations.
Tarokic remains passionate about her calling and her clients.
"I saw all this injustice and bureaucracy and I grew angry and I just wanted to fight it," the Wilmington attorney says. "I'm just in the boxing ring for the rest of my life."
To view more of photographer Meg Beazley's work, go to www.studio133b.com