Women of the War
Female reenactors at Fort Fisher anniversary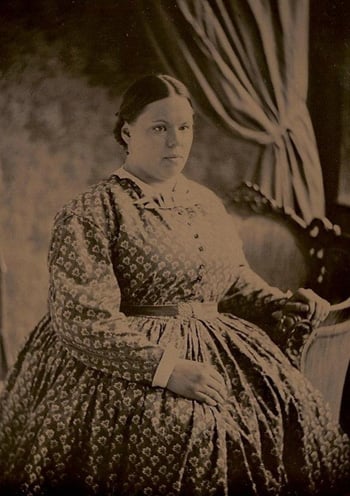 While Confederate soldiers attempted to defend Fort Fisher in the waning months of the Civil War, most of the women in their lives had spent years keeping the farms going, making munitions, feeding and clothing the children, or even working for the state treasury printing Confederate money, says AMANDA BRANTLEY, programs coordinator at the Bentonville Battlefield near Smithfield.
"Women did everything," she says.
Every year, largely men show up to participate in reenactments or living history events marking the battle at Fort Fisher, which protected blockade runners until its fall January 15, 1865.
But like at other Civil War sites that draw visitors and history bluffs, female reenactors turnout to Fort Fisher as well, dressed in period clothing and providing a glimpse into life for women during the war.
Brantley has participated in living history events and reenactments for the past ten years, including several at Fort Fisher. She has a special interest in Fort Fisher since two of her ancestors served there.
This month, the Fort Fisher state historic site holds a one-day living history program for the battle's 149th anniversary commemoration.
Next year, the site hosts a two-day reenactment event for the 150th anniversary to reconstruct the Second Battle of Fort Fisher – in which the Union took control of the fort.
Brantley notes the differences between living history and reenactment events. Participants in living history events create an impression of life in the time depicted through demonstrations, period clothing, and interpretations of how people lived. A reenactment recreates a battle or scene in history. The Fort Fisher battle is reenacted every five years.
Though it was not proper for women to stay at the battlefield, Brantley and her counterparts camp at the site and interpret the duties of women in those times during these events.
"Usually if there is not a separate civilian camp, I am with the military camp," she says. "My real passion is cooking, which is labor intensive, doing everything from scratch."
Brantley says she tracks down and follows original recipes from reprints of cookbooks from the era.
"It's easiest to do soups and stews (because they feed a lot), cornbread, sweet potatoes, baked potatoes, chicken noodle soup – I make the noodles on site," Brantley says. "I make the bread and butter. Period food gets you into the era, puts you into the period you are trying to portray."
Women have been included in living history and reenactment events more often in recent years, Brantley says.
This year's commemoration focuses on the medical care that was available to soldiers.
For women, the need for help in hospitals during the war created a shift in duties, so nursing emerged during that time, Brantley says. Until then women could bring bandages, food, and water, but it was not proper to touch the men.
Fort Fisher officials say at least two female interpreters will be on hand during this month's event to serve as a hospital matron, or nurse, and to wear period mourning clothing to discuss death and mourning during the Civil War.
Detailed and historically accurate clothing is an important part of reenactors' gear.
"I put a lot of research into what was worn then. I try to make it as close as possible to 150 years ago," Brantley says. "I make all of my clothing except shoes. There are specialty retailers who make certain things. I wear six to eight pieces of clothing: chemise and drawers, corset, petticoat, hoop skirt or cage crinoline, dress, an apron if I'm cooking, stockings and boots – and if it's cold – a jacket."
Fort Fisher's 149th anniversary commemoration will be 10 a.m.-4 p.m. Saturday, January 18, featuring infantry units talking with visitors about camp life. Artillery units also will conduct drills and firing demonstrations. And Civil War authors will be on had to talk about their research. This year's event focuses on medical care during the war.
1610 Fort Fisher Boulevard South, Kure Beach
458-5538
Click here to see more photography by Harry Taylor