Wired
Robotics team connects students to science, tech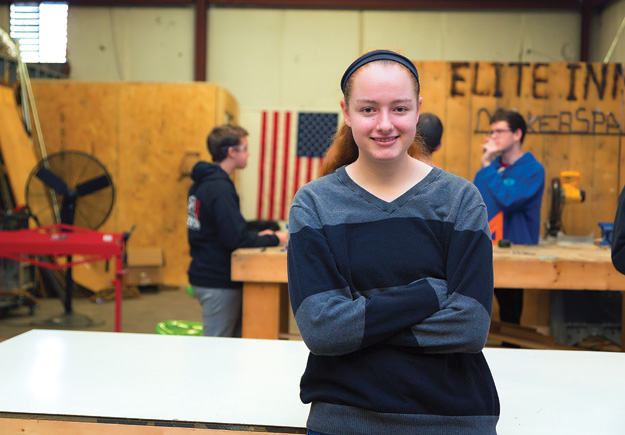 Next month, a group of local high school students, including team co-captain HANNAH WILSON (above), will compete with more than fifty other teams in an international robotics competition in Raleigh. The event is sponsored by US FIRST (an acronym for For Inspiration and Recognition of Science and Technology), an organization that seeks to inspire young people to be science and technology leaders.
The Wilmington FIRST Robotics Competition team, called the Wired Wizards, runs under the direction of JAZMIN CAPEZZA. She says the team has grown from ten students – two of them girls – to thirty students, now with ten girls, in the three years she's guided it.
Capezza says she took on the team to boost knowledge of and opportunities in science and technology in the area. Bringing more females into the fold of the typically male-dominated field is a bonus. Students learn about much more than science and technology through their involvement.
"I try to tell people, it's not just about building robots," Capezza says of the team. "These kids are running a small business."
The main products are the robots the team builds. The finance division is trying to raise $30,000 this year for travel and other important team functions. They are using the crowdfunding site Indiegogo, seeking grants, and selling Wired Wizards merchandise to raise the money.
In the past two years, the team raised over $40,000.
Then there's the marketing division that creates the business "front" and branding for the team, makes and peddles merchandise, and raises awareness of the team.
Capezza – affectionately called Robomombot by the students – was laid off from a communications position in 2010. She saw an abundance of computer jobs, and she decided to return to school. She's slated to graduate from University of North Carolina Wilmington's computer science and information systems graduate program in May.
At school, Capezza served as president of the student chapter of the Association for Computing Machinery, which took on starting the Wired Wizards as a community outreach program. It also worked well personally for Capezza, a single mom, because her seventeen-year-old son, Skieler, whom she home schools, always wanted to be a robotics engineer.
Today Skieler is co-captain of the team with Hannah.
Hannah, eighteen, is a high school senior and is also home-schooled. She and her brother Daniel are Wired Wizards members and both work for Quintify, a software development company their father, Reid, founded.
Hannah likes the non-programming aspects of the team's work such as software and graphic design, and she helps market the group. She designed the Wired Wizards shirts they wore at a recent event at the Center for Innovation and Entrepreneurship (CIE).
"I was kind of scared that no girls would join this year, and then I would be the only girl on a team full of slightly immature high school boys," she half jokes.
As a result of her involvement on the team, Hannah volunteered at Girls in Technology, a GE-sponsored event held at the CIE and designed to interest local eighth-grade students in STEM (science, technology, engineering, and math).
GE employee and Wired Wizards mentor Ashley Culler and other GE employees coordinated the event. Hannah gave a short speech on the Wired Wizards and invited attendees to join the team; one subsequently took her up on the offer. The students participated in an activity testing their science and technology skills afterward.
"I remember being really excited while doing a similar competition when I was in fifth grade at Rachel Freeman elementary school," Hannah recalls, adding, "The girls had a lot of fun."
Like Hannah's experience with the GE event, Capezza's participation in Wired Wizards has allowed her entrance to a wider circle – a global circle, actually – that provides her with insights and knowledge she can share locally.
For instance, last fall she received a scholarship to attend the Grace Hopper Celebration of Women in Computing in Phoenix. This big-league event for women in technology featured speakers from around the world trying to increase the role of women in science and technology.
Out of 8,000 people at the conference, 7,500 of were women.
She also attended the CRA-W Grad Cohort program, a smaller gathering that tries to increase the ranks of senior women in computing by building and mentoring communities of women through their graduate studies.
Capezza points out most computer science programs are only 25 percent women; she estimates there are fewer than ten in her program. It's inspirational, she says, to be at these events geared toward women in her field.
Capezza is working to evolve the Wired Wizards into a sustainable nonprofit model. She hopes to use the nonprofit to funnel sponsorships and volunteers to support more FIRST teams in Wilmington for K-12 students.
Capezza's capstone project for her master's degree will be a written framework for her plans to create the nonprofit that will take on some of the administrative work for teams, help with fundraising, organize mentor training and background checks, and create a bridge between businesses and students educated to work in the tech field.
"I would love to see an all-girls team from Wilmington," she says.